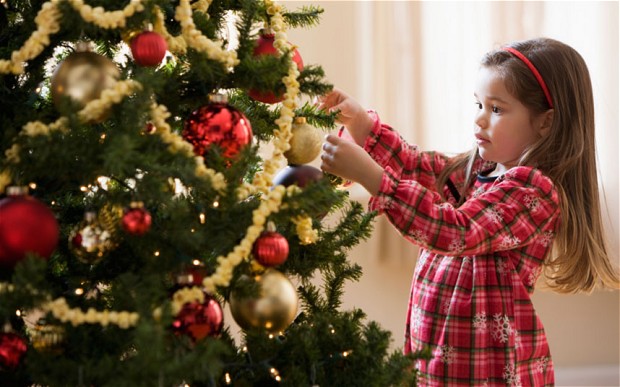 It is the most wonderful time of the year. Whether the fruitcake, tree, family dinners, or something completely different, the holidays are stuffed full of traditions.
Chamblee's students celebrate the holiday season in a wide variety of ways. Many share overlapping traditions such as family dinners or decorating for the season, but their traditions serve as the backbone of the season.
"Traditions are intertwined with the season," said sophomore Camille Vanleer. "Nearly everything my family does is dependent upon the annual traditions we've done for years."
During the holiday season, families spend time with relatives.
"I usually get together with my dad's family and we go to my grandmother's house and we decorate the tree together," said sophomore Isabel Bradford.
Food is an important part of any holiday. Specific foods can be special to the family and individuals.
"My grandma would always make the candy pecans," said Bradford. "Those are really, really good. I guess they're one of my favorite parts of Christmas."
Family dinners on holidays are not uncommon.
"On Christmas Eve, we have a light dinner," said junior Monica Berg. "We have potato soup. We've had it every year."
Families eat baked goods and may go out and do activities.
"We have a big family dinner and my family from New York comes down and it's usually very fun," said freshman Brianna Steinmetz. "We usually go ice skating. It's really fun."
Throughout the holiday season, decorations are in abundance. Traditions can imbue the decorating process with a sense of greater purpose. Putting up a Christmas tree and ornaments, Hanukkah menorah, or Kwanzaa kinaras may have importance and ceremony.
"[My family] all decorate the tree together and there are specific ornaments for each of us that has a picture of us on it and we put them on the tree, which the adults in our family always go out and get the tree and bring it back," said Bradford.
Also, music is important to the holiday season. Holiday music can be heard playing just about everywhere. The familiar songs play throughout department stores and grocery stores.
"We don't carole per se, but my youth group does go to sing at an old folks home each year," said sophomore Maddie Meer. "I'm not a great singer, but it's nice to see the old people smile and sing along."
Nevertheless, Chamblee students come from all different backgrounds. The holidays may be celebrated in the form of different cultural backgrounds.
"Gifts are opened on the twenty-fourth in the evening and in the time before Christmas, we usually go to the Christkindlesmarkt in the inner city," said German exchange student Leonie Hasenkopf. "We also get a real Christmas tree and decorate it. Traditions are important to me because of the feeling. You really get excited for the whole thing because it's just one time in the year."
Since many of the winter holidays have a religious affiliation, worshipers may go to a place of worship.
"We usually go to the midnight mass at church and hang out there for a while," said Berg.
People have different traditions and mean different things to people. Although, the holiday season can be a time for religious renewal and reflection for some, receiving gifts is nice, too.
"The holidays represent different things for different people," said sophomore Safiya Duncan. "Even as a Christian, waking up and opening presents on Christmas morning is one of my favorite parts of Christmas. I don't think about the religious part as much. Not everyone does or has to."
Gifts are a major part of the holiday season, from the department store sales, to christmas lists, and letters to Santa, and rushing downstairs to open gifts.
"I used to write letters to Santa with my siblings every year when I was little and I made a really big deal about sending the letter," said sophomore Jalen Beckford. "I had to write the letter and put it in the mailbox myself."
It is important to keep in mind that not everyone is lucky enough to get presents every year.
"At the end of each year, I donate a lot of my old stuff that I've outgrown and my family and I take it to the homeless shelter," said Meer.