Lady Bullsharks Make a Splash at State Championships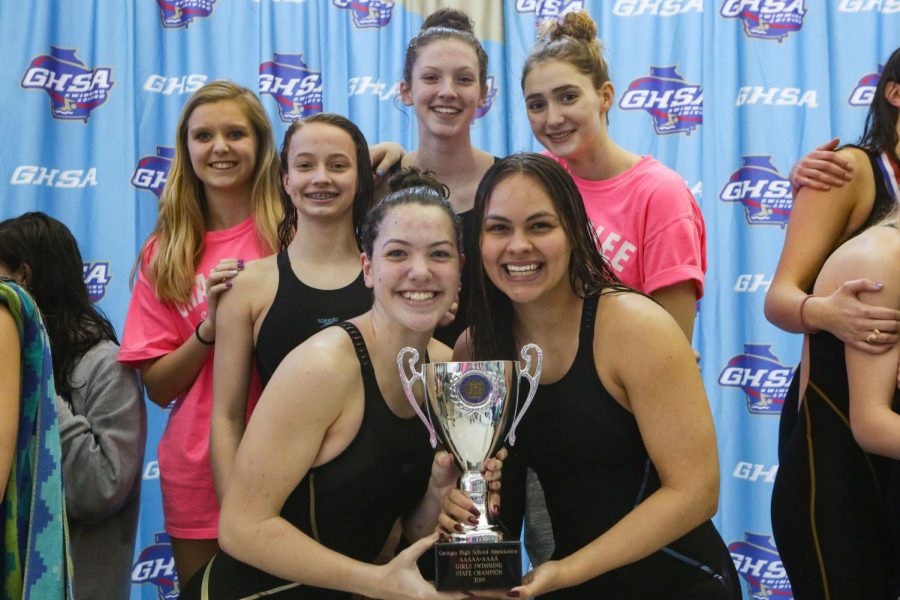 From February 7 through 9, the Chamblee Bullsharks competed in the AAAA and AAAAA Georgia swim state championships at Georgia Tech Recreation Center Natatorium. While the boys' team placed fourth, the girls won the state title by a narrow margin.
"It was an extremely close meet — just seven points separated the top three teams (first, Chamblee; second, St. Pius; third, Columbus)," said varsity coach Gregory Valley.  "Every single point from every race contributed to the final team score."
The swim team is the largest of its kind in DeKalb County, with 133 varsity swimmers, but only seven of the girls qualified for the state meet – senior Jade Foelske, senior Teresa Maloney, freshman Kyla Maloney, sophomore Sophie Bell, freshman Catherine Smart, freshman Anna Blankenship, and freshman Hannah Heetderks.
On Friday, the seven girls swam in a qualifying meet to see who would be fast enough to compete to earn points on Saturday.
"On Friday, we had everyone swim, and then everyone that swam on Friday qualified on Saturday to score points, which is really important because that meant we'd get the most points that we could with the people we had swimming," said co-captain Teresa Maloney.
Senior co-captain Jade Foelske dominated with two state titles at the meet.
"Jade Foelske is probably the best swimmer we've had Chamblee in our history," said varsity coach Lorri Reynolds. "She basically owns every record on our record board."
But while Foelske played a big role carrying the team to victory, other crucial points came from swimmers new to Chamblee this year.
"Freshman Kyla Maloney finished as state runner-up in the 100 Backstroke," said Valley.
"The additional depth with the addition of Catherine Smart, Anna Blankenship, Sophie Bell, and Hannah Heetderks allowed our 200 [freestyle] relay to qualify back for finals and earn big points for the team. The opening Medley Relay won gold (Kyla, Jade, Teresa, Sophie) and the closing 400 [freestyle] relay (Jade, Anna Blankenship, Kyla, and Teresa) earned a silver — finishing just ahead of St. Pius and Columbus — to seal the win."
Unlike typical sports, swim meets consist of single-person events and small group relays.
"Swimming is a sport comprised of many individual performances. Each individual performance brings us one step closer to the ultimate goal: the team title," said Valley. "It took each and every individual (and relay) result to add up the big team points. If any of the races had gone differently we would have had a different outcome at State."
The team was able to win, not because of each individual swimmer, but due to a collective group of talented hard-workers.
"The biggest reason [we were able to win] was definitely that we had a good group of girls," said Foelske. "Everyone was really motivated and everyone [swam their] lifetime bests so every little point helped us win."
Although school practices start in October, the top swimmers swim almost year round — from August to July — with swim clubs, such as Dynamo and Swim Atlanta.
For Maloney, a typical practice is over three hours.
"We have 15 minutes of stretching and dynamic warmup," she said "Then, we'll swim for two hours, and then we'll have an hour of dryland which is lifting and leg circuits afterward."
Maloney, like her teammates, has been working on her swimming from a young age.
"The girls who won state have been working since they were really young, swimming year-round, training hard, and working hard," said Reynolds.
The champions' work has paid off, but for Foelske, Maloney, and the other seniors, the state meet was the last of their high school career.
"It was also really sad because, for all of the seniors, it was our last high school meet, and high school swimming is so much different from club swimming because it's so much more of a team environment," said Maloney. "It was a really bittersweet moment, because we were so happy to win, but we were also so sad to goodbye to that school we love."
About the Contributor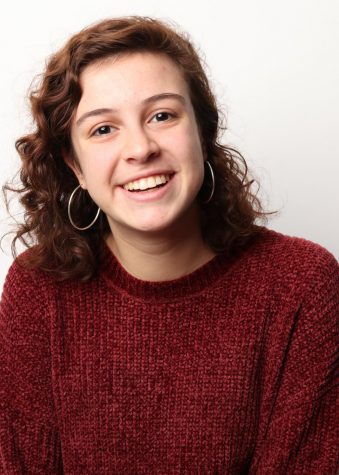 Maya Torres, Staff writer
Maya Torres is a junior and staff writer. She enjoys expanding her sock collection, making Spotify playlists, and practicing Shakespearan monologues in the bathroom mirror. This is her second year on the staff.