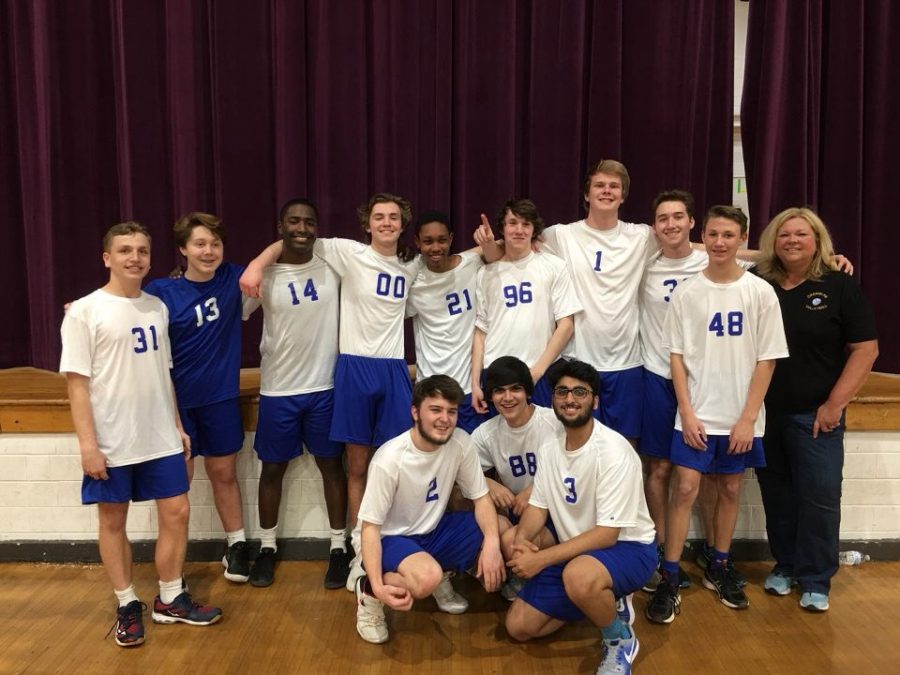 Photo courtesy of Chamblee Boys' Volleyball Team.
A boys' volleyball team is just one on a list of many things that make Chamblee Charter High School unique.
Three years ago, student Christian Vanleer spearheaded an initiative to bring a boys' volleyball team to Chamblee, just a year after an official men's league was formed at Johns Creek High School. Now, in 2019, that team is thriving.
"Our roster is up to 14 this year, which is more than we've had in previous years," said Lorri Reynolds, the coach for both women's and men's volleyball at Chamblee.
Reynolds thinks many of the players came to the team after playing powderpuff volleyball during homecoming week.
"When we started a team, it was mostly due to the boys who played powderpuff," said Reynolds. "They loved it."
Jordany Zamor is one of the boys who joined after playing powderpuff.
"Playing powderpuff was sort of a free trial and I totally took the bait," said Zamor.
This year, the team gained several players. Senior Henry McKlin, who played volleyball his sophomore year, is one of them.
"I'm really tall and felt like I should do something with my height," said McKlin, on why he decided to join the team.
So far, McKlin is enjoying his experience on the team.
"It's a fun group and I'm happy to play volleyball with them," said McKlin.
Nathan Whatley, a senior, likes the team dynamic.
"We all get along really well because most of us were already friends, so we joke around," said Whatley.
Sophomore Mason Reynolds, Coach Reynolds' son and an experienced volleyball player, believes that a good team dynamic has benefits on and off the court.
"[Getting along and liking each other] helps us a lot in matches and allows us to play well," said Reynolds.
However, the team has had some challenges.
"I think our biggest obstacle is just how new a lot of us are to the sport," said senior Sydney Murray, a new player. "Volleyball is a very technical sport with a lot of tips and tricks we don't know about."
Fortunately, there are some experienced returning players, like junior Danny Moloo, who can help out.
"The team started three years ago when I was a freshman," said Moloo. "I wanted to try something new and exciting and I saw the volleyball posters and I decided to go to tryouts. I was the only freshman there, but ever since then, I've been playing every year."
Moloo believes that, despite the influx of new players, the team looks better than it ever has in previous years.
"I think our team is the best it's ever been," said Moloo.
Reynolds agrees.
"These kids are pretty good," said Reynolds. "They know what they're doing."
Already, the team has had four wins and only one loss — to Johns Creek, who was top in the state last year. However, Chamblee plans to challenge Johns Creek for the title of state champion this year.
"It's honestly state or bust this year in my opinion," said Murray. "We have the tools and the attitude for it."
Moloo shares a similar opinion.
"We certainly have a shot," said Moloo. "If we keep working hard and work on little things I'm sure that state will be ours."