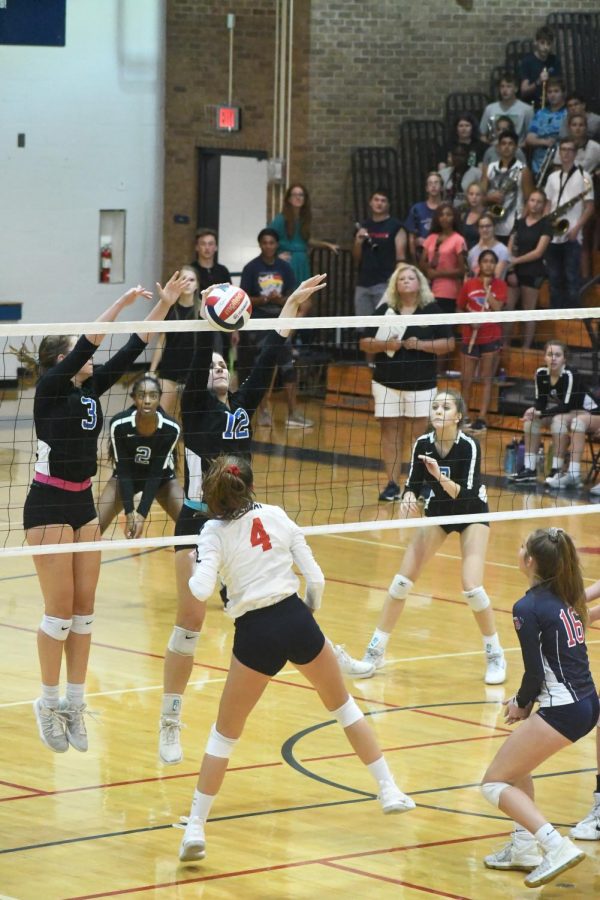 Photo courtesy of Emily Young.
In a stunning match held on August 27, the Lady Bulldogs volleyball team defeated the Dunwoody Girls volleyball team in just three sets.
"We were able to keep our control and our focus," said head coach Lorri Reynolds. "Our team played well and managed to control their emotions and win."
That said, the team did have a few troubles coming out on top in the first set.
"The first set was pretty close because we were warming up and getting used to the game. So it was really tight, but we ended up winning 25 to 19," said senior and teammate Ava Grace Samford. "The first half was also really stressful because there were a lot of people in the gym; they had a whole student section, and we had a good amount of parents and students, but they even had all of their middle school volleyball players to fill the gym."
However, by the second and third sets, Chamblee had found their groove in the game.
"In the next set, we basically killed them; I remember it was like 20 to seven. We just got on so many runs and played really well. And then we kind of got relaxed at the end, and they got a few points. But we ended up winning 25 to 16," said Samford. "And then the third set, it was even worse [for Dunwoody]. I think by that point, they might have shut down a little bit, and we were really confident. We ended up winning that set 25 to 13."
According to senior and team member Debbie Kitzler, the people that came to support each team were helpful in increasing the energy of the match, making it fun to play in.
"The first two sets were very fun," said Kitzler. "Everyone was super energetic. It is hard when [the other team] get[s] a kill, and the students rally behind it because it kind of kills your energy. But when it's all positive […] with no negativity, it's really fun to play because there's so much energy, and it gets you going."
During the third set, however, some Dunwoody students brought negativity to the match. Their targets were the Lady Bulldogs, particularly junior Courtney Combs, the libero, an important defensive player.
"There were two guys at the front who were extremely rude to Courtney [Combs]," said Kitzler. "They would scream things at her like, 'We're in your head, Don't F up,'… stuff like that. It was hard to watch because your libero is supposed to be a very strong force on the court with a lot of confidence, and she's supposed to know where to go and be everywhere. When you have someone who's literally five feet away from you screaming in your face, it hurts you, and then seeing your team member go through that, that hurts you too."
According to Combs, the boys shook her confidence slightly, but she managed to regain it to finish the set.
"It kind of ticked me off because they were literally like screaming at me," said Combs. "I think that someone might have looked up my name or something because they were just yelling at me, telling me to mess up. At first, it bothered me, but my teammates were really supportive and told me to keep doing what I was doing. And [in the end], I thought I did well."
Off the court, more drama surrounded the match. On the Sunday preceding the game, Dunwoody SGA posted a video on Instagram with the "Chamblee Hate Week" hashtag in the caption. 
Dunwoody students saw the hashtag as a fun way to increase excitement surrounding the game and the Chamblee-Dunwoody rivalry.
"I definitely just saw Chamblee hate week as a joke meant to create school spirit. It was more of a common theme to unite under than an actual hatred," said Dunwoody senior Madison Pankey.
Most Chamblee students seemed to agree, although some did think that Dunwoody took it too far.
"It's just rivalry," said Chamblee senior Sophia Sparks. I mean it was a little immature for them to be like 'Chamblee Hate Week.' Their SGA even posted it, but honestly, it's just rivalry; it's not that big of a deal. I don't know if we would have done it, but it was fine."
Sparks also mentioned that Chamblee Hate Week also helped increase the support of the Lady Bulldogs.
"When Dunwoody started saying 'Chamblee Hate Week' and stuff, it kind of motivated us to go to the match," said Sparks. "I actually kind of liked that […] because [more Chamblee students] ended up going to the match, and we ended up winning. It was really fun." 
Reynolds seemed to think little of Chamblee Hate Week as well.
"I was made aware of the 'hate week' over the weekend," said Reynolds. "At practice [on] Monday, the kids were all talking about it. I told them not to respond in any way on social media and that we would handle it by winning."
In the end, Reynolds was happy about the success of the team and the support that it garnered from the Chamblee community.
"It was a great atmosphere to play in and one every athlete hopes to be a part of. We need more of that," said Reynolds. "I really appreciate all the students that came out to support us."