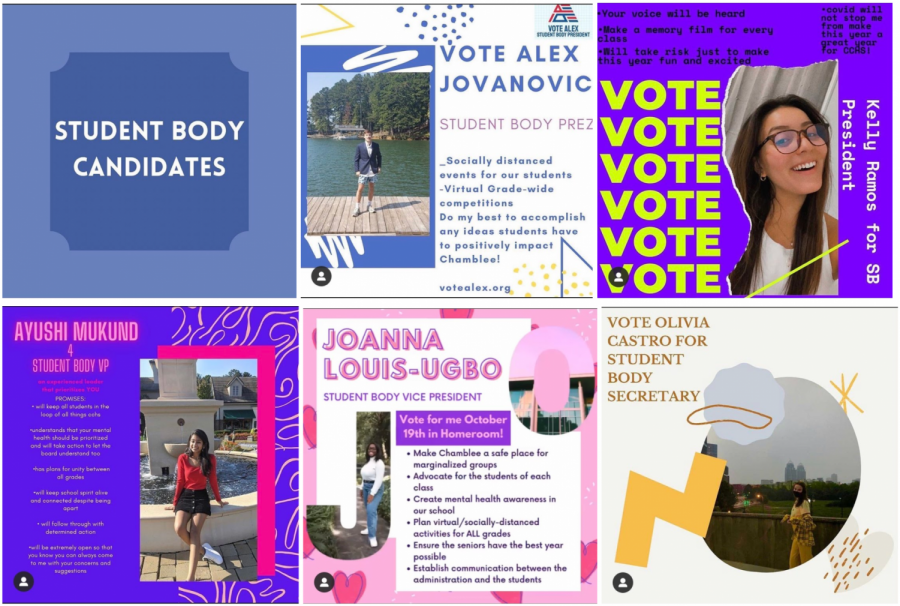 Photo courtesy of @chambleesga on Instagram.
While the majority of students cannot vote in the November 3 presidential election, all students are encouraged to vote in the upcoming election for positions in Chamblee's Student Government Association (SGA).
Voting for all positions will take place during homeroom on October 19, 2020. All students will have the opportunity to vote in the school-wide election for student body president, vice president, and secretary, while each grade will vote in their respective grade-level elections for the three positions above.
For further reading, the Chamblee SGA Instagram account is releasing election updates, as well as additional information about the platforms of each candidate. The majority of candidates are also running their own election campaigns via Instagram.
Student Body SGA Offices
Student Body President Candidates:
Alexander Jovanovic (Instagram / Website)
Kelly Ramos (Instagram / TikTok)
Student Body Vice President Candidates:
Joanna Louis-Ugbo (Instagram)
Ayushi Mukund (Instagram)
Student Body Secretary Candidates:
Olivia Castro (Instagram)
Senior SGA Offices
Senior President Candidates:
Claire Turney (Instagram)
Senior Vice President Candidates:
Molly Silverman (Instagram)
Senior Secretary Candidates:
Victor Lim (Instagram)
Junior SGA Offices
Junior President Candidates:
Sanjeev Anand (No Instagram / Instagram Unknown)
Sarah Duong (Instagram)
Avery Madsen (Instagram)
Junior Vice President Candidates:
Oieshee Akter (Instagram)
Michael Haag (Instagram)
Tanzila Jamal (Instagram)
Angel Pimentel (No Instagram / Instagram Unknown)
Junior Secretary Candidates:
Sammy Hubbard (Instagram)
Kierstan Hall (No Instagram / Instagram Unknown)
Michaela Pierre (Instagram)
Sophomore SGA Offices
Sophomore President Candidates:
Naa Adua Annan (Instagram)
Tyson Butler (Instagram)
Daniel Demetrius (Instagram)
Bastian Foelske (Instagram)
Sophie Li (Instagram)
Sophomore Vice President Candidates:
Coco Bradford (Instagram)
Grant Polk (Instagram)
Muhammad Rahman (Instagram)
Ayesha Shova (Instagram)
Sophomore Secretary Candidates:
Neathan Aresh (No Instagram / Instagram Unknown)
Alex Hernandez (No Instagram / Instagram Unknown)
Freshmen SGA Offices
Freshmen President Candidates:
Amiira Barton (Instagram)
Adhiambo James (Instagram)
Nathan Jovanovic (Instagram)
Sophia Wang (Instagram)
Freshmen Vice President Candidates:
Sophia Shi (Instagram)
Prisha Umashankar (Instagram)
Freshmen Secretary Candidates:
Shruti Nainwal (Instagram)