The Biggest Loss at Super Bowl LIII
Hang on for a minute...we're trying to find some more stories you might like.
For many of us living in or around the Atlanta area, the Super Bowl is usually just "the thing we lost two years ago" or "the Patriots winning again." It's a constant reminder of the halftime lead and the 34-28 score that makes seeing a Rise Up t-shirt feel like a punch in the stomach, even if you aren't an avid football fan.
Despite the intense irony of Pepsi sponsoring a game in the birthplace of Coca-Cola, the Super Bowl made its way back to Atlanta this year with Super Bowl LIII at the new Mercedes Benz Stadium downtown. With ticket prices around $3,000 and absurd traffic clogging the highways, it's no surprise many Atlantans didn't get a chance to attend. It may not have been the worst thing to miss, however.
As the first Super Bowl in history without a touchdown in the first three quarters, it's safe to say this wasn't one for the books. The defense on both teams might have been strong, but I wasn't exactly on the edge of my seat. Most of the commercials had more action than the first half.
But I'm not here to talk about sports. While the athletic ability is phenomenal and these teams are really at the top of their game, the Super Bowl has become much more about bringing people and the city together for a common purpose amidst political debate and team rivalries. Long awaited performers and topical commentary are at the center of the halftime show, but this year different statements were made.
Amid controversy surrounding Colin Kaepernick's protest, stars like Rihanna and Jay Z turned down the offer to perform in the 2019 halftime show to stand in solidarity with the #ImWithKap movement against racial prejudice in the NFL. After scouring through choices Maroon 5 finally accepted the offer, making a statement solidifying their passion to "keep doing what [they're] doing" and stay away from politics.
The stakes were high, with one million supporters backing Spongebob Squarepants tribute songs and Big Boi taking the stage to bring "organic Atlanta talent" to the table. Many, such as myself, couldn't wait to see the next great thing the halftime show would pull off. A few minutes into the performance, you knew these desires would not be met.
What started with some good, clean classics quickly devolved into Cardi B-less "Girls Like You" and almost completely censored "Sicko Mode" with Travis Scott. Their performances seemed stagnant and forced, with no real showstoppers making you want to jump up and down like the people on screen.
I mean, come on. Glendale got Katy Perry riding atop a gigantic robotic tiger, and Houston got Lady Gaga jumping off the top of the freaking stadium. We got Adam Levine taking his shirt off.
And I never thought I'd say this — the drones are passé. They had their run with Gaga and seemed like more of an afterthought than an artistic choice. They lacked the creativity of Justin Timberlake's mirrored dancers and the personality of Katy Perry and Left Shark.
There were no elaborate sets, no extravagant costume changes, and no strong choreography in the slightest. Performance quality was lacking compared to past years, and the supporting acts were slammed in next to Levine, providing little to no backup. I miss the days of the seamless transitions showcased by Coldplay, Beyoncé and Bruno Mars.
All in all, the game, the commercials, and the halftime show were one big mess of underwhelming. This year's halftime show wasn't an Ode to Atlanta or a political statement showing support for anyone. It was Maroon 5 playing it so safe the show lacked any sort of purpose and people-pleasing cameos appearing that got no more than two minutes to perform. As someone who greatly values the arts and sees the value in standing for something, this Super Bowl was completely unimpressive in political and musical prowess.
And it won't be a year to remember.
About the Writer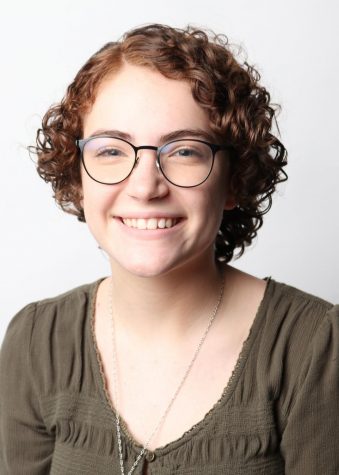 Ava Lewis, Editor
Ava Lewis is a junior and editor. Outside of journalism, you can find them reading anything by Alice Oseman, drinking copious amounts of tea, and waking up at two a.m. to write down an idea for an article. This is their second year on the staff.