Queen Begum Has Found A New Hive
Chamblee's beloved science teacher, Shaheen Begum, has acquired a new position at Chamblee as the MTSS [Multi-Tiered System of Supports] Gifted Magnet Chair.
Begum's role with gifted students includes managing all students entering or exiting the gifted program.
"Every year there are students who haven't been identified yet for [the] gifted program, so we look at […] those students based on various tests that they take and determine if they're eligible or not," said Begum. "Students who don't want […] to be in gifted classes for a particular year also contact me. So just seeing, identifying, working with [the gifted students] if they need help." 
Within the magnet program, Begum monitors students and ensures that they are fulfilling their requirements.
"Magnet, they have a criteria. They have to have a 3.0 [GPA] in their core classes and must not slip their grades below 71," said Begum. "So making sure that they are following the criteria so that they can remain in the program. That's my role for magnet." 
The MTSS is composed of different levels or tiers. Begum explains these three tiers using an analogy.
"[This program] has undergone a lot of evolution," said Begum. "Everybody in the school [belongs] to tier one. Tier two is targeted, and tier three is more individualized. We all need oxygen to breathe in, and we get it from the air we have around us. As tier-one instructors, the teachers are expected to have green plants and all the filters […] so all our students get good air for them to breathe in. However, in the entire classroom, there may be some students who have breathing difficulties. For them [tier two], the teacher teaches breathing exercises, so they can perform well and still be able to get enough oxygen. [Tier three students] may not be able to do well even after doing the breathing exercises, so we put in an oxygen cylinder or a ventilator. That's the kind of support we all are expected to provide to our students so that everybody can thrive and survive in the classroom where they are."
Contrary to popular belief, 504s and IEPs [Individualized Education Plans] are not part of the RTI [Response To Intervention] process that Begum is in charge of. They are related in different ways.
"504s are for students who have medical conditions," said Begum. "There may be students who have [both] 504 and RTI together. They can go hand in hand. IEP is a totally different ballgame. The goal is to bring the students at tier three [down] to tier two and tier one. However, there is a possibility that from tier three, they may be evaluated into IEP to get the special education services."
Fortunately, Begum isn't new to administration. This has helped her figure out the role.
"I'm totally enjoying this new role as well," said Begum. "I worked as an administrator in my 20s, in India. I always wanted to challenge myself […] and when this was offered, I just couldn't resist." 
Begum's new job that helps teachers is supported by her prior knowledge about teaching.
"Teaching is still a part of it. If I go back into teaching, I think I would be a better teacher knowing the depth and the support that we can provide without changing our planning as much," said Begum. "Right now, I'm changing my gear to be a learner, more than a teacher. There's so much that I want to learn in this [role]. [I want to] do it right and support the teachers. I [am] working more with teachers. It's a different role […] but I will still be working with [students]."
Joanna Louis-Ugbo ('22) had Begum for freshman biology and for AP Environmental Science as a junior and was happy to have had her as a teacher. 
"I think it was very good for freshmen to have her [because] you just need to have that one teacher who's like, 'This is how things are done here if you don't do your work, it's gonna reflect in your grade,'" said Louis-Ugbo. "I think I learned the most science under her, and she cared about us. The biggest thing that I liked about her is that she put an effort to make sure we're not going into science [class] and coming out with nothing learned. We've learned stuff that is applicable to everyday life."
Louis-Ugbo believes that Begum is fit for her new position.
"I'm kind of sad that she's not teaching because other people don't get to experience [her]. But I'm glad that she got a little promotion," said Louis-Ugbo. "I definitely think she's gonna do well in an administrative job because she's very passionate about Chamblee."
Science teachers Mary Wagner and Meredith Kinsler are now filling the role Begum previously held as the science department chair. Wagner has worked under Begum for all her time at Chamblee and has thoroughly enjoyed it.
"She started her tenure as the chair of the science department, the year I started [at Chamblee,]" said Wagner. "[She was] super organized, really good at communicating with us, and a strong advocate for the department. She supports the people in her department, and you know, she feels very strongly about making sure that we were well represented, and taken care of."
Wagner agrees that Begum will do well in the new role she has. 
"It's a big loss to not have her teaching, but I think she's gonna be great for the position she is in," said Wagner. "I think it's very up her alley, and it's a big need for the school, that MTSS position." 
All in all, Begum is positive about her new role at Chamblee, and it seems that she has found a place where she fits. 
"Science stars. That's what I call the science department. They are always special to me, and they will always remain in my heart," said Begum. "[But] in the teaching and learning process, I don't think I'm going to miss that much. I just want to do well for the students; I want to learn. I do [care about] all my students and all our teachers. I am a part of them."
About the Writer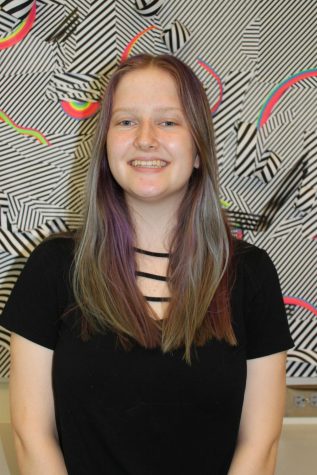 Coco Bradford, Staff Writer
Colette Bradford is a junior, and this is her first year in journalism. She enjoys being a part of Chamblee color guard and hanging around the people she loves. In five years, she hopes to be exploring a city surrounded by talented people who inspire her. A movie that encapsulates her Chamblee experience is "Mamma Mia" (because it is happy and it is her favorite and it is a musical.)