A Fairgound of Activities: Chamblee's Club Fair
Clubs at Chamblee have dealt with many communication and organization issues over the past year and a half with COVID. This year, Chamblee held a club fair in the cafeteria to spread the word about which clubs are returning to the Chamblee community. 
Community-Building Clubs
Many clubs are focused on building a certain community at Chamblee. 
One of those is GSA [Gender Sexuality Alliance]. Nardos Aynalem ('22) is a co-president of this club. 
"The main idea of [GSA] is just to provide a safe space for people, [especially] students here who are in the LGBTQ+ [Lesbian, Gay, Bisexual, Transgender, Queer, +] community or allies," said Aynalem. "The primary thing is just to make it so that if [those students] don't really have somewhere to talk about this kind of stuff [or] they don't have somewhere they can meet other people, this is where they can do that. [It's] a nice place where you can come, chill out, [and] talk to cool people."
Aynalem believes that the club is a place where everyone can have fun.
"We want to help make the club more fun. We definitely want to add just actual activities and stuff like games and just fun things to do," said Aynalem.
 GSA is working on reinstating activities they would have done in a normal year.
"Usually, our big thing is doing the [Atlanta] pride, which hopefully we'll get back to doing whenever that comes back," said Aynalem. "The presidents of the GSAs in the Atlanta area […] organize things that we used to do like a potluck, or this event near Halloween called 'Homo-leen.' It's just kind of gatherings where people can, you know, meet more people like them." 
Another community-based club is Best Buddies, which Chamblee has a chapter of.
"The goal is to integrate the special education [students] with the general education [students] in the school, kind of make a friendlier environment, all that fun stuff," said Nick Harrison ('23) president and co-founder of Best Buddies. "It started last year but didn't really kick off. But now we're kicking off again this year."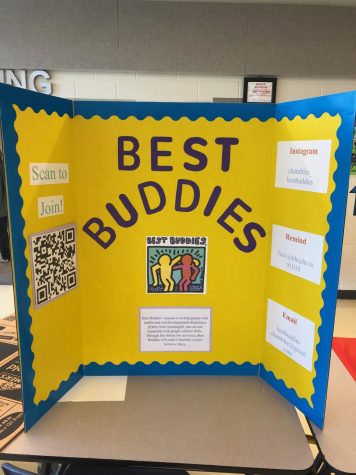 Harrison explains that the club is a place where special and general education students can connect and build community.
"There'll be fun-themed parties, we'll play games, all that fun stuff. [We are] just trying to get a lot of people to join, have a lot of fun, and continue the club after I leave," said Harrison.
There are also community clubs that specifically promote Latino culture, and LYLA [Latino Youth Leadership Academy] is one of them.
"We volunteer with many different Latino programs, and we help a lot with the Latino community," said Jennifer Zatare ('24). "We do a lot of parties to gather more people, and it's mostly about volunteering in the Latino program." 
Service-Based Clubs
Another category of clubs focuses on volunteering. No Place for Hate is a volunteer-based club, and Kaylee Powell ('22) is the communications officer. 
"So our club is all about anti-bullying and inclusion. I joined last year, so [we did] a lot of zoom events. We did a lot of discussions on discrimination, stereotypes, things that have happened to us," said Powell. "A lot of the people in the club are people of color. So it was a lot of us talking about our experiences."
The club has few requirements and aims to serve as a safe space for its members.
"You don't have to come to every single meeting. Come and go as you please. You can join the middle of the year, we don't care," said Powell. "We're welcoming to everyone. If your schedule is packed, that's totally fine. You can just reach out to one of us and we'll let you know. But we are officially certified to give [volunteer] hours so if you're in Beta or Interact or those clubs where you need hours and you come to our events, we can give you hours." 
Interact Club is also service-based, but it operates differently from other related clubs.
"We're a little bit different from the other volunteer service clubs at Chamblee in that we have no minimum volunteer requirement," said Andrew Pietkiewicz ('22), co-president of Interact Club. "So what we focus on is service and giving back to the community, rather than just meeting a minimum number of hours to be in the club. Meetings are really fun, very casual. We have a lot of people in our club, and so it's a good chance to meet some new people and just to see other friends that are in the club." 
Interact promotes volunteering for the sake of service.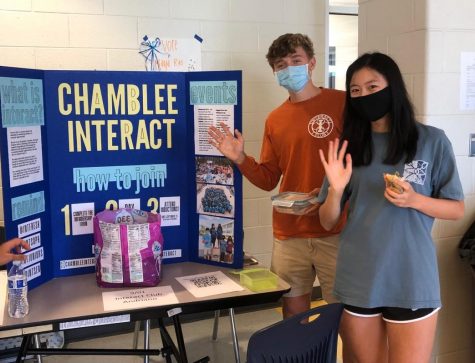 "When people volunteer, they actually want to do the event, and they're not there like, 'Oh, yeah, I'm just trying to get my hours.' They really care about what they're doing," said Caeley Woo ('22), vice president of Interact.
Additionally, Rotary International, Interact's parent organization, is implementing a new program this fall that Chamblee is taking part in.
"In the fall, we're also going to be participating in the Youth Peace Action Initiative, which is basically a program where we train some of our members to launch their own service projects in the community. So that'll be really fun," said Pietkiewicz.
The club also has a few other goals.
"Last year, we had about 1000 hours of volunteering with online volunteer [events],"  said Pietkiewicz. "So we're going to try to, if not exceed that, hopefully, meet that. And we're trying to keep our status as one of Chamblee's largest and most inclusive clubs."
National Art Honor Society is a service-based club centered around art-focused community service. 
"National Art Honor Society is an honor society, just like National Honor Society or Beta Club, but you have to have at least one year of an art course completed and you have to have ended with an 85 or above as a final average," said Sydney Leahy ('22). "The actual requirements are 20 hours of service per semester, and you can get that through the activities that we post on the Remind and under Google Classroom. It's been going on for years." 
Sports Clubs
Most sports at Chamblee are not organized as clubs, but there is an exception: Ultimate Frisbee. 
"It's a spring sport so we don't have tournaments until the second semester," said Adam Pohl ('22), co-president of the club. "We're kind of taking the fall [semester] to have practices once a week, trying to build it back up, and just really get people interested. So right now we're having practices once a week on Wednesdays, just trying to get lots of people to come out and get interested. It's just about the fun right now."
The spring semester, however, is going to look a little different. 
"For the spring, we're planning on ramping up to like three days a week and starting to really get ready for tournaments," said Pohl.
Career-Focused Clubs
FBLA [Future Business Leaders of America] is a career preparatory club focused on furthering students' understanding of business concepts.
"FBLA is a career technical organization and it's student-run. We're growing rapidly [and are] very flexible. Regardless of any of your interests, we range from business or graphic design to healthcare administration, almost anything that you want to compete in. That's [what] I think makes FBLA super unique," said Ahona Haque ('22).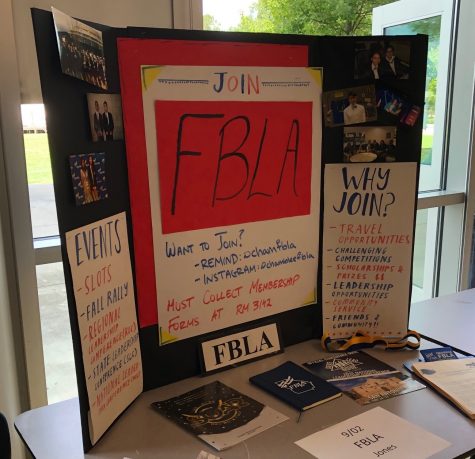 The club hopes to continue with new goals this year.
"I think our biggest goal is to up our community service; we have monthly service challenges that we're going to do, and that's going to really help boost that," said Haque. "And we also want to get more people to compete. So if you're looking to be a regional, state, or national competitor, we have a really good streak. We're a five-year region sweepstakes at Chamblee." 
Outside of competitions, FBLA has other activities that extend beyond club meetings.
"We have a lot of things called workshops, where we'll have guest speakers come in, partnering businesses, or some state officers like myself," said Haque. "We're going to visit different chapters; you can look forward to that. And then we have ice cream socials, which are really fun. We have winter and spring socials, [which as] you can imagine, have movies, pizza, just really to show the spirit in our topic."
Ultimately, FBLA ensures that they will support their club members in any way they can.
"If you need help, we're here to help you out all the way," said Haque. "Say you're interested in business, finance, math, but you don't really know much about it, we can help you and we're accessible. We're just here for you. Regardless of what grade you're in, you're gonna find a community in FBLA."