No Mo' Hoco: Chamblee's Homecoming Dance Canceled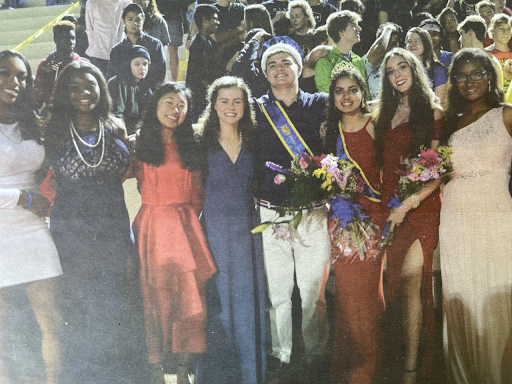 The Chamblee Student Government (SGA) sponsored Homecoming has been canceled, coming with lots of criticism from both members of SGA and the student body.
"I mean, I definitely feel like I'm missing out. I understand why we're not having it. I mean, I think if the right protocols went into place, we could have it. With the right safety precautions, I would be fully supportive, but I think we have to have those in place," said Senior Vice President Alex Jovanovic ('22).
This seems to be a common view among students.
"It'd be kind of sad if we can't get a sophomore homecoming," said student Shruti Nainwall ('24).
Others don't see what the big deal is about.
"Y'all, it's a school dance? I don't know why people care that much," said Tiller Johnson ('24).
Though COVID-19 is an avid concern in the Chamblee student body, students were still in favor of having the dance and now feel like they're missing out on a cliche high school experience.
"I want one so bad; we already lost our freshman year one," said Sadie Schroeder ('24).
Homecoming is suspected to be canceled due to COVID, although the administration has not yet specified why to the student body. With increased cases around each corner of Chamblee, the cancellation was more than expected by most students.
"I feel I haven't been looking at the numbers as much because I know that just makes me very anxious and I know that the numbers are most likely rising. I knew coming back to school that this was not going to be like a zero case situation, but with that in mind, I had an inkling that they were going to cancel it," said senior Kaylee Powell ('22).
Speculation of a mask-mandated and outdoor homecoming has become a common topic of discussion inside SGA.
"I think they could come up with a safe way to have it outside. Like any other event would have to be outside so it seems like it could have been possible to have homecoming outside," said SGA member Coco Bradford ('23).
This seemed to be a common suggestion among students.
"Having a homecoming right here on the practice field would be great. Masks would probably be required; I think it'd probably be similar to a prom. Don't quote me on this yet cause we haven't fully decided, but like masks would definitely be required. We'd probably try to have control over social distancing," said Jovanovic.
Rumor of a PTA parent sponsored homecoming immediately surfaced since they hosted last year's prom, although there seems to be little confirmed.
"I am not the biggest fan of [a parent-sponsored homecoming] They sponsored the prom last year and there's a lot of planning and they were struggling with most of it and that one is just a few kids because there's only juniors and seniors and they also paid a lot more for the tickets and now they're trying to keep the same price of the tickets and open it up to the entire school with only like a little bit more than a month of planning. I just don't think it's very plausible for them to do it. Like they can do it great, but I feel like they need to be more realistic with their expectations," said Joanna Louis-Ugbo, the student body president of Chamblee High School ('22).
Underclassmen seem to be more in favor of a parent sponsor homecoming.
"I would actually want a parent sponsor homecoming, because like all the sophomores, we didn't have a freshman homecoming," said Nainwall.
With the homecoming cancellation and continuing pandemic, SGA is developing ideas to boost school spirit.
"We are trying to do like a drive-in movie and have circles where people can sit if they don't have a car, sell snacks and stuff so we can make more money because homecoming is usually like a big event that brings in money for the year," said Louis-Ugbo.
With homecoming being one of the main fundraisers for SGA, they are continuously brainstorming ideas for alternatives.
"If worse comes to worse, we can just ask the parents or ask like the blue and gold association and get a little funds." said Louis-Ugbo.
Though as SGA works to please the student body, some believe that they don't fully represent the students at Chamblee.
"I believe that homecoming would be a more controlled environment than school ever has been, COVID wise. It is a great environment to meet new people and promote Chamblee spirit. We are one of only two schools that canceled. I feel we should have held a student-wide vote instead of leaving it up to the SGA, which is not a fair representation of the entire school body's views," said Megan Philpot ('23).
Regardless of the student's views, the dance seems to be completely scrapped. However, SGA is still planning a spirit week before the traditional homecoming football game, which is also still happening. In fact, almost all past traditions seem to still be happening, with senior homecoming court nominations currently being voted on in clubs across campus.
"We just want to keep everybody safe so I think it was a wise decision on DeKalb's part, SGA gets that people are getting upset about it, especially seniors because it is their last year, but at the same time we have to make sure people are being safe and not have any more COVID cases," said Louis-Ugbo. "But we do hope for a fun filled spirit week!"