Shots, Shots, Shots, Shots, Shots, Shots, Everybody!
Teachers Get the Jab at Mobile Vaccine Clinic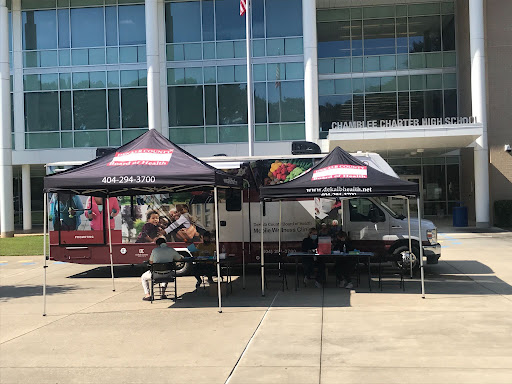 On Tuesday mornings from now until the end of December, members of the Chamblee community have the opportunity to receive the COVID-19 vaccine or receive a vaccine booster shot in front of the school.
On September 28, the clinic was set-up and run by contractors working for the DeKalb County Board of Health, staying in front of the school from 8 a.m. until noon.
"I do not work directly with the board of health. I do work for a contractor. […] The mobile unit, what we do is coordinate with different sites and they get with us to have us come out here," said Katherine Aybar. "I've been doing this since July, just going to different sites. […] The Moderna has not been approved yet for the booster, but Pfizer has so we've given them both. Even if it's your first shot, your second, we are still giving [vaccines]."
Under the current guidelines of the Centers for Disease Control, COVID-19 vaccine booster shots are available to people who received their initial Pfizer-BioNTech vaccine at least six months ago and are either 65 years or older.  People 18+ who live in long-term care settings, who have underlying medical conditions, who work in high-risk settings, or who live in high-risk settings also have the ability to get a booster.
One of the occupations on the CDC's list of occupations at increased risk for COVID-19 exposure and transmission is education staff — which includes teachers, support staff, and daycare workers. Because of this, all Chamblee teachers who received the Pfizer-BioNTech COVID-19 vaccine at least six months ago are eligible for the vaccine booster shot.
However, students are only available to receive a vaccine if they are at least 18 years old or are accompanied by their parent/guardian.
"They need consent from the parent. If not, then the parent can give […] the school nurse permission to be your guardian and you can come and get vaccinated," said Aybar.
The process of getting booster shots was convenient for teachers, with most getting the shot quickly with little to no wait.
"When we got the email from Ms. Barnes that there was an opportunity to get a booster or get your shot, I already was vaccinated back in March, so I came to get the booster and that was something I wanted to do," said special education teacher Anthony Williams. "Maybe two minutes to do the whole thing. […]  I didn't have a negative reaction when I got my first two shots. I didn't feel any pain or anything. I just got the booster. So it was pretty cool."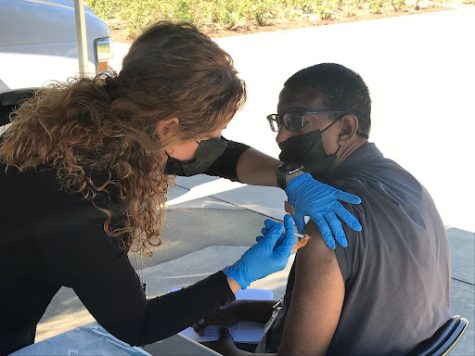 Several teachers reported that they had no side effects from the booster shot, or that the side effects were less than their first dose of the Pfizer-BioNTech vaccine.
"When they first started administering the Pfizer [vaccine] back in January, the effect was, my arm was sore, but I noticed today that my arm just has that normal feeling, no pain," said P.E. teacher Robert Eskew.
Other teachers hope that getting more people vaccinated will change mask policies at the school.
"I want to do it because I want to stay at school. And I hope that everybody will get vaccinated so that we can soon take off our masks, because I am getting really sick of it. It's hard to do my job with a mask on and I will wear one as long as I need to, but if we can get everybody vaccinated, hopefully we can change that protocol," said human anatomy and physiology teacher Leila Warren.
In addition to COVID-19 vaccines, the mobile vaccine clinic will also have flu shots available at future dates.
"We are also going to be giving the flu shot next week," said Cecilia, a nurse working at the clinic.
According to the DeKalb County Board of Health's calendar of events, the mobile COVID-19 vaccine clinic will be returning to Chamblee High School every Tuesday from 8:00 a.m. to 11:30 a.m until the end of December. (October 12, October 19, October 26, November 2, November 9, November 16,  November 30, December 7, December 14, December 21, and December 28).
Overall, teachers were getting their booster shots to ensure their own safety and the safety of their communities.
"I want to one, keep myself safe and my family safe, and more importantly my students. And I also want to be a living example of trying to do something that may help move our society a little forward and provide protection from this virus," said Williams.