Lunch Happens, Rain or Shine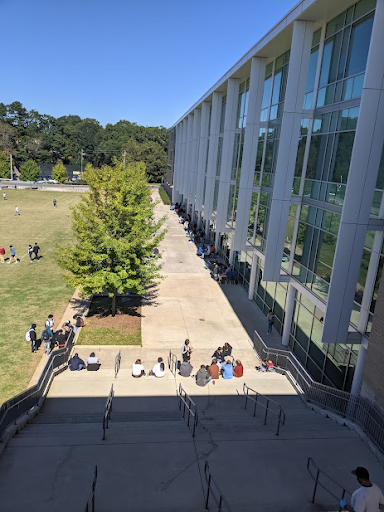 One thing that has changed at Chamblee since the beginning of the COVID-19 pandemic is the lunch schedule. This new schedule created more lunch periods so there are fewer students in the cafeteria at once. With how the cafeteria is designed, there are both indoor and outdoor seating options. On an average day, about half of each lunch period eats outside and the other half eats inside. However, when eating, no one is wearing a mask.
"It's not really the best COVID regulations, because no one has a mask on ever in the cafeteria," said Addison Buck ('24).
Those regulations include social distancing in the cafeteria, which is filled far below capacity during a normal lunch.
"There's enough seating, so I think everyone should social distance as much as possible," said Dr. Angelique Vachon-Conner, one of Chamblee's assistant principals.
Eating inside or outside is a personal choice. Many of the underclassmen choose to eat inside.
"Outside is really for the juniors and seniors," said Addison Buck ('24). 
Where students eat is usually down to personal preference and where their friends are sitting, as well as that day's weather.
"I like eating outside because the temperature is nice in the fall and [because of] COVID," said Lauren Hill ('23). 
To some, though, the mercurial nature of the weather can make sitting outside less desirable.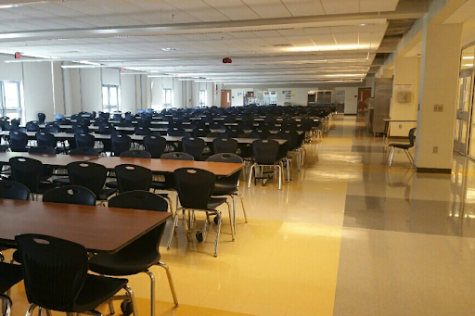 "[I like eating inside because] I don't have to worry about the elements," said Caryline Porter ('23)
When it rains, or if it's wet outside, all the lunch periods migrate to the inside of the cafeteria.
"I think [everyone eating inside] really brings us together as a community," said Michael Haag ('22).
Everyone coming together, though, can create a potential risk for the spread of COVID.
"[Everyone being packed together] makes me a little bit uncomfortable, seeing how our school doesn't care about COVID. But, I mean, it's fine 'cause I still get to eat with my friends," said Hill.
Some students also worry about COVID transmission at specific times during the year.
"Sometimes [I feel unsafe] because, after a large event, or after a break when people travel, I don't know where they've been, or who they've been with, so you're more likely to get COVID when everyone's sitting that close together," said Yamrot Yesitela ('24). 
Ultimately, the issue of crowding in the cafeteria may be unavoidable barring a creative solution.
"We can't make [the cafeteria] bigger," said Buck.