Out of the Doghouse and Into The Dugout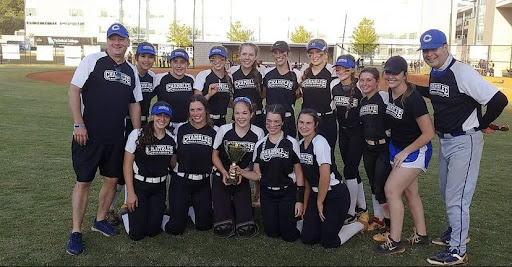 Chamblee Varsity Softball has scored a huge win this October and has made it to the Elite Eight of the state playoffs. The competition will take place in Columbus, Georgia over Halloween weekend. 
"This is the first time we're going to Columbus since the 90's I think," said team member Gracie Azpeitia ('25). 
The team has high spirits for the competition and is looking forward to seeing who they're up against. 
"Everybody knows each other from the other teams because we all play on travel teams, so we know other girls from other schools and it's kind of fun to play each other," said Azpeitia.
The tournament will also be a team bonding experience and an opportunity for the players to grow closer to one another. 
"We all are used to playing tournament ball together so we see each other every weekend, but this is sort of a different setting because it's our school team so it's not as serious — I guess you could say it's more serious now because we're going to state," said senior Lydia Davis ('22). "But it's just so fun playing with the girls and getting to hang out with them outside of school and outside of softball, so we're so excited for Columbus and to see what other teams we have to go up against there."
With a current overall record of 29-2, the team has been excelling and rapidly moving through the playoffs.
"The playoffs so far have been really good. We've been doing really well; we haven't lost a game. We're 4-0 [four wins and zero losses] in the playoffs and we're going to the big Elite Eight tournament next weekend," said team member Shea Parker ('24). 
The coaches have been working towards these few final games since the beginning of the season, and the team is training harder than ever in order to do their best in the finals.
"The coaches are Alan Loper, Samantha Turk, and Nathan Berryman. So we have three coaches, Loper's the head coach," said Parker. "They have very positive team attitudes. We don't really have a mean coach, we don't have a mean discipline person. But they really want us to work together. It's a really big team. [The coaches] are all very big on unity."
The season has been one success after another for the girls so far. Although there's been a couple of mishaps, the season has been riddled with constant wins and positive team experiences. 
"Honestly, our season this year has been a lot of high points. We haven't really had a low point considering we've only lost two games. I guess our one low was our second Marist game because we beat Marist the first time, but we lost the second time. We had a good game earlier in the day, and we kind of fell apart. That was probably the lowest moment, but it wasn't even that bad because we came back stronger," said Parker.
The softball team is open to girls from grades 9-12, which poses mild problems in experience levels and personal problems. Working together assures that these problems don't pose any problem to the spirit of the game.
"I think that there's been sort of a divide with people just because of age gaps. So it's fun to kind of figure out and work through problems either if they're personal or between girls. We had to come closer as a team and figure out how to work through problems so it doesn't affect the way we play," said Davis. "Obviously, another low would probably be us not keeping our energy up in the dugout — because if our energy's not up in the dugout then we have to run."
As the tournament in Columbus approached, the girls put in their greatest effort of the season in order to do their best.
"We're just trying to have fun because all these teams are like the best teams in Georgia. So we're gonna try to have fun and do our best," said Azpeitia.
While winning the state championship might be challenging, the girls are willing to do everything they can to place high. 
"I think we've always had a pretty high standard. We've always had to set a high standard for ourselves because I feel like that pushes us further and pushes us to work hard and strive for that ultimate goal which would be winning state," said Davis.