Rube Waddell Was a Real Life Cartoon Character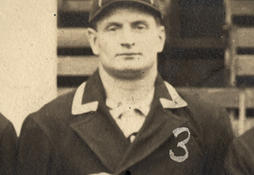 It's no secret that baseball in the early 1900s looked completely different. Professional teams competed on shoddy fields in thick wool uniforms, pitchers threw spitballs, and corruption was rampant. And, it left room for some of the greatest characters ever to play the game to thrive.
There was Mordecai "Three Finger" Brown, who was nearly unhittable for the first decade of the 20th century, as he took advantage of his handicap (sustained in a farming accident) to throw a curveball that seemingly none of his five-fingered peers could replicate. There was Ty Cobb, an all time great outfielder who led his league in batting average and OPS+ for nine years in a row, but was such a dirty player and vile character that he was hated by all, including his own teammates. There was George "High Pockets" Kelly, a Hall of Fame first baseman who, despite not being quite as fascinating of a character as some of the other players on this list, had perhaps the greatest sports nickname ever. I like to imagine a couple of gentlemen, dressed up for a day at the ballpark, trying and failing to find the word "tall" to describe the New York first baseman, but noting that his pockets were further off the ground than his teammates of average height.
But there is no greater character to play the game of baseball than Rube Waddell, whose name is most often printed in conjunction with a choice modifier — usually "strange" or "eccentric," sometimes "bizarre." Even his biography in the Hall of Fame is split between his career and the, well, "strange" events that surrounded it.
Born in 1876 as George Edward Waddell, he had anything but an ordinary childhood. He grew up in the countryside and rarely attended school. He spent countless hours throwing rocks at birds, which strengthened his arm and may have even led to his pitching career years later. At the age of three, he wandered to a fire station where he stayed for several days. Perhaps this is what influenced his lifelong fascination — on days which he pitched, teammates were assigned to make sure he got to the ballpark on time and didn't get distracted chasing fire trucks. Once, he sprinted off the pitcher's mound in the middle of a game to run after a passing fire engine.
Fire trucks weren't his only fascination, however. During games, Waddell was known to get distracted by fans holding shiny objects or puppies, which he would run over to and play with. He also loved to fish — so much so that he would disappear for days to go fishing, causing a great deal of stress for his teammates and manager.
But more than fire engines, shiny objects, puppies, or fishing, Rube Waddell loved alcohol. He is documented as having spent the entirety of his first signing bonus on a drinking binge, which wasn't out of character for him. And just as this addiction was undoubtedly responsible for many of his famous exploits, it was also responsible for a number of heated, often violent disputes with his teammates and wives, of which he had several.
Once, while playing for the Philadelphia Athletics under legendary manager Connie Mack, Waddell disappeared for several months in the off-season. His whereabouts were entirely unknown, until it was discovered that he was wrestling alligators in a circus. In the midst of the 1903 season, he toured the nation as an actor in a vaudeville play. He also took a break in the middle of his pitching career to play semi-pro football.
Waddell's unbelievable life was also punctuated by a number of heroic moments. During that same 1903 season, in between accidentally shooting his friend in the hand and getting bitten by a lion, he saved a woman from drowning. Two years later, he saved a department store by picking up and carrying a burning oil stove out of the building before it could catch fire. And in the spring of 1912, Waddell was instrumental in saving the small town of Hickman, Kentucky from a flood, as he volunteered to stack sandbags in freezing water for more than thirteen hours without rest.
Rube Waddell's antics were well documented, and are enough by themself to fascinate me. But the thing that truly makes me love Rube Waddell is the fact that he was also really good at baseball.
In the early 20th century, baseball, like I said, was a different game. And one of the most striking differences between the baseball of then and now concerned the very thing that Rube Waddell was paid to do. For a myriad of analytical and health reasons, pitchers in the 21st century are limited in the number of pitches they throw. Even the most durable workhorse starting pitchers are typically pulled around the 100-pitch mark, at which point they will wait five or six days before making another appearance. In Waddell's day, however, pitchers were pushed to their physical limits. During his six-year stint with the Philadelphia Athletics, Waddell averaged 312 innings pitched per season. Nowadays, it is impressive for a pitcher to near 200. This stamina is perhaps best shown by the day of August 19, 1900: Waddell pitched a 17-inning complete game in the first game of a double header. He then pitched the second game as well, a complete game shutout. Honestly, I don't know how his arm didn't fall off.
With his electric fastball and dominant curveball, Waddell posted four consecutive 20-win seasons, starting in 1902. In the first year of that streak, he became the first pitcher in American League history to throw an immaculate inning (striking out the side with nine pitches).
The best year of Waddell's storied career was 1905. On July 4, he outdueled Cy Young (yes, that Cy Young, the one with the award for pitching dominance named after him) in a 20-inning complete game. That year, he won the AL pitching Triple Crown, as he led the league in wins (27), strikeouts (287), and ERA (1.48). These numbers are downright incredible, and they came from a man who was busy fighting with his teammates over the right to eat crackers in bed.
Rube Waddell died of tuberculosis in 1914, but he lived more in those 37 years than most ever will. The professionalism of the modern era has shifted players away from such antics off the field, but gems like Rube Waddell still exist in the history books. His life story reads like a cartoon that gradually gets more absurd, as to keep the reader entertained. Oh, and he was an incredible pitcher.
So if you're ever bored, consider giving Rube a Google. I promise you won't be disappointed.