Mobile Welding Lab Sparks Interest in New Careers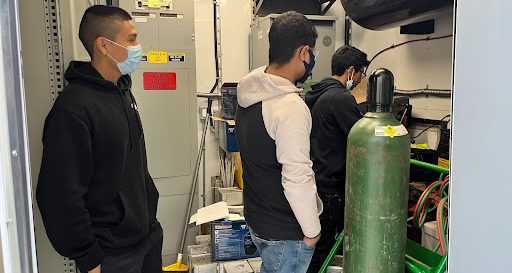 This fall, students in Chamblee's engineering pathway participated in a mobile welding lab, conveniently located right next to the practice field. In the lab, students were introduced to welding and given the opportunity to see a future in the field of welding.
"There are four engineering classes, and three are needed to complete the pathway. The first one is called [Foundation of Engineering and Technology] and it's mostly giving students the tools […] so that whatever [engineering] problem they encounter, they would be able to use a process and come up with a solution. We mainly teach the engineering design process," said Lucretia Gant, the head of Chamblee's engineering department.
"When they complete the pathway, in their third year, they take a test. That test does allow for them, depending on what school they're going to, to get credit for intro to engineering," continued Gant. "Then in the fourth year, they get to choose what projects they want to do. They can do a project for the school. They can get certified in some software, they can do something for the community, or they can just do an independent project."
Welding is a large aspect of engineering that students need to learn, so Gant believed it would be essential to start the welding lab this year.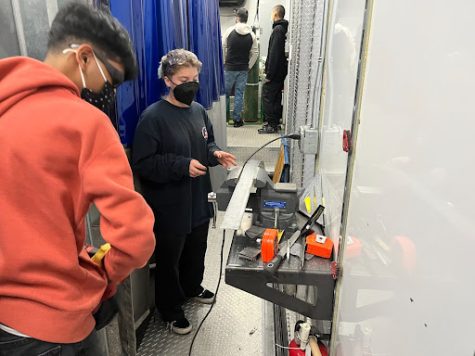 "I reached out to [the Vice President of Economic Development at Georgia Piedmont], and we had a conversation about doing something with welding, and getting students certified. He was really excited," said Gant. "The [welding] industry really wants more students […] to go into welding, so we discussed what we might be able to do to make that happen […]. We had the county's full support. We set forth to train some teachers and they made it possible that we can have […] about 32 students here at Chamblee get some training in welding."
Inside the lab, students could learn a wide array of welding techniques.
"Students are learning about all the different types of welding, shift welding, shielded metal arc welding, and metal inert gas welding," said Gant. "While they're learning all of the different types, teachers are also learning all three types of welding. […] This is just giving them a general idea of what they need to know if they want to pursue further studies to get certified."
Some students who are doing the lab don't have the intent of getting certified, and are rather doing it for a fun experience.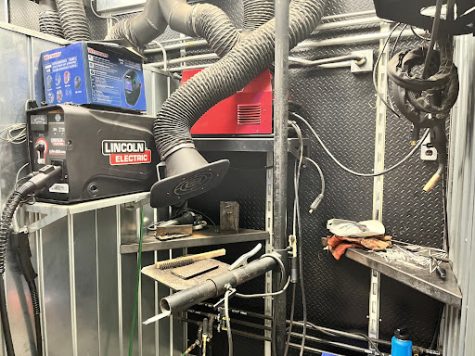 "I felt like it would be a cool experience, cause I've never done anything welding wise, so I just wanted to try it out. […] I'm excited to learn about it, see what it's like and maybe weld something," said Trinity Walls ('24).
Other students, however, are more interested in going into the field of welding.
"I wanted to gain some technical skills in a field that I could work in next summer and during college, and [during the lab] I learned the basics so that if I keep practicing I can get certified later," said Matthew Tubbs ('22). "I learned two different kinds of welding and practiced using them to weld joints together in pieces of metal for projects. I also welded together a few practice joints and some custom parts for the Electrathon club. It's good to have a skill that will translate directly to a trade job if I want to go that route."
The lab broke up the often monotonous school day and showed students a new skill to hone.
"I think it was a really valuable experience," said Natalie Price ('24) "I really enjoyed welding and I learned a lot. I definitely want to do it again."
Gant hopes that students will see that there is a world of engineering opportunities out there for them.
"I want the [students] to see that there's a path to a career [in welding] that they won't necessarily have to go to college to do, and that there's a demand for skills," she said. "There's a path to a very fulfilling and lucrative career in welding."