A Guide to Chamblee's Honor Societies
How to get involved in volunteering at Chamblee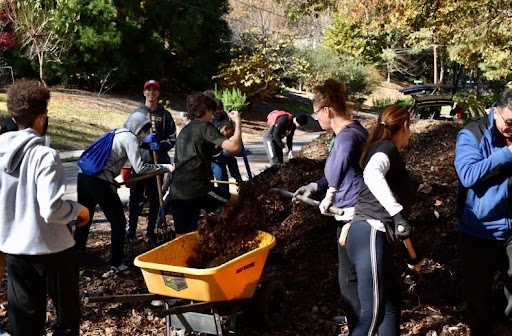 Students at Chamblee enjoy giving back to their community in the form of volunteering. Not only does it look great on a college resume, but events can be a fun weekend activity to do with friends. 
There are countless volunteer-related clubs at Chamblee, so the choice can be rather daunting. From Beta Club and NHS [National Honor Society] to UNICEF and HoPe [Hispanic Organization Promoting Education], it can be hard to choose the right organization for you, but a list can guide you into the right direction to what organizations fit you best.
Beta Club and National Honor Society
At Chamblee, the two largest volunteer clubs are National Honor Society and Beta Club. They both require a specific amount of volunteer hours each semester to participate. The differences between them are sparse, but Beta Club does require fewer hours than NHS. 
"[Beta Club and NHS] are definitely really similar," said Beta Club treasurer Elizabeth Green ('22). "NHS just has more requirements. I do notice that Beta Club is just a little easier to participate in events with your friends and stuff like that, if that's what you like to do. I think NHS has more individual stuff." 
With Beta Club having fewer required hours, it is more accessible for students who want to participate in a large volunteer group but might not have the time to complete 20 volunteer hours a semester, the minimum for NHS. 
Additionally, both Beta Club and NHS have a minimum GPA requirement and NHS specifically requires a statement of purpose from the student. Hours for one club will not count for the other, so so-called "double-dipping" is banned. 
Interact Club
If hour-oriented volunteering is not appealing, there are clubs, such as Interact Club, that participate in similar projects without any GPA or hour requirements. 
"I think the thing that Interact does that sets us apart from other clubs is that we try to make sure that our service opportunities have a clear and definite impact on our community," said Interact president Andrew Pietkiewicz ('22). "So that means we're not just trying to find events so that people can get hours, we're more designed towards making an impact."
Interact is for more specific foundations or causes that individual students are passionate about. 
"You can pick and choose when to volunteer," said Pietkiewicz. "So if there's events that don't interest you or you're too busy to volunteer, you don't have to volunteer. But if you want to get really involved, you can get really involved very easily." 
For those who want to do even more specific volunteer work, there are honor societies tailored towards art, music, and German language and culture.
National Art Honor Society
National Art Honor Society looks to give back to the community with its own creative twists.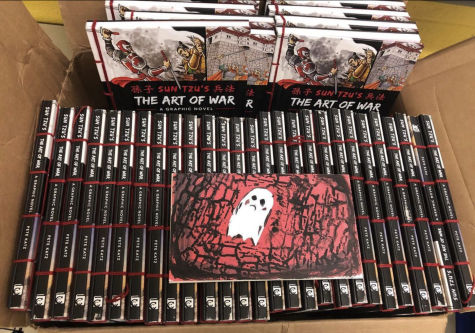 "[Free Art Fridays] are one of our biggest things recently. We just distribute art and everyone comes together and makes two pieces of art. We put them out around the school every couple of Fridays," said Carly Aitken ('22), an NAHS officer.
NAHS is composed of artists around Chamblee who use their artistic abilities for volunteering. 
"We do a lot of volunteer opportunities outside of just community service," said Aitken. "So it's all artistic-based stuff, like making stuff for the community and kind of giving back to the arts culture."
German National Honor Society
German National Honor Society is not as rigorous as the other NHS clubs, as it doesn't require hours like NHS or NAHS. It is the only language-based honors club in the school and focuses on all things German. 
"It's different from National Honor Society because we incorporate German, which I think is a cool little twist on it," said German NHS vice president Alex Jovanovic ('22). 
Their primary focus is on tutoring and keeping the German language fresh in students' minds. 
"So for German NHS, one volunteer thing that we like to focus on is helping tutor younger students from [Chamblee] Middle School, Kittredge, and other German-speaking or German learning schools throughout the county," said Jovanovic. 
Tri-M
Similarly, Tri-M, the only music-based student honor society in the U.S., seeks to have its members spread music knowledge.
"One of the things that we did last year, and we're also doing this year, is to do a peer tutor program for local elementary and middle school students. So we connect students who play the same instrument and they provide lessons and advice for playing," said volunteer Langley McEntyre ('22). 
Tri-M does require hours, but only a manageable five per semester. 
UNICEF Club
Chamblee UNICEF Club is similar in intent to other volunteering organizations but has a large scope.
"UNICEF is more focused on child relief work and child advocacy work, so we don't necessarily do a lot of volunteering, but more so like drives and fundraising, and a lot of our causes just happen to be international causes," said Chamblee UNICEF president Nishat Nayla ('22).
HoPe
HoPe is a club specifically focused on supporting the Hispanic community both in and out of school. 
"I would say it's a volunteer club, and then also to spread awareness and stuff like that. Just like inequalities and stuff that go on in the Hispanic community," said HoPe president Tanzila Jamal ('22). "This year we are planning on doing many drives. Currently, we have a food drive going on."
Finding out how to volunteer can be difficult, but Chamblee students are afforded the luxury of having a plethora of organizations at school that allow them to find their best path to community service.