Kicking for a Cause: Anatomy Club Hosts Kickball Tournament for Diabetes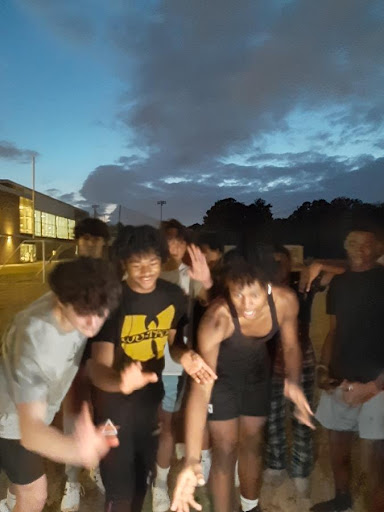 It's the season to give back, and anatomy club is kicking diabetes research forward with their annual kickball tournament on November 18. The competition drew almost one hundred students in, representing every grade. Eight teams competed in the tournament. Each game went for twenty minutes and the highest-scoring team won, as expected.
Members of one of the most anticipated teams, the teachers, went up against a team of seniors to kick off the tournament. Despite many notable moments, including catches by the likes of Jennifer Tinnell and Adrienne Keathley, the seniors ultimately triumphed with a final score of "something to zero," according to Irvin Wardlow.
"I think that the faculty team totally represented," said Tinnell. "We showed tenacity, sportsmanship, [and] athleticism."
The return of the event was welcome after a year's delay due to COVID-19.
"It was a ton of fun. [I] love that Ms. Warren put this on again this year; we've been missing this and it's so fun to see everyone outside without their masks on. [We've been missing] seeing the kids just [having] fun together and goofing around […] and being great sports," Tinnell continued.
Kickball in November for diabetes isn't new to Chamblee.
"This idea has been going on for the past couple of years through anatomy club," said Lauren Peoples ('22), anatomy club vice president. "It's a very quick and easy way to raise money because who doesn't want to play kickball?"
The anatomy club typically hosts events every month for various diseases and disorders as a way to raise awareness and fundraise. Recently, they sold candy and attended a breast cancer awareness run in Atlanta. Students may also recognize a variety of posters that the club puts up around the school.
"November is diabetes month so we wanted to make sure that all the events we had planned would support foundations that raise money to fund research and potential medical procedures for this health condition," said Peoples.
This year, the club managed a good sum, despite the lucrative $100 prize pool in the tournament.
"$305 to JDRF [the Juvenile Diabetes Research Foundation]," said Leila Warren, Chamblee science teacher and anatomy club sponsor. The JDRF funds research and advocates for kids with diabetes.
"I was really surprised that [Chamblee was] doing something in the first place," said Keira Murphey ('22), who has type one diabetes. "I think that's really cool. I knew that it was diabetes awareness month but I didn't know anybody else knew. I'm really happy about that."
However, Murphey believes more widespread education would have been helpful around Chamblee, particularly about the differences between type one and two.
"I think that there is a lot of misconceptions because in America when you hear the word diabetes you think immediately type two. […] And that's definitely something that makes people who are type one, like me, a little uncomfortable," said Murphey.
It's important for to spread information about symptoms of types one and two diabetes.
"A lot of people our age are being diagnosed," said Murphey. "[But] not a lot of people know the symptoms."
The kickball tournament itself had passion behind the players.
"Seriously competitive," said Ms. Warren in reference to an intense match-up between the juniors and the seniors. "But I think we're having fun."
In the end, the juniors triumphed.
"Bing-bong […] world champs," exclaimed Mason Carrington ('23).