What Do Students Really Look For in Colleges?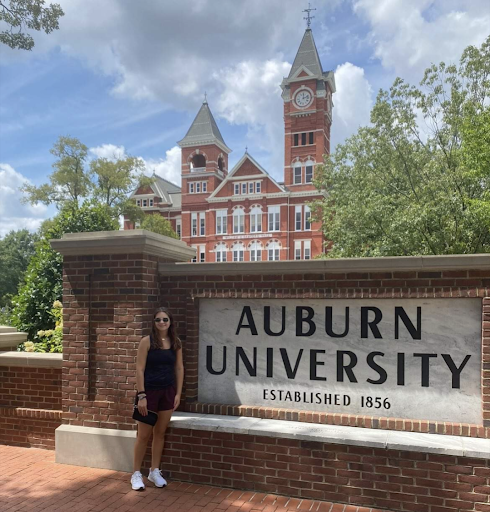 As we move past the last college application deadlines, it becomes decision season for Chamblee's seniors — time to consider their priorities and weigh their options as they commit to a fall destination. But what are those priorities?
"I just prefer a larger school," said Ashvij Hosdurg ('22). "I've always wanted to go to a larger school."
Hosdurg isn't alone. In a forty-five-person sample of Chamblee upperclassmen who are planning on college, two-thirds said they preferred a large school to a small school, the latter defined as having less than 5,000 undergraduate students.
"I'm very much undecided on what specifically I want to do," said Ethan Santucci ('22). "I'm just looking for a lot of options and flexibility on what majors I can pursue, […] so I'm looking at big schools."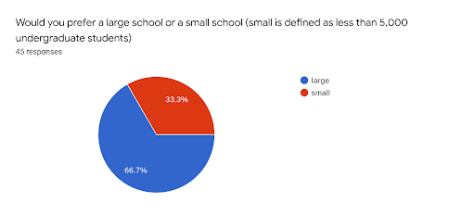 This flexibility is a large part of what makes large schools, the University of Georgia being the foremost example, attractive to Chamblee's seniors.
"UGA, in my eyes, is an all-rounder," said Daniel Lanier ('22). "So you know, if I want to change something, I can always do that without any real consequences."
Distance from home is another factor with heavy influence over college decisions. Beyond the sway of in-state vs. out-of-state costs, personal preference and the logistics of visiting home narrow down the college search.
"I would prefer to be like two hours from home at the most," said Ellis Hamburger ('22). "I don't want it to be too far. I know some people visit their parents a lot, and I want that to be manageable if I want."
Of those surveyed, twenty percent said they would only consider schools in Georgia, while about forty percent expanded their considerations to Georgia's surrounding states.
"I'm not applying to Virginia Tech or anywhere like that," said Lanier. "The furthest distance I'm looking at is a state that borders us."
The final forty percent, however, said their college search was not limited by distance. This group's considerations are most heavily influenced by the specific programs at their prospective colleges.
"The priority is definitely the music program," said Will Emde ('22), who plans to major in music composition. "Like, I can figure out the campus. And then I feel like my second priority would be the person that's teaching me."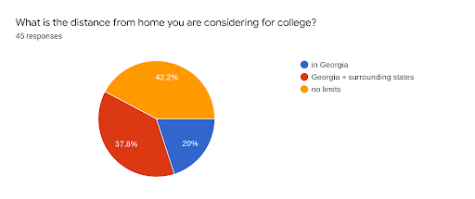 This sentiment is echoed by many of Chamblee's prospective STEM majors.
"I've really only applied to schools in the general southern area, but I do have two schools outside of the South that I'm interested in, so distance isn't too much of an issue for me," said Hosdurg. "I'm looking for something that has a good program for my intended major, mechanical engineering."
Another element of the college search is the in-person visits. Since most statistics and information about schools and their programs can be found with just a few clicks, students are taking a more qualitative approach with their visits.
"The atmosphere definitely matters," said Carmen Bays ('22). "It's more about the feel of the college."
"What I really look for is, kind of the look of the campus," said Hosdurg. "Whether I feel like I could see myself walking around all the other people who are walking around."
This approach is shared by many other students.
"The main thing I look for is, I imagine how I'm going to get around," said Hamburger. "So like, I look at the paths between the buildings, I think about riding a bike. And then I just take in the general vibe of the place. Like, does it look like somewhere I want to live and be every day."
Chamblee's seniors also take advantage of their opportunity to talk to students and faculty.
"I usually try to talk to the staff, and see if I like them," said Emde. "Especially as a music major, if you don't like how they teach you, then it won't be very fun."
At the end of the day, however, students are excited for a change, regardless of the form it takes.
"I definitely want to move out of my house, but like, moving onto any college campus is gonna feel like a long distance away," said Santucci. "Like, I live [near] the Emory campus, but if I was to move into a dorm there, it would still feel like a whole different world. […] It would definitely still feel like I'm moving away, and I think any college will have that same kind of feel, regardless of how far it is."