New Plaza Fiesta Mural Gives Back to the Community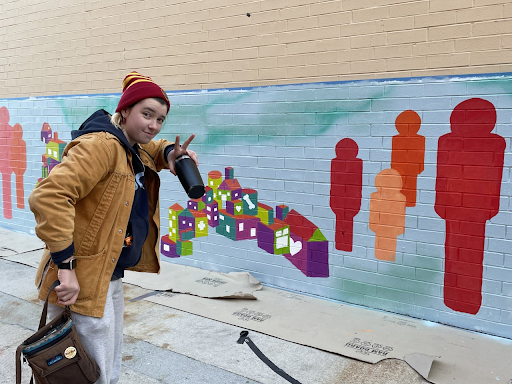 Amongst the abundance of sights and smells surrounding Chamblee's Plaza Fiesta, a symbolic mural has been painted.
This mural is sponsored by the HeArt My Block Program by Peach State Health Plan, which organizes and manages the creation of murals all across the country.
"We were approached by the HeArt My Block Project and asked to design a mural for Plaza Fiesta. The organizer reached out to me, and I was like 'yeah, we would love to do this,'" said Kimberly Landers, one of Chamblee High School's art teachers.
Before the mural work could start, art students at Chamblee participated in a contest where three students would be chosen to have their ideas incorporated in the mural.
"There were three winners, and they were asked to depict what health means in their community. The students each had their own way of representing it," said Landers.
The three students whose pieces were chosen were Ava Kelley, Joscelin De Jesus, and Liliana Sandfort.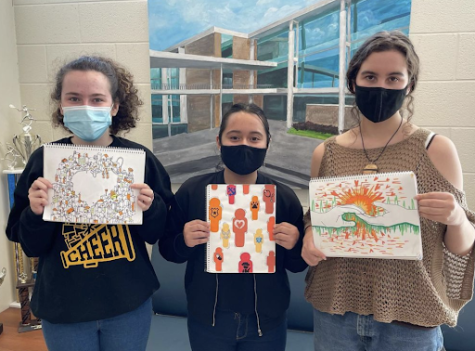 "The topic was meant to be community, so I decided to focus on the jobs in the community, which included doctors, farmers, things like that. I tried to show how different people play a part [in the community]," said Deasus, the first-place winner and Chamblee junior.
Liliana Sandfort, a CHS sophomore and the second-place winner chose to go in a different direction with her piece.
"I drew a piece with two hands that have a heart monitor to symbolize contact," said Sandfort. "For a lot of people, their love language is physical touch, but a lot of people can't have that during the pandemic, and we've been so physically far apart from people. The hands are metaphorical for being together and sharing that love and physical touch even when we're apart."
Art students at CHS whose pieces weren't selected were also able to help out with the mural.
"Unfortunately, my piece did not get chosen but I still enjoy helping out," said Margaret McNally, a CHS sophomore. "It's been pretty fun. Honestly, it gets a little stressful sometimes because of the proportions because there's just so much stuff that you have to keep in mind when you're doing this."
Landers and her students, who had never done a project this size before, had the opportunity to work with and receive guidance from a professional muralist. 
"Working with the kids and [Ms. Landers] has been amazing, they're so talented and I'm really impressed at their abilities. This means a lot to me because this is my neighborhood and my community, and to be able to be a part of this is of great significance for me," said Roberto Hernandez, who has been the artistic director of mural work at Plaza Fiesta for seven years. 
Because the mural was inspired by community, working in the cultural melting pot of Plaza Fiesta added a layer of integrity to the experience.
"It's just been really great for us to be out in our community and in a place that a lot of us haven't spent a lot of time," said Landers. "It's nice to do this in a location where the community can witness it evolve. We've had people take pictures and videos and tell us how good it looks. It's been great."
The journey of this project hasn't been easy for the artists, but it's been a worthwhile experience regardless.
"You're working against elements, the cold, the rain, the wind, some of the craziness here at Plaza Fiesta," said Hernandez. "Everything is reacting, and you just have to absorb all of this and keep finding solutions to these problems that continuously emerge. Murals are insane, especially exterior murals. Even if you plan for everything, you will always come across something that you never expected to happen. It's scary, but what isn't? I'm not intimidated."