Chamblee Practice Field Receives New Turf, Displacing Athletes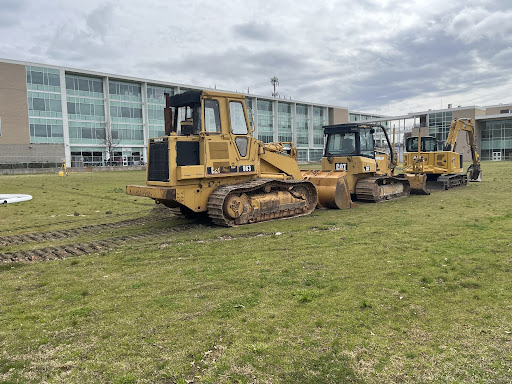 As the spring sports season begins, Chamblee High School athletes are faced with the age-old nuisance that is the singular practice field on CHS's campus, which eight teams must share. This year, however, the practice field is being re-turfed in the middle of the spring sports season.
"They're going to turn [the field] from grass into turf, and currently they're installing a drainage system," said Sophia Wang ('24), and a soccer player here at Chamblee.
This has caused both athletes and coaches of these sports teams a considerable amount of stress.
"The practice field is being turfed right now, and because of it, we have pretty much nowhere to practice. There's eight teams trying to share a space that no longer exists. [The situation] was bad before, and it's horrible now," said Theresa Abernathy, coach of Chamblee's girl's lacrosse team.
Even before the practice field was closed, the teams still had to scramble to find and share areas to practice.
"We would have to share with other teams between [the practice field] and the stadium, and then sometimes we would have to go to Montgomery or Blackburn or go on the softball fields," said Wang.
Along with that, the conditions on the practice field were not ideal, which is why it is being turfed.
"Well, it's not quality," said William Klein ('24), and a CHS soccer player. "It's very bumpy, and one corner is wet but the other is dry so it's definitely hard to play soccer on it."
With the elimination of the previously crowded practice field, the teams have had to find practice space elsewhere.
"We practice at North DeKalb every day, and lacrosse practices there too sometimes," said Klein. "I think practicing there makes us have to play a certain way [in games], and it makes it so that we can't practice the way we would play in games."
While the field being turfed has caused frustration for the teams, they are optimistic that it will benefit them in the future.
"I think turfing the practice field will be a good thing in the long run, even though they're doing it in the middle of our season," said Klein.
Even though the turf will provide a better practice setting, it still has a negative impact on the teams in their current seasons.
"I just wish they had started this over the summer or over a long break so that it wouldn't be in the middle of our season," said Wang.
This situation, overall, has placed a heavy burden on all eight of these teams and their coaches, but they are hopeful that the future will be brighter.
"It's extremely frustrating," said Abernathy. "It was hard enough trying to figure this whole thing out with eight teams practicing in one space but now the county has taken the field away in the middle of the season and given us no solution. It's just unfair."