My 7 All-Time Favorite Singing Show Performances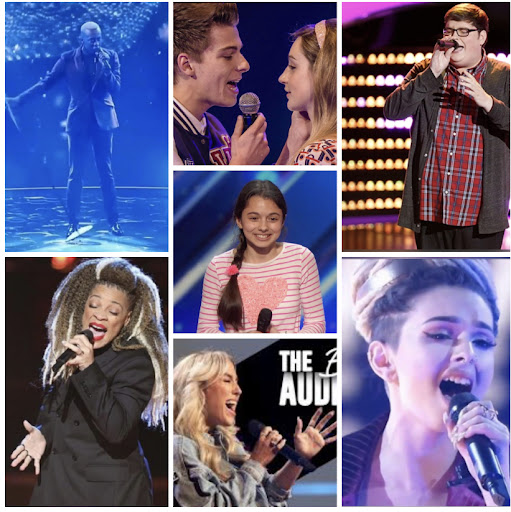 7. Zhavia Ward: "Killing Me Softly With His Song"
In 2018, Fox released a new competitive music show called "The Four." The dynamic involved the original four artists earning their seat on the show by going through a judge vote and an audience poll. Any competitor entering the show after the originals had to do both the judge vote and audience poll, as well as challenging one of the existing members for their seat by performing a song against them, head to head. Zhavia Ward was not an original member, but she shortly came to the show and took the world by storm. Many have said that the show didn't make her famous, but she made the show famous. Nicole Boggs decided to challenge Zhavia for her seat, and unfortunately, Zhavia was still recovering from being sick and losing her voice. Instead of giving the world a lackluster performance, she persevered and used her unique style of singing to eliminate her opponent. Nicole performed beautifully as well, but Zhavia's voice isn't like anything we've ever heard before.
https://www.youtube.com/watch?v=cp_6y4kLu3Q&t=290s
6. Sepp vs. Shauni: "Marvin Gaye"
One of the main reasons a "The Voice" battle made the list was due to the sheer nature of the song. It's possibly one of the most romantic performances on "The Voice," and it truly defeats any other cheesy and loveable duo for any song. Apart from the singing, you can see that the two have obvious chemistry, which is ironic, considering they're fighting against each other to advance in the show. It also looks like a scene you'd see in "High School Musical," which makes it even more enjoyable to watch and listen to. The unfortunate part was that the male performer, Sepp, had a girlfriend, who was watching behind the stage. She appeared to be wildly uncomfortable.
https://www.youtube.com/watch?v=nO6YgWoNSlw&t=374s
5. Laura Bretan: "Nessan Dorma"
13-year-old Laura Bretan shocked the entire audience and judge panel when she appeared on "America's Got Talent" in 2016. She humbly walked on stage with a very innocent outfit, demeanor, and a nervous smile on her face. When she announced that she was going to sing, the audience murmured in confusion as to what genre she was going to sing, probably expecting her to go through a typical route of pop music or something along those lines. When she opened her mouth and out came a divine opera voice, you could quite literally hear the audience's surprise. She even earned Mel B's golden buzzer after her performance.
https://www.youtube.com/watch?v=8NcSKYkfQHw&t=89s
4. Jordan Smith: "Chandelier"
Jordan Smith auditioned during season nine of "The Voice" in 2015, and he went on to win the whole show. His control and raw talent proved to be an extremely valuable asset to the judges, as most of them turned around in less than 45 seconds. His flawless audition still leaves people in awe to this day, and in my opinion, it's truly a shame that not many people follow his music. Despite that, he went on to release covers of Christian songs, and at one point, three of his songs reached Billboard's Top 10 Christian songs simultaneously. He also performed "You Are So Beautiful" along with David Foster at the 42nd People's Choice Awards.
https://www.youtube.com/watch?v=0aai2n9mUN0
3. Kimberly Fransens: "My Heart Will Go On"
This cover took the third spot on my list mostly because of Kimberly's incredible high notes. So many artists sing Celine Dion's, "My Heart Will Go On," and Kimberly still managed to make it her own. Her rendition still wows me every time I've listened to it, and it's one of the performances I've rewatched many times. Sadly, she was defeated in a Battle Round during season nine in "The Voice of Holland."
https://www.youtube.com/watch?v=viourOVvj-A
2. Sandy Redd: "River"
This audition first popped up on my recommended page on YouTube because I really enjoyed the song "River" by Bishop Briggs. Although, with the original, I felt like something was missing. Sandy Redd was missing. Her audition during season 15 of "The Voice" blew the roof off the joint, and it didn't feel like an audition. It felt like her concert and the judges were just some fans in the front row. Every aspect of Sandy as a performer, from her unique voice to her stage presence, showed that as soon as she stepped on that stage, a star was born. Redd was eliminated when she was in the Top 13, which gives me reason to believe that this incredible performance was maybe meant to be for a later round, rather than the audition.
https://www.youtube.com/watch?v=Tx2jWpjRl9g
1. Vincint Cannady: "Creep"
All seven of these performances blew my mind, but this one was an easy favorite. Every single time I rewatch it, I get goosebumps throughout the entire video. This cover alone reaffirms that music is an art, and Vincint Cannady is the one of the most talented artists I've ever seen and heard. If I had to choose one word to describe his voice, the only word that comes to mind is angelic. One of the judges, Diddy, said that it was the first time any performer had given him goosebumps. "Creep" was sung during the finale of season one of "The Four," but he was knocked out of the running with the final four contestants.
https://www.youtube.com/watch?v=gPT3G1ABy4c&t=207s
What are your favorites? Did any of these suprise you? Leave a Comment!