Beloved Math Teacher to Retire: Dorrill to Close Out Career
This year, Chamblee students are watching some of their nearest and dearest teachers and staff retire. One such case is with Kelley Dorrill, teacher of freshman math, largely geometry and algebra. Dorrill has taught at Chamblee for over 15 years, first as a part-time teacher and later full-time. Many students enjoy learning math from her, and she feels the same way about teaching.
"My favorite part of teaching […] is helping a student that didn't think that they could do math, do math," said Dorrill.
Dorrill loves seeing students finally understand difficult concepts.
"Watching the light bulb turn on, watching somebody figure it out. […] That's why I teach," she said.
Throughout her career, Dorrill was able to learn new ways of teaching math.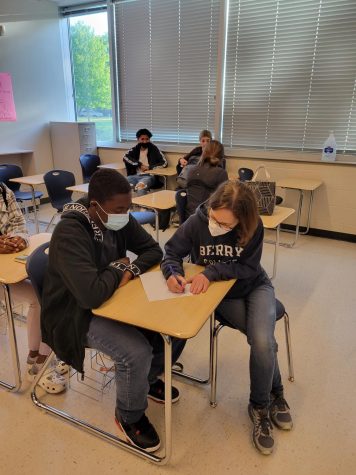 "There is always a better way to do something. There's always a way to improve," she said.
One example of an improvement was the recent addition of a grid system for geometry students to complete work at their own pace.
"It's just this idea that you can let the kids that can excel have the opportunity to excel without holding them back, [while] help[ing] the kids that [aren't] going to make it to the top level […] get the foundation," said Dorrill. "I feel like I grew as a teacher. I hope that I'll always continue to learn new things."
Even though she has loved her career, Dorrill has decided that this year would be a good time to retire.
"I've gotten to that point where I need to give a little bit more to my own self and my husband," she said.
While she doesn't know quite yet what she'll be doing with her retirement, Dorrill looks forward to doing things that she hasn't had time for, like spending more time with her family.
"I'm too busy to figure it out right now. I'll let you know in June. But I think the big thing is [to] spend more time with my husband and spend more time exercising and doing things that I haven't had the opportunity or time to do, [like] volunteer with my church," she said.
While her retirement is well deserved, Dorrill's presence in teaching will be sorely missed by Chamblee's math department and student body.