A Bollywood Beginner's Guide to the Classics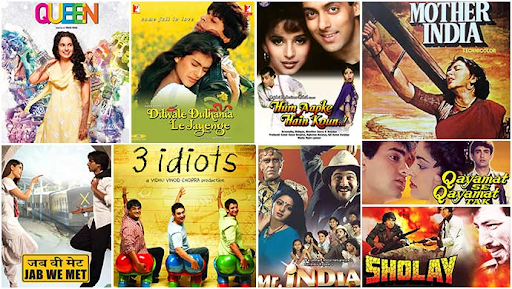 Thousands of people around the world tune in every day to watch their favorite American actors and actresses fight crime, get caught up in crazy scandals, and fall in love through the great big world of Hollywood and American cinema. As the most well-known film industry in the world, people from all different backgrounds, cultures, and areas are familiar with Hollywood and some of the greatest films it has produced. However, what most people don't know is that Bollywood, the main film industry of India and the Hindi language, produces three times as many films as Hollywood with 1,500 to 2,000 movies released a year.
Having grown up watching Bollywood movies with my parents with enough knowledge to recognize various movies and actors with my eyes closed, I would consider myself a pretty dedicated and knowledgeable Bollywood fan. So I thought I would share my list of "classic" Bollywood movies to help get you started on what will be a long, colorful, and addictive journey.
Kuch Kuch Hota Hai (Translation: "Something is Happening")
    Probably one of the most iconic Bollywood movies of all time, "Kuch Kuch Hota Hai" is a classic Bollywood rom-com starring on-screen power couple (not together in real life) Shah Rukh Khan and Kajol and the at-the-time newcomer Rani Mukerji. It tells the story of college besties Rahul (Khan) and Anjali (Kajol) and how their friendship blossoms into a mostly one-sided love from Anjali's side as Rahul falls in love with new girl Tina (Mukerji) and moves on to start a new life with her.
The story doesn't end here, however, as a series of events conspire to lead the two back to each other. The movie is a perfect balance of cheesy romance, comedy, and drama perfect for beginning Bollywood fanatics to settle into the crazy world of Indian cinema. "Something" will definitely happen to you after watching this movie on Netflix, Amazon Prime, or YouTube, and make sure to get comfortable as it runs for a little over three hours.
Dilwale Dulhania Le Jayenge, DDLJ (Translation: "The Big-Hearted Will Take the Bride")
We return with Bollywood's favorite duo Shah Rukh and Kajol in another romantic flick that is one of Bollywood's most successful and longest running films. This time, we have the story of Raj and Simran, played by Khan and Kajol respectively, in which they meet by chance on a trip traveling across Europe and fall in love, only to be separated by Simran's father who had promised his friend that Simran would marry his son (kind of crazy if you ask me). Obviously, Raj, knowing this, doesn't give up and travels to India with Simran and her family to win her back.
At first, DDLJ may seem like any other romantic Bollywood movie with a couple that can't be together because the overpowering father in a patriarchal society has the final say, but this movie has something else about it, whether the music, nostalgia, or just the power couple themselves, that makes it as special as it is. You can watch it on Amazon Prime.
Sholay (Translation: "Embers/Hot Coals")
Taking a quick break from romantic dramas, "Sholay" is more of an action and adventure film where criminals Jai (played by Amitabh Bachchan) and Veeru (played by Dharmendra) work to catch dacoit Gabbar Singh (played by Amjad Khan) making their way through various fights, battles, love affairs, and confrontations. This is another classic movie that almost any Bollywood fan has watched and loved to some degree. Some of Bollywood's most famous characters, songs, and dialogues have come from this movie, Gabbar being a fan-favorite.
I like to think of the movie as one of those "Wild West" type films but with ten times the drama and bad effects. A must-watch regardless, available on Amazon Prime and YouTube.
Kabhi Khushi Kabhie Gham, K3G (Translation: "Sometimes Happiness Sometimes Sorrow")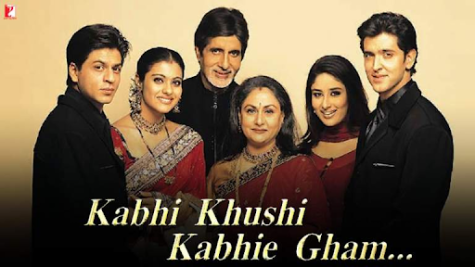 Bridgerton meets a typical Indian family in this crazy family drama, once again, starring Shah Rukh Khan and Kajol as Rahul and Anjali (Bollywood likes to reuse successful character names for certain actors). This time, our lovers are separated by the barriers of society as their social class differences prevent them from marrying, according to the overpowering father in this movie, Yashvardhan "Yash" Raichand. Nevertheless, the two lovebirds marry and create a life of their own when Rahul's curious brother Rohan (played by Hrithik Roshan) aims to bring everyone back together.
With its iconic background music, star-studded cast, and beautiful costumes, K3G was one of the first Bollywood dramas to make its mark in its viewers' hearts. It is available to watch on Netflix and Amazon Prime.
Jab We Met (Translation: "When We Met")
"Jab We Met" is a more modern romantic flick than the films we have been talking about as it portrays a "meet cute" of sorts for Geet (Kareena Kapoor) and Aditya (Shahid Kapoor). Note: The actors are not related in real life — there are just a lot of industry families with the last name "Kapoor." The two are an interesting case of "opposites attract" as Geet is bubbly, extroverted, and full of life while Aditya is pessimistic, depressed at times, and not bothered by what is going on around him. They meet on a train and are stuck together as they travel to help Geet reunite with her boyfriend, though her true love turns out to be someone else altogether.
As one of my favorite Bollywood movies of all time, I hope watching "Jab We Met" on Netflix or Youtube will remind you of how you felt when you had your first love.
I couldn't talk about all of the amazing Bollywood movies here since there are so many movies to go on about, but here are some more of my favorites. Feel free to call me up at any time of day to discuss them for countless hours!
More Bollywood Movies You Should Check Out:
3 Idiots (Comedy)
Zindagi Na Milegi Dobara (Comedy/Romance/Drama)
Yeh Jawaani Hai Deewani (Romance)
Main Hoon Na (Action/Drama)
PK (Comedy)
Om Shanti Om (Romance)
Dil Chahta Hai (Romance/Drama)
Kal Ho Naa Ho (Drama/Romance)