Flipping Out Over the Win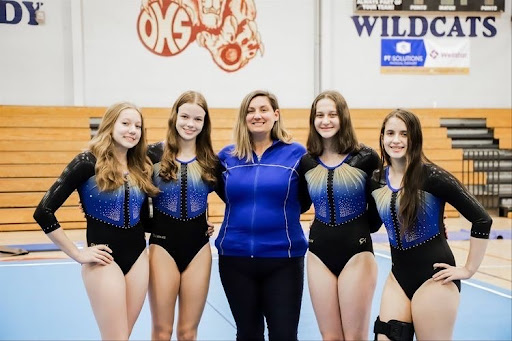 After a strange three years, the gymnastics team is back and holding their title of county champions. However, it wasn't an easy feat. The achievement has been in the works for many years now.
"My first competition ever with Chamblee was in March of 2020. At that time, the team was bigger but made of mostly cheerleaders or people with little gymnastics experience. We only had two meets that season because of COVID-19. Last year, we had a large team (seven people) and we were able to win county and qualify to state even though we never had a practice," wrote Esther Stambler, an all around junior competitor.
Like many others, this year's season was halted due to COVID-19. However, they were able to secure a win at county, continuing their multi-year streak.
Chamblee's gymnastic team returned for their first competition in March of 2022 at Dunwoody high school. This gave the girls a chance to reconnect with their old friends and see what's new.
"The first competition was at Dunwoody High School in the beginning of March. It was cool to see everybody because we hadn't seen a lot of people since last season. And it's cool to see all the teams and their new skills that they've gotten," said all around junior gymnast Rachel McGuinnes.
Along with COVID-19, the team had to deal with the fact their team was smaller than many others so they had to work twice as hard to win.
"We, unfortunately, were not able to recruit any new people for the season this year and our team shrunk down to four people. Then, at her first club meet of the season, Lillian Zaidel tore her ACL and had season-ending surgery, leaving us with just three people. Three is the minimum amount of people a team can have to have a team score, and it meant that all of us had to compete all-around and every score counted," wrote Stambler
This meant that all the girls had to be on their A-game for each competition.
"Prior to this season, I had never competed floor at a Chamblee meet, so that was definitely an adjustment, and it was tricky because we didn't have any practices this season. The scoring at high school meets is also very strange," wrote Stambler.
While practices have been altered at Chamblee, the girls are dedicated outside of school too.
"It's definitely been interesting not being able to be in school for two years. We haven't been able to have scheduled practices so it's hard to keep our high school skills fresh in our bodies. But we all do gymnastics outside of school so we can practice there," said McGuinnes.
The gymnastics team at Chamblee is more relaxed than more competitive, private programs.
"I joined the team after talking to someone who had been on [the team] past years and some of the people on the Dunwoody gymnastics team. It seemed like a fun idea and a good way to do gymnastics in a less stressful environment," wrote Stambler
After an eventful season, the team was proud to announce their undefeated season and their win at county.
"Our season is over, but we competed in three meets and we won all of them. Then, we won County," said McGuinnes "It was fun [to win county]. We won last year, so it was nice to repeat [that] and keep the title."
Throughout all of their trials and tribulations, they've succeeded once again to hold onto their county win title.
"My favorite moment from this season was winning county for the second straight year, and with only three people. The team environment is also very nice, we all support each other and lift each other up," wrote Stambler.
If you're questioning if you want to join the gymnastic team, McGuinnes suggests that you do and to find her for information.
"If you really want to join the Chamblee gymnastics team, then you can just ask me or I can give you information to join," said McGuinnes.
The gymnastics team has high hopes for their next season.
"Next season I hope our team will be bigger so we have more depth and I hope that we go undefeated again and win county," wrote Stambler.