Golf Team swings into State
With Chamblee's golf season all but over, the team can reflect on the season that was. Chamblee headed into the 2022 tournament season with a team that was eager to repeat their past successes. The boys team placed 2nd in the county tournament. The girls team won county, and will compete in the state tournament on May 16th and 17th.
"My freshman year, we went to state as a team," said senior golfer Olivia Li ('22). "But this year going into the season, I knew we had a lot of [less experienced players]. We were going in to try to train them up and hope that they would get to competition level by the time competitions started."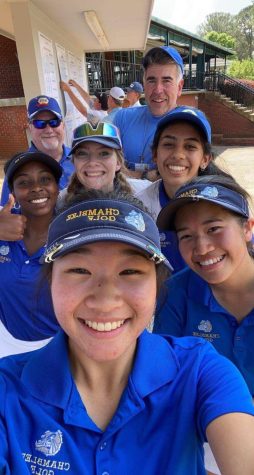 Golf is an individualistic sport by nature, yet student athletes post scores as a team as well as individually. The team score is composed of the four lowest scores from a team of six — each team can throw out their two highest scores. (Important to note: lower scores in golf are better than higher ones.)
"The team competition is a lot tougher on the boys side, so it's much more rare for our boys team to go through to state," said Kurt Koeplin, teacher sponsor and coach of Chamblee's golf team. "In fact, we've never had a boys team advance into the state tournament. We've had individuals go to the state tournament before, Ethan Santucci and Olivia Li went to the state tournament last year as individual competitors, but neither team made it."
Santucci ('22), a Chamblee senior, has worked this season to build on the team aspect of the sport.
"Back in my freshman year, I remember, you would only be concerned about yourself. You'd only go to practice to get reps and to improve your own game," he said. "I will be honest, the way that we [score] it in DeKalb is not really conducive to the team aspect of golf. […] But then as this season progressed, we started giving some more swing advice to each other. It's helped us kind of build some general swing knowledge among the team and now, we all kind of give each other advice."
For Li, it was chipping and putting that needed the most work.
"Personally, I definitely concentrated on my short game," she said. "You can recover from any long shot. But at the end of the day, if you can't get the ball in the hole in a small number of putts and chips then it doesn't matter how good the rest of your game is."
It's not just Li — Koeplin stressed the importance of improving the short game for the entire Chamblee golf team.
"80% of a golf score comes from 80 yards into the green," said Koeplin. "What's the saying? 'Driving's for show, putting's for dough.' And that's what we've really been working on a lot more. Especially with younger golfers, It's usually the toughest part of that game. Like, some of our girls that are just starting out, they can smack it pretty good off the tee, but then after that it's sometimes a struggle."
Before the team could settle into their season, however, they encountered a logistical obstacle.
"We had a bit of a challenge at the beginning of the year, we weren't sure if we were gonna be able to practice on our normal course," said Li. "There was a problem with the county, and they stopped paying for half of the cost, in addition to the golf course upping the cost. And when we don't have the course, we practice behind the baseball field in like a 50 yard area, off of plastic mats, which is kind of a rough situation."
"Usually the county pays half, but there was a dispute between our venue and the county," said Koeplin. "Our Booster Club and our kids had to come up with all the money and that really set us back because we had no money for anything else, like we just got enough to enter into these tournaments."
Despite these bumps in the road, the future of Chamblee's golf program is bright.
"We've got four junior boys who are coming up who have been playing since they were freshmen, […] plus a rising sophomore who was actually our number two this year," said Koeplin. "And, we got a couple of guys in eighth grade who come and practice with us. So yeah, the future for the boys team is looking pretty good. And If we can get a couple more younger girls to kind of rejuvenate our girls program, that'll perpetuate itself as well."