Bulldogs Go to Battle, New Season Starts
As the new school year rolls in, so does the new football season. With it comes excitement from students, players, and teachers. With football being one of Chamblee's biggest sports, students were geared up for this season. Senior Miller Meeks ('23), a four-year Chamblee football player and defensive lineman, is looking forward to proving his and the team's skills.
"Everybody's saying we beat up on all these bad teams [last season]. I just really want to show them that we are a good football team," said Meeks.
Furthermore, he is excited to show these skills off by beating last year's 8-3 Decatur football team.
"The game I'm most hyped for is probably the Decatur game," said Meeks. "That's going to be probably the hardest team we're going to play this year and I'm just really excited about the competition."
This year Meeks has a clear and concise goal for Chamblee: have more true shutout games and become more dominant.
"Last year, we only got one shutout game. And that was disappointing because we beat everybody by 50 and we were going off on everybody, [but] we only got one actual shutout where the other team did not score any points," said Meeks.
Since it is his last year at Chamblee he wants to prove his ability and give everyone his all.
"This being my last football season, I'm so excited, [but also] I'm sad that [the first three years] went by incredibly fast. I really just can't wait to give everything I can," said Meeks.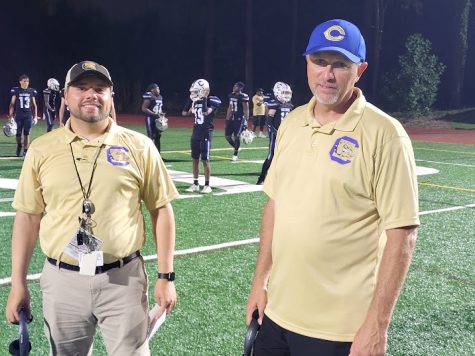 Chamblee Action News' sports correspondent and Class of '25 President Temple Lester is very excited to get into this new season and believes the team will do well.
"I've been seeing all the predictions on Instagram and everything. Like we are predicted to go to the playoffs," said Lester. "So I'm excited, I think we're gonna do really well."
Lester hopes to talk and connect with people this year through football.
"I had so much fun going to all the home games [last year] and I met a lot of friends there that I wanted to meet during my classes and that's how I became close to people."
In addition to the aforementioned Decatur game, students have lots of games to look forward to this year.
"[I'm] most hyped for the homecoming game or the Dunwoody game," said Lester.
Lastly, Temple believes that Chamblee needs to try and have a good team after the seniors leave.
"The only thing that we […] could improve on is getting all the younger kids ready for when our star players leave next year," said Lester.
Demetrius Daniel ('23), one of the members of Chamblee's Spirit Squad, is very excited to attend the '22 Football season.
"I'm very excited, [since] it's my last year so [these are my] last couple games [that I] will get to attend for a while," said Daniel. "Hopefully we'll have a lot of turnout. It'd be really fun to see all my other senior friends like […] last year."
Daniel also believes that we will be able to maintain our skills from last year's season.
"I think we may not do as well as last year, but that's to be expected because we have a lot of really good players that [left]. But I think if the ones that were juniors last year and our seniors get even better, that's good too. We still have some really good players too. And [one of the] people who scored a touchdown at the last game was a freshman. So it's not impossible. I think that we'll do either the same as last year or maybe a little bit worse, but I don't think it [will] be dramatic," said Daniel.
This year is one to look forward to since the Spirit Squad has lots of surprises planned.
"I think that we have a lot of good themes planned and a lot of activities that we can do during the game," said Daniel.
This being Daniel's last football season he is trying to cherish it.
"I don't really feel sad right now because [there's] a lot more games to play but I'm sure that by the last game I'll feel really sad," said Daniel. "But I think that I just [have to] try to enjoy each one as [much] as I can now and then maybe try and emulate the same thing after high school but I'm [still] excited."
Assistant Coach and Offensive Coordinator of Chamblee Football, Coach Freeman, believes Chamblee's football team has worked hard this past year and is ready to show off its skills.
"[I have] a lot of excitement. Our players have played [and] worked really hard in the offseason from January to spring […] to some workouts all [during] summertime. They're just excited to get going and [play] some real games. My hope is that we just continue to play like we prepared, [and] play to the best of our abilities," said Freeman.
Coach Freeman wants to play hard and keep coaching Chamblee throughout the season.
"As long as I keep enjoying it, [and] as long as the players keep working hard I'll keep going as long as I can," said Freeman.
Lastly, this year Freeman wants to try to stay consistently good and maybe even make the playoffs.
"My hope is that we just take one game at a time and try to show continuous improvement from the beginning of the season to the end of the season," said Freeman. "And if that ends up being a playoff appearance that'd be great."