Building up the Hype: Chamblee Student Section
Football games are many students' favorite part of the fall semester, and the first times experiencing Chamblee's student section are often unforgettable. From dressing up for games to watching the Chamblee Marching Band perform their halftime show, football season in the stands are a very memorable experience for students. 
A great part of football games is getting to spend time with friends and making new ones.
"My favorite football game memory is probably the football game junior year when I met all my new friends. It was that one football game where we all got to know each other. It was super cool because I wasn't friends with all these people before, and just being in that environment with all these people I went to school with for years and really getting to know them was nice," said Anna Zhai ('23).
As the editor-in-chief of Chamblee's yearbook, Zhai brings her camera to football games so that she can capture moments for the yearbook. 
"It's nice to capture Chamblee's spirit because I feel like the student section shows our schools spirit really well, so it's really exciting to be able to look through the lens and capture the perfect moments of the perfect times and get it all documented," said Zhai.
Football games unite Chamblee's diverse groups of students; everyone comes together to cheer the team on. 
"What I love about games is being able to see everyone together, against one common thing, with a common goal to beat the opposing school, because obviously there are a lot of different friend groups in our school. It's really fun that people are brought together, and what's also really fun is that there's a lot of energy and lightness about it," said Chamblee's student body president, Demetrius Daniel ('23).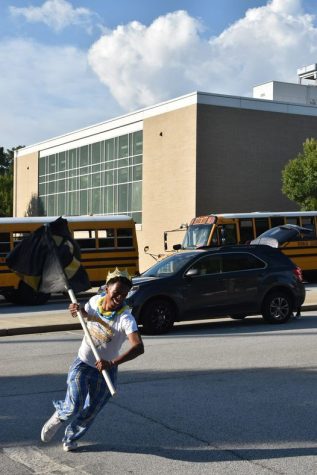 Daniel is a student section leader, meaning he helps decide the themes for football games and gets everyone in the student section excited during games.
"It's really fun to be able to run with a flag. I thought about it freshman year when I saw the spirit leaders doing it, and being able to do it this year is really cool," said Daniel. 
Chamblee students' first football games are always memorable, and while everyone's first experience may differ, many students remember having a great time.
"My first Chamblee game experience was last year's scrimmage. I'm pretty sure the theme was the U.S.A., and it was really fun. I went with a bunch of my friends. I had a good time, especially for my first game," said Lacey Rutherford ('25).
Rutherford watched games from the student section last year, but is now a varsity cheerleader, and enjoys helping in energizing the student section.
"I think it's more fun this year being able to cheer at the games because I feel like I actually get to contribute to the atmosphere of the game. The seniors are always super hyped up and everything, and to be a part of hyping everyone up[as a sophomore] is more fun than being in the student section," said Rutherford.
Football season has been a lot of fun for Chamblee so far, and with the Homecoming game coming up, the student section will be more electrified than ever – look forward to the Ancient Greek-themed game this Thursday!