Chamblee Fans Going Loco After Hoco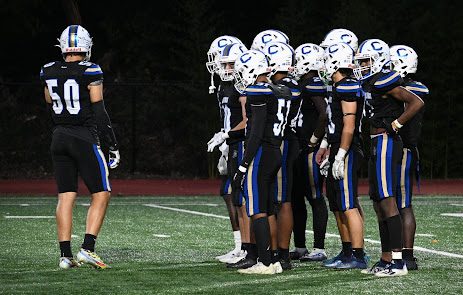 As Chamblee's football team continues to dominate in games, the hype for them continues to increase. There was high anticipation from the student body for the homecoming game and CHS's team did not disappoint. With a score of 45-7, Chamblee is 1-0 in region games hoping to become the next region champions.
Mason Carrington ('23) is a linebacker who was very excited for the homecoming game. He knew that in order to win, the team needed to focus on both offense and defense.
"I feel like we need to be faster than [the other team]. I think that's a big thing. We just need to out-skill them," said Carrington.
Chamblee clearly out-skilled them with a blowout, however, Carrington still sees improvements that can be made for future games. He realizes that the team has the skill to go far as long as the mental challenges are limited.
"I feel like we played a really good game last night, but we had some mental errors that might not slide against some better opponents," said Carrington.
Ashton Bolston ('24) is a linebacker who offers some more insight into the more psychological issues within the team.
"I just want to see us working together more. Not arguing when something happens; not arguing when something goes wrong," said Bolston.
Still, with these critiques, both players are fully confident that CHS will be the next region champions as long as they continue to improve.
Coach Grimes, an assistant coach for the football team as well as a paraprofessional in the special education classroom, agrees with Carrington as he expresses his confidence in going to the playoffs as well as being region champions.
"I think our chances are really good if we play the way we're supposed to, I don't think there's a team in our region that we can't beat," said Grimes.
Grimes also has some feedback after last Thursday's game. He believes that as the region games continue, they must continue to improve.
"You can always execute better. We got a big tough team coming in [this week]. So we definitely got to be more physical and just keep playing hard," said Grimes.
With the huge success following the Homecoming game, many people wonder what enabled them to succeed. Grimes also offers an answer to our success.
"We just came out with energy and right, we were ready to go. We jumped on top of them fast, had some good things happen for us early, and then we kind of just rode that momentum through," said Grimes.
Just like any football team, the fans fuel their energy. Asking the team what the student section does for them seemed to give a similar response. Bolston also feeds off of the energy that the student section provides.
"I know when I'm on the field, and I hear the student section, It's like they give me more energy to go," said Bolston.
Jack Hawkins ('23) agrees with Ashton about the importance of the student section for the team.
"I think [the student section] gets the players hype, they make us want to play better because they want to win for the school," said Hawkins.
As the season continues, the team hopes to continue getting better through these suggestions. Aiming for the best in the state, this year's homecoming game was a wonderful reminder to the team that they are well supported. It was an even greater reminder to the fans that Chamblee have a phenomenal football team.