Blue and Gold Foundation Gears up For New School Year
Chamblee High School is represented by blue and gold as its school colors, but also by The Blue & Gold Foundation in its financial matters. The Blue & Gold Foundation is a non-profit organization founded in 2005 to raise money to support Chamblee High School and the Chamblee community. It is headed by a Board of Directors, including current and former faculty and staff, alumni, parents, and community leaders.
This past year, two current Chamblee teachers served on the foundation's board. One is Ms. Jennifer Tinnell, long-time Chamblee U.S. History teacher and coach.
"This is my 22nd year I've been at Chamblee, 26th year teaching overall," said Tinnell.
The Blue & Gold Foundation was started by former Chamblee Principal Cheryl Finke, who asked Tinnell to serve on the board.
"[Finke] is actually who hired me back in 2001, and we just had a very good working-coaching relationship. When she left Chamblee but still wanted to continue to support Chamblee, she and a couple other people started The Blue & Gold Foundation. Her love for this school is just outstanding. Fortunately, she thought that I'd be a good fit for the Blue & Gold board so she asked if I'd be on it," said Tinnell.
Similarly, the other CHS teacher on the board, Mr. Gregory Valley, was also asked to be on The Blue & Gold Foundation's board during his time teaching at Chamblee Middle School.
"They asked me to be on the board, I think my fourth or fifth year over at the middle school, and I was really interested in getting involved with it, working with it, [and] helping to fundraise for projects," said Valley.
In fact, Valley's connections to Chamblee extend beyond teaching at both the middle and high schools, as he is a CHS alumnus.
"I graduated from Chamblee High School, so [The Blue & Gold Foundation] was a way for me to give back and get involved in community service," said Valley.
As members of the board, Valley and Tinnell work to make sure that the foundation is successfully fulfilling the needs of Chamblee and its community.
"There's a couple teachers that serve on The Blue & Gold Foundation so we can kind of give them a little bit of kind of an inside scoop as to what's going on at the building and with the kids," said Tinnell. "We want to do whatever we can to make the kids that are currently here [do] the best they can."
More specifically, Tinnell serves as an athletic liaison for the board. She does work such as updating the athletic banners in the gym, along with other sports-related responsibilities.
"The Blue & Gold is the one that gave [Chamblee] money to have all the athletic banners, so I help keep those banners updated with all the sports achievements," said Tinnell.
According to The Blue & Gold Foundation's annual report, the foundation was able to buy two new athletic banners in the past school year.
Inspired by The Blue & Gold Foundation at Chamblee High School, a similar program was set up at Chamblee Middle School to support their activities.
"Originally, the middle school did not have a foundation. [However,] we started the [middle school] foundation, getting inspiration from how The Blue & Gold was set up and how the elementary schools set up their foundations," said Valley.
The middle and high school foundations were able to cooperate on the Color Run, raising money for both schools' foundations.
"[The Color Run] was a good way to get the community involved because it's not just the schools, but we've got the elementary schools involved and the greater community as well," said Valley.
In total through the years, The Blue & Gold Foundation was able to spend a total of $155,000 on various projects, including support for clubs, teacher appreciation, and academic materials. One such project was the purchase of a yearbook advertisement, as well as a camera for the yearbook staff.
Anna Zhai ('23), editor for Chamblee's yearbook, explains that sales of yearbook advertisements are essential to the yearbook's success.
"Every single year, we sell ads to put in our yearbook, usually at the very end of the yearbook, from a variety of small businesses around the area. We have ads from The Blue & Gold [Foundation], [who] usually buy a huge ad which really helps us," said Zhai ('23). "Selling these ads really helps us raise money for the yearbook because they help us pay the costs of making the yearbook, as well as allowing us to get revenue so that we can have money for next year."
The Blue & Gold Foundation has also coordinated the Senior Legacy Gift with the senior class for 15 years. Over the years, it has awarded 15 scholarships, totaling $16,500.
These expenditures by the foundation are possible because of fundraising and donations that allow it to support the various needs of CHS and its community.
"They're supported by businesses […] or alumni. [You can] just go on the Blue & Gold website and make donations. A lot of people think [alumni of] colleges and universities always give back, but high schools, we need that money from alumni too," said Tinnell.
The Blue & Gold Foundation has 98 Hall of Fame inductees, including 67 alumni and 31 former faculty and staff.
"We do the Hall of Fame induction typically every year. Those are all those […] pictures that are in the breezeway in the gym, those plaques," said Tinnell.
However, because of the COVID-19 pandemic and its subsequent effects, the Hall of Fame inductions and banquet were temporarily placed on hold.
"This year, the foundation is looking to get back on to a normal schedule of hosting the Hall of Fame dinner [and] several other events, which is something that they haven't been able to do last year," said Valley.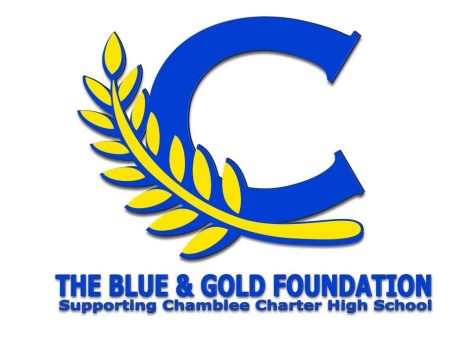 This year's Hall of Fame Banquet is something both teachers are looking forward to, to be held on Thursday, November 3rd at The Marriott: 2000 Century Blvd. NE Atlanta, Georgia 30345.
"I think we've figured out who the class of 2023 Hall of Fame members are going to be […] and that brings a lot of attention to the school," said Tinnell.
Despite The Blue & Gold Foundation's contributions to the school and community, many people aren't aware of their support, something that Tinnell hopes will change.
"I think that the Blue & Gold concept is outstanding. They continue to want to give every penny they earn through donations and fundraisers back to the school," said Tinnell. "They want Chamblee to continue to thrive and thrive and thrive, and there's just a lot they do that the students don't know about. A lot of the teachers don't really realize, but they're a tremendous outreach [and] everything they do is amazing."