Family, Career, & Community Leaders of America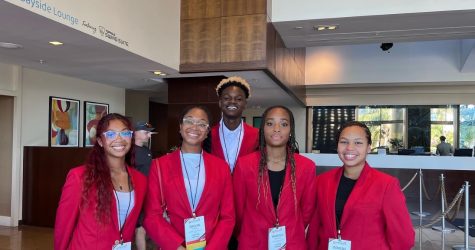 Family, career, and community. Many would argue that these are three of the most important values in life. Fortunately, Chamblee has a club for them: a chapter of Family, Career, and Community Leaders of America (FCCLA), a national organization dedicated to offering opportunities for students to pursue careers that support families and make a difference in communities. At Chamblee, FCCLA is associated with the Nutrition and Food Science CTAE (Career, Technical, and Agricultural Education) pathway, which is taught by Calandra Peyton.
Peyton is very passionate about FCCLA because of the significance of its impact on members.
"Through the years of teaching, I have seen so many students be able to do and become so much more than they ever thought they would be able to. My students this year are crazy excited about it [FCCLA]. They might have me beat because they have me doing a lot," said Peyton.
One of these students is Kylie Powell ('24), this year's president of Chamblee's FCCLA chapter. She has had a great experience being a part of FCCLA and is looking forward to what the club will accomplish this year.
"I originally got involved in FCCLA last year, my sophomore year. I started doing competitions and events, and now, I'm the president. My goals for the club this year are that I want to be more involved in community service and also the national programs that we have in FCCLA. That's really my main thing, and I want to get the school more involved and maybe get the families of the members involved too," said Powell.
New FCCLA members find the club to have a welcoming, encouraging environment in which everyone supports each other.
"At the first meeting, of course, I was a little nervous. I didn't know anybody except for one person from my class. She was older, so she knew some of the people there. But then, they were playing games and got to know each other, and it turned out to be really fun. I feel like it's kind of a family thing. Everybody looks out for each other and is kind to each other," said Cassidy Poole ('26), a new member of the club.
FCCLA has proven to be a successful club at Chamblee. Last year, multiple members attended FCCLA's National Leadership Conference and competed in judged events after qualifying for nationals through regional and then state-level competitions.
"My favorite FCCLA memory would probably be when we made it to nationals and got to go to San Diego. It was really fun. We had to present our projects for judges, of course, but we also got to go around and explore San Diego," said Powell.
The main purpose of FCCLA is to help students develop skills that will allow them to pursue careers that strengthen families and communities, and this is accomplished through various events and competitions.
"Everything in FCCLA kind of surrounds how if you strengthen the family and strengthen the community, you can help society. So FCCLA's all about building leaders," said Peyton.
Members, officers, and the club sponsor agree that FCCLA is a club that positively impacts the school and students.
"FCCLA makes students more well-versed in life. It's allowed me to further my creative skills as well as my social skills and get to know new people and establish new relationships. We make sure to have fun while also improving ourselves and our communities," said Dean Payne ('25), an active member of FCCLA.
Chamblee's FCCLA chapter is ready for another year to be proud of, keeping the goal of qualifying for nationals again in mind. Everyone who's a part of this club is prepared to work hard and together to further FCCLA.