Heritage, Fashion, and Innovation: A Traveler's Guide to South Korea
If you are anything like me, you love traveling the world and having experiences from across the globe. Every place has its own beauty. However some locations are more worthwhile to visit than others.
One of the biggest factors I've found in the value of a country is its character, or how the country perceives itself. For example, the culture, attitude, and actions of the people all lead to a country's character. Recently, I was able to visit Korea and properly come upon this country's character through my own experiences.
Founded in 1948 after the Korean War, South Korea was aided by the US and a capitalist system was put in for the country. Since then, South Korea has seen massive industrialization and growth, especially compared to that of its northern counterpart. However, Korea has managed to preserve and rebuild much of its culture and heritage sites making it a highly compelling country to explore.
Flying to Korea
While it may seem simple, there are many different flight paths you can take to arrive in Korea. While going westward may seem shorter, we found that there were plenty of flight delays and a much pricier airfare. Although going eastward may take a few more hours, it will save hundreds of dollars and provide a much more bearable airport experience.
Top Destinations
Of course, the most heavily visited city is Seoul, South Korea's capital city. However, Seoul contains multiple districts. The central district of Jung-gu was reminiscent of a bustling metropolis, with many different groups of people ranging from tourists to office workers. Although each district has its own life, Jung-gu was definitely the most rewarding to visit. From the buzzing markets of Namdaemun and Myeongdong selling a variety of fashion and skincare products to the incredible engineering feats of the Namsan Seoul Tower, Jung-gu has almost everything someone could ask for from Seoul. However, there are still many incredible sights like the historical Gyeongbokgung Palace or Yeouido Park from the districts Jongno-gu and Yeongdeungpo-dong respectively.
The best places I would recommend outside of Seoul are Busan, near the southern tip of South Korea, and Jeju Island off the coast of South Korea. Both of these places have beautiful scenery and amazing views of nature. If you are traveling to Busan from Seoul, I recommend taking the KTX bullet train. It is a great time-saver, but also offers incredible views from a fairly cheap round-ticket in which you accelerate to over 180 miles per hour.
Things I Noticed
While Korea may sound perfect, there are still many factors to consider before a vacation. For someone like me of Indian descent, I received plenty of stares in crowded places like markets or metro stations. While people were not rude to my family, we still felt out of place and awkward in many settings.
Another challenge for us as vegetarian Hindus was finding food. Almost all of the meals in South Korea are prepared with various meats. To avoid this, we planned carefully for meal stops and relied on chain restaurants. However, we were still able to try some Korean foods like Kimbap and Tteok-bokki.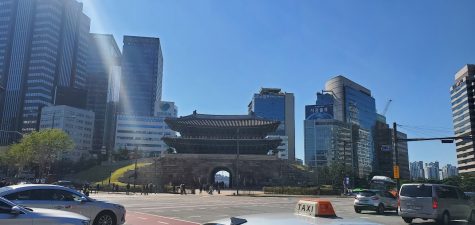 Overall, Korea has many strengths as a developed country, especially with its effortless combination of modernity and tradition. In terms of character, I would describe Korea as both upbringing and solemn. While that may seem confusing, Korea has multiple sides to its story. Although it might seem like a technologically advanced society without many flaws, its people are often overworked, stressed, and gloomy. However, I would highly recommend a visit to the country if you find yourself in the radius of East Asia.