The Bull Sharks are Back to Begin 2022 Swim and Dive Season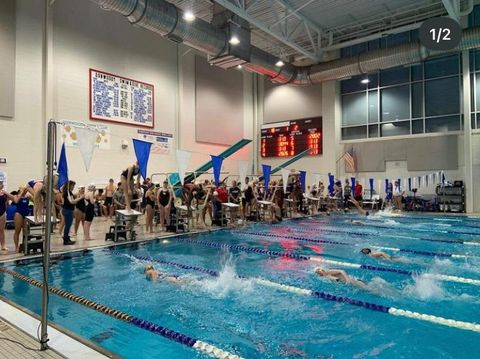 As summer ends and the school year begins students are eager to get back into fall and winter sports. One of the biggest sports at Chamblee, involving over 100 students, is Chamblee Swim and Dive. Last year at the State meet, the girls' team placed second and the boys' team placed fifth overall. This year the team is aiming to do even better.
Swimmers and divers have already set high goals for this season, including junior Sam Johnson ('24).
"I'm eager to make progress from last year. Last year I made one event for the high school state [team]. I'm going to try to make three [events] this year so I've been swimming year-round at Dynamo. I hope that that helps me too. I want to try and make state in my 50 freestyle events, 100 freestyle, and 100 butterfly." said Johnson.
Johnson has been swimming at Chamblee since his Freshman year and loves the community the athletes and coaches have created.
"My favorite part is the swim meets because they have the most energy and everybody's really excited. It's just a really good community and a good place to be. One tradition is the team chant even though you can't really understand it. Those are always fun to do and cheering on your teammates when they're swimming, that's always a good thing." said Johnson.
Along with the community-oriented environment, Johnson's favorite parts of the swim team are all the memories with his swim family, which are groups of swimmers and divers led by two captains.
"My favorite memories are probably all the good times that I had with my swim family. I didn't really think that that would be like I didn't think that that would really work out but it really did. Definitely since freshman year like it's a lot more community-oriented, everybody knows each other," said Johnson.
Junior Addison Buck ('24) looks forward to spending time with her friends and getting a good workout from the swim practices.
"I am actually very excited about the swimming season. I love to swim because I get to be with all my friends and the meets are always so much fun. The practices are just great because swimming is a full-body workout and you're never not using one part of your body. With the different practices Coach Valley and Coach Beth plan they always make it so much fun. I really just like to hang out with my friends," said Buck.
Buck hopes for Chamblee's state team to place first this season and for her to drop time in her 50 freestyle.
"For the team as a whole, we were so close to winning state last year, so I definitely want our girls to win state because it would be awesome for them. Personally, I think I just want a faster 50 free time. I want to drop maybe four or five seconds by the end of the season and I want my starts off the block to get better for sure," said Buck.
Along with Johnson, this season Buck is looking forward to spending time with her swim family.
"I love [swim families] so much. When we all come together like with our swim families, everyone gets grouped into our small families. Two captains that are the mom and dad get grouped in with a bunch of other swimmers and that's your swim family. You can plan themes together like Christmas gift exchanges or out-of-practice events that can count for practice time. My group and I went on a stone mountain hike in the middle of December and it was freezing and awful but at the same time it was so much fun," said Buck.
Buck has been swimming since her freshman year and has watched the team evolve into what it is today.
"For me personally from watching the team, since this is my junior year I've been on the team for a bit now, I think our swimmers have definitely improved over the past couple of years because we have a bunch of year-round swimmers. Overall we have a really strong team," said Buck.
Chamblee's swim team has a large number of year-round swimmers, including Sophomore Ian Combs ('25).
"I started swimming in a summer league when I was five or six. I didn't really take it seriously until about eighth grade when I started my swimming club. Then I figured out that it was my passion and what I wanted to pursue," said Combs.
This is Comb's second year on the team and is going into this season with a sense of preparedness.
"I'm feeling better than I was last season because last season I was a little lost. I didn't know what to do or what to expect going into the bigger meats like county and state, but this year I know how to prepare for them at practice and at smaller meats," said Combs.
Combs has high goals for the state meet as he hopes to be a finalist in the 100 backstroke event.
"A personal goal for the season is to be a finalist for the 100 backstroke event at state and try to earn a medal in that event. I also would love to see our free relay go far in the state meet," said Combs.
On days of swim meets Combs prepares by finishing his homework earlier and keeping the meet as his biggest priority.
"I try not to stress out about other things in my life and overload myself. I'll get a lot of homework done earlier so that I'm not stressed when the night of a big meet. The day of the meet I'll just try to relax and not not take things too seriously besides the meet," said Combs.
Combs thinks that the team has improved since that year and will go into this season stronger than ever.
"I think it will evolve this year from last year because the boys that I met last year on the team, we all worked really hard at our club team over the summer, and we're dropping really a lot of time. I think we're gonna be a much better stronger team this year than we were last year," said Combs.
Senior Cameron Pfau ('23) has been swimming for Chamblee since her freshman year and expects this season to be a lot of fun.
"I'm excited about this season. We have our first meet today and I think it's gonna be a lot of fun. Some of my favorite parts are probably morning practices because it sucks getting out of bed but once you're there, it's so fun. Also the team bonding activities including trivia night or stuff that counts as practices that aren't actually summing are really fun," said Pfau.
Since her freshman year, Pfau has seen the team become more like a family and expects the team to do really well.
"I think [the team has] become more like a family since my freshman year. I didn't feel very connected with all the grades but now that we do some family stuff I feel like everyone is getting to know each other a little bit better. I think [this season] is going to be hard because we did lose a lot of really good seniors last year, but I think there's a few good freshmen coming up so I think the team as a whole will still do really well," said Pfau.