Honoring Chamblee Legacies: Blue & Gold Foundation Hall of Fame Dinner
On November 3rd, the Blue & Gold Foundation Hall of Fame Dinner was held at the Atlanta Marriott Northeast. The Blue & Gold Foundation, a registered nonprofit organization that raises funds to benefit Chamblee High School and the Chamblee community, honored inductees into its Hall of Fame: alumni of Chamblee High who have moved on to accomplish exceptional things as well as people who have had a significant impact on the school. Awards were presented to people who have greatly benefited Chamblee High, including current and former faculty and staff members.
The Lifetime Service Award, the highest honor presented by the Blue & Gold Foundation, was awarded to Gary McDaniel. McDaniel grew up in DeKalb and graduated from Cross Keys High School in 1969, and five of his six children attended Chamblee. While his children were in school, he did as much as he could to help out many students in several ways.
"I coached an AAU basketball team for 30 years. I went up and down the highway taking kids back and forth to school. My wife made sure all the kids ate, and I made sure they stayed in school, went to SAT prep classes, and took the SAT. Many of the kids on my AAU team went to college, and I was involved with all that. I used to walk up and down the halls making sure they were all right, and if there was a problem in school, they called me," said McDaniel.
Another award, the Dianne Clark Award, which was named after a former Chamblee principal, was presented to a current Chamblee staff member. Claudia Suarez-Barrios has been working in the DeKalb County School District for eight years, moving from Dunwoody High to Doraville United Elementary to Chamblee High. Although she's only been at Chamblee for a little over a year, her clerical work and work as a liaison for Spanish-speaking students and families as a receptionist have already been recognized as exceptional.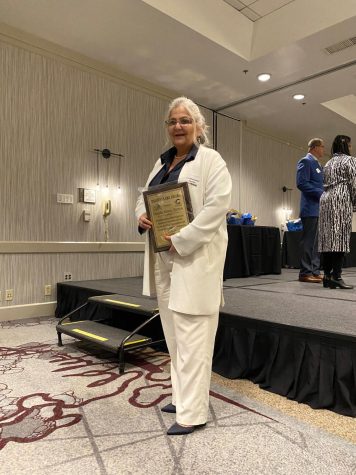 "Being at Chamblee has been a great experience, being in contact with all the students, parents, and teachers. It's like a family. It's been a roller coaster because, in one day, I can experience several kinds of things, but I'm really grateful that I'm able to help our Hispanic community," said Suarez-Barrios.
The Hall of Fame Dinner truly demonstrated that the student-teacher bond can last a lifetime. Jennifer Tinnell, who has been teaching U.S. History at Chamblee for well over a decade, inducted Emily Choate Bridges, one of her former students, into the Blue & Gold Foundation Hall of Fame. Bridges have done an immense amount of service and fundraising work for the Cystic Fibrosis Foundation. 
"Often, you find that the students you try to inspire end up inspiring you," said Tinnell.
Many Chamblee alumni have been deeply impacted by their experiences at Chamblee and remember the guidance they received from mentors at Chamblee. Barbara Banta (Chamblee class of 1981), another Hall of Fame inductee, was recognized for her work creating art for hospital patients; she's a senior artist for the Foundation for Hospital Art, an organization that has created over 50,000 paintings for over 7,500 hospitals across 196 nations. At the Hall of Fame Dinner, she spoke about her two influences at Chamblee: her volleyball coach, who taught her what it means to be on a team, and Dave Smiley, a teacher who told her, "creativity has no bounds; if you can dream it, you can achieve it."
The Blue & Gold Foundation Hall of Fame Dinner united generations of Chamblee High School faculty, staff, and alumni who all came together to celebrate the school and the people who have helped it become what it is today. Current Chamblee students can look to Hall of Fame members as inspiration for how they can make a difference in the world after moving on from high school.
As McDaniel said, "It's not about the money you make, it's about the difference you make in a person's life."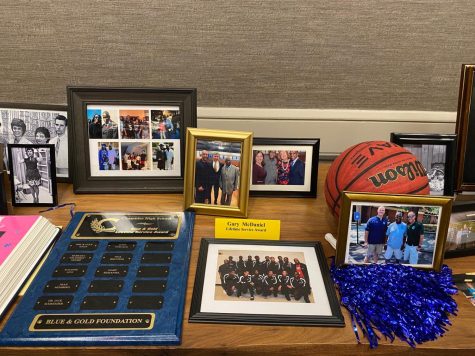 Award recipients: Gail Barnes, Nancy Farrey, David Gaynes, Dave Smiley, Jim Ellis Automotive Group, Gary McDaniel, Claudia Suarez-Barrios
2022 Blue & Gold Foundation Hall of Fame inductees: Barbara Banta, Emily Choate Bridges, Dianne Clark, Melva Ferm, Robert Glor, Larry Hall, Roddy Jones, Rebecca Buckmaster Serna