Marching Band is the Most Character Building Activity In High School and Here's Why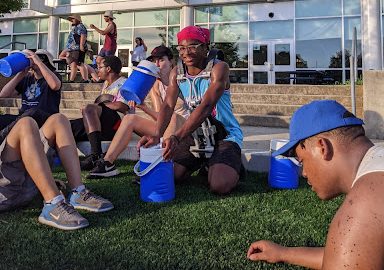 The moment I stepped foot in the doors of Chamblee High School, I was welcomed by warm, open hands. I remember being not only excited but scared to try something new entering high school. Marching band seemed like the perfect activity for me to be a part of being that all of my friends were in it.
During the spring practices, I met Hayden Roe, the new Batterie Captain, who taught me the very basics of drumline. Here I learned about his glowing personality and as I continued to meet the other people on the line, I soon found my place with them all. Drumline was my introduction to high school and where I found an everlasting home.
One of the first things I was forced to understand was discipline. With only a brief introduction to the high school marching band experience, I was driving with my best friends to Rock Eagle for a five-day, 12-hour-a-day, band camp. The amount of mental strength needed to complete a week of your first band camp is a strength that most eighth graders are not ready for. Sleeping, eating, and practicing with people you barely know solidified a special bond between everyone. I later realized that this camp was not just to practice and prepare for the rest of the season, but to become a family. Becoming this close is the only way a team or group of people can work together to reach a common goal.
I learned at an exponential rate being surrounded by not only great players but excellent teachers. The student leaders were role models that inspired me to practice for myself. I knew that they depended on me just as I depended on them to grow. I aspired to become the leaders that they were for me to other people that entered the program. Marching band taught me important lessons that can also be applied to all parts of my life. I interacted with people that I both liked and disliked and learned how to continue to work with these people to reach our objective.
The most important piece of why marching band is character building is the leadership aspect. I learned that it does not take a titled leader to influence the younger generation. Passing on the traditions of discipline, hard work, and fun can be done by all the band's members. As I learned to fill the role of my predecessors, I thought about what community I could help build in an effort to pass on what the band did for me. Creating a home away from home was the most important thing for me to try and create because that's what it was for me.
Although, all sports and clubs in high school establish a bond of sorts within that community. These bonds are enhanced in marching band as it requires a mix of friendship, talent, and discipline to create a cohesive product. I offer that the combination of these traits that is required is better than any other group I have been a part of and is the reason why marching band is the best high school activity.