Chamblee: Home to the Next Music Stars
High school is a crucial time for students to develop and improve upon their interests, and while many Chamblee students enjoy listening to music, a few have begun writing and producing their own songs.
Anna Zhai ('23), editor-in-chief of the Chamblee yearbook and historian of Beta Club, started playing the guitar when she was seven years old, and she has grown from playing in her elementary school's talent shows to performing original songs at Intown Coffeehouse. 
"Over quarantine, I was just really bored and started posting covers on YouTube. I thought I should get back into it because I did that a lot when I was younger. And then I thought it would be really cool if I started writing my own music, so I did that and took a lot of inspiration from Clairo and whatnot," said Zhai.
Zhai's music taste is constantly expanding, allowing her to be inspired by a variety of artists in different genres; her original songs' styles have evolved as her musical influences have changed.
"I feel like my inspirations in music really change depending on what I'm listening to at the moment. Right now, I'm very twee-inspired, but I also like a lot of alternative '90s stuff," Zhai said.
The summer before Zhai's junior year, she formed a band named Bark with Chase Dagley ('24), another Chamblee student. Last year, Zhai and Dagley recruited Ethan Mitchell ('24), whom they met in AP Music Theory, into the band, and this year, Jayden Jones ('23) joined. In the band, Mitchell plays lead guitar, Dagley plays bass, Zhai plays rhythm, and Jones plays the drums.
"My summer going into junior year, I was already writing and playing music, and I had this loop pedal I used to play my guitar tracks over each other. But I got kind of bored of that and wanted to play with somebody else. So I met Chase through a mutual friend, and after meeting up once and just playing some strokes together, we continued to play together," said Zhai.
While Zhai focuses more on the songwriting and performing aspects of music, Joseph Rodriguez ('24), another Chamblee student who writes his own songs, is more interested in music production. Like Zhai, Rodriguez's music taste has changed from when he first got into music.
"When I first started producing my own songs around age 14, I was into rap and hip hop, which I feel like a lot of people start with because they're relatively easy genres to produce songs in. But over time, I started discovering different artists, and that's been influencing me to make different types of music," said Rodriguez.
Rodriguez uses a combination of instruments and software to create the backing tracks for his songs.
"I'm self-taught on the piano and drums, and I use those as well as GarageBand on my computer for backing tracks because GarageBand is substantially better on a computer than on a phone," said Rodriguez.
Rodriguez feels that when it comes to original music, production is his strength; he thinks of lyrics as an additional instrument, not a priority.
"I don't focus too much on lyrics, but I at least try to make them coherent enough that my songs make sense. I try to make them have at least some type of value and meaning. Lyrics are very hard for me, but I try my best," said Rodriguez.
Zhai and Rodriguez both hope for music to be a part of their lives in the future. Although Zhai doesn't want to attend music school, she wishes to work in the business field within the music industry. Rodriguez hopes to be able to continue producing music past high school – not as a career, but as a creative outlet.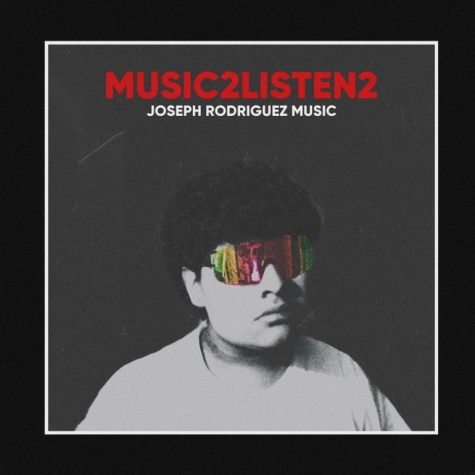 "I'm definitely still going to keep making music as a hobby regardless of what job I have," said Zhai.
Listen to Zhai's covers and originals: https://www.youtube.com/@annazhai9875 
Listen to Rodriguez's album, MUSIC2LISTEN2: https://distrokid.com/hyperfollow/josephrodriguez1/music2listen2