Chamblee Clubs Launch New Black History Month Festivities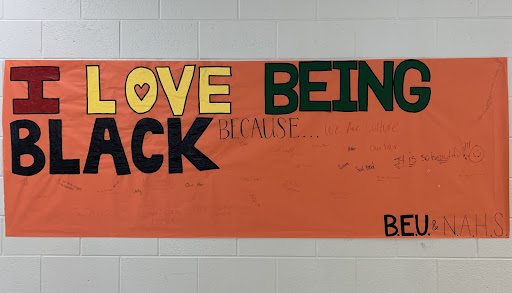 For many people, February is a time to celebrate and understand the effects of Black culture and history in America. Chamblee High School chooses to celebrate Black History Month positively through educational fun. including trivia and bingo. While recognizing the importance of historical figures, they also see it as a month to share Black culture with the community of Chamblee. The students of Chamblee shared their thoughts on the importance of this month.
Jayden Jones ('23) is the president of Chamblee's Black Excellence Understood. He is one of the main organizers of the activities in February. He shared what the importance of this month means for him.
"More than anything, [Black History Month] is a really good way to bring attention to the Black community, especially here at Chamblee High School where we have a very diverse community," said Jones.
He is organizing activities for the school including a drumline performance, daily trivia, and color days with plans for slam poetry and a cookout. He believes these activities will be beneficial to share and celebrate Black culture.
"It's important to celebrate Black people for countless reasons. In America, you cannot convince me that there is a more oppressed group of people than Black people," said Jones. "That's why it's so important to celebrate Black History Month. America was literally built on racism against us. That's why this one month is so important to celebrate, to give us the spotlight."
The sponsor for BEU and American Literature teacher at Chamblee, Mrs. Yasmin Anderson, had a similar sentiment towards the month.
"Black History Month is a celebration of Black culture. It is a time to be able to express, share, and hopefully teach others about Black culture," said Anderson.
Anderson hopes that students receive the right message from all of the events being planned to celebrate Black history and culture.
"Depending on how much [students] are willing to embrace, learn, and grow from these activities, they can take their knowledge with them in future things that they do and partake in more cultural celebrations," said Anderson.
Demetrius Daniel ('23), President of Chamblee's Student Government, agrees with Jones. He shared that it is not only about the history of Black people but also about who it inspires today.
"[Black History Month] means celebrating Black achievements, advancements that have paved the way for others to come behind them. It means appreciating the culture of Black history, whether that's music, arts, or drama. We want to show Black students that SGA appreciates them, show that we can appreciate not just past figures and famous Black people's achievements, but also students that are in the school as well. Black History Month is about educating other people and appreciating the culture," said Daniel.
Daniel is also in charge of organizing schoolwide events for the month. His plans include the yearly bingo game played with Black historic figures as well as a door decoration contest. He believes a poetry slam is also a great idea because of the prominent Black writers in history.
"I feel like [slam poetry] is a really good way to celebrate Black culture because obviously poetry was and is a really huge part of the Black [civil rights] movement. Especially during the Harlem Renaissance with people like Langston Hughes and Maya Angelou," said Daniel.
Black art has always been connected with not only the struggles of Black history but the triumphs. Ileana Depner ('23) is an artist at Chamblee who is inspired by many Black artists. She is the Vice President of Chamblee's National Art Honors Society and is working with Jones on displaying Black students' artwork.
"We're working on planning right now, to create posters and put them up around the school. We want to educate people about the significance of Black historical figures, especially within the art field," said Depner.
She also shared that even some of the most famous artists were heavily inspired by or even stole from Black artists.
"Picasso was heavily influenced by African art. Look at any Picasso drawing and then look at art from African tribal art," said Depner.
The culture at Chamblee surrounding Black History Month is one filled with fun activities and learning opportunities. Most people agree that it is important to celebrate both Black historic figures as well as support Black students and teachers at the school. There are many Black historic figures to be revered, recognized, and celebrated. Chamblee residents have shared some of their favorite ones:
Inspirational Black Historic Figures of Chamblee
Jayden Jones –  "As I have gotten older that answer always changes. If you had asked me 10 years ago, I probably would have said Michael Jackson because that was the biggest Black name I knew. Nowadays, I think I would probably say, Samuel L. Jackson. He has made such an impact on the Black community in such a positive way throughout his years of acting in media, and I feel that he is so admirable. Every time I see a movie or a news article with his name in it, I'm compelled to read it because I know that it's going to be something good."
Mrs. Yasmin Anderson – "There are so many [to choose from] but if you ask any of my students, they probably would tell you mine is Frederick Douglas. Education for African Americans has always been kind of something that was suppressed from us. Douglas preached that the way we can become successful is through education. That this is how we make a name for ourselves. He believed that once you are educated, no one can take it away from you. That is why Frederick Douglass is near and dear to my heart."
Demetrius Daniel – "Although it's kinda basic, I'd say Martin Luther King Jr. He was such an eloquent speaker and writer. Things I really look up to. The way he was able to explain the injustices behind racism and tailor the message depending on the audience was masterful and obviously very successful. The amount of courage it takes to stand up and challenge the norms of society when everyone else was scared to do so is inspiring. On top of that, the patience it takes to be called slurs, have people shout bigoted lies at you, and not get angry enough to retaliate is something I wish to have."
Kyron Chabis ('26) – "I would have to say Prince or Michael Jackson. When I was a kid, they were the main people I listened to and they were very successful in their respective arts.
Ileana Depner – " I would probably say, Ida B. Wells. I think that she was a really influential figure at the time and she did a lot even outside of equal rights and activism. I think she is just really admirable."