Controversial Artists: To Cancel or To Not Cancel
With many scandals in the media involving music artists like Kanye West and Rex Orange County last year, Chamblee students are divided on whether or not they should support their favorite figures. Rex Orange County was initially charged with six counts of sexually assaulting a woman in June of 2022, but all charges against the singer-songwriter Rex Orange County were dropped, shortly before his trial. Kanye West has always been controversial due to his social media posts, like when he shared several explosive messages he sent to Kim Kardashian, his ex-wife. Last October, he threatened to go "Death Con 3 on Jewish people," a reference to Defcon, the U.S. military defense readiness system, and recently he announced his support for Hitler. Despite this, countless students still believe in separating an artist's music from their actions.
"I don't think that Kanye should be financially supported or really ideologically supported either. But, I feel like if people still want to take his music and be like 'this is good music and we can learn from this,' then that would still be okay," said Garrett Moore ('24). 
Others believe specifically Kanye is inexcusable at this point, as he has continuously made hurtful statements.
"I think you can separate art from artists, but in Kanye's case, he has gone too far that it is really hard to. His music is amazing, but that same mouth said Hitler was chill. I can not rock with that anymore," said Mac​ Roberds ('23). 
Kanye has constantly targeted Jewish people, and many of them have had enough. 
"I think that the Jewish people have been through enough. Now, Kanye West is making tweets about our people," said Oliver Cady ('25). 
Streaming Kanye's music means more attention for him, which he could be thriving off of. 
"I am less inclined to listen to his music because he gets more streams and money, which he can use to continue to spread a white lives matter platform. Supporting him, his music, and social media are fueling that. I think that he lives off of attention, so the more attention you give them, the more crazy things they say," said Demetrius Daniel ('23). 
The white lives matter platform crossed the line for some Chamblee students.
"Honestly, I was chill with him up until he did the whole white lives matter on a t-shirt thing and started selling that," said Ethan Huang ('25).
Kanye West has still not fully apologized for his anti-semitic comments, but students might be able to excuse his behavior, as long as they understand the impact of what he said.
"I think that just because somebody did something horrible like that, it does not mean that you should stop listening to their music. But, I do think that you should recognize [what they have done]," said Elena Smith ('25). 
Some students contradict themselves when it comes to their favorite artists. 
"I think that I am less likely to support somebody that has done all this bad stuff. But, if Taylor Swift did something bad, I'd still like her music," said Smith.  
A popular belief is that music is art, and therefore should be kept separate from one's actions. 
"Art is more of like an expression of thought, and it does not necessarily have to be an expression of what you did," said Moore ('25). 
As for Rex Orange County, his initial allegations changed the way many thought of him.
"I was truly shocked when I heard the accusations of him assaulting a woman. I don't listen to Rex Orange County much, but I like some of the songs. I honestly thought he was one of those friendly musicians, based on his music, but I guess music really does not identify how a person can be out of the spotlight and in reality," said Shruti Nainwal ('24). 
Nainwal still believes in the allegations, regardless of the charges being dropped. 
"Cleared and dropped does not mean the same thing, so I feel like he should still have some consequences, especially because there were so many charges. I know he can not perform at concerts anymore, so I think that is good," said Nainwal. 
While Nainwal is not hugely affected by the allegations, students who do love him struggled with processing the accusations at the time.  
"My friends and I went to his concert! We could not openly support him, but I do love his music. I listened to his music on YouTube or something, so he did not get the money," said Peyton Crenshaw ('23).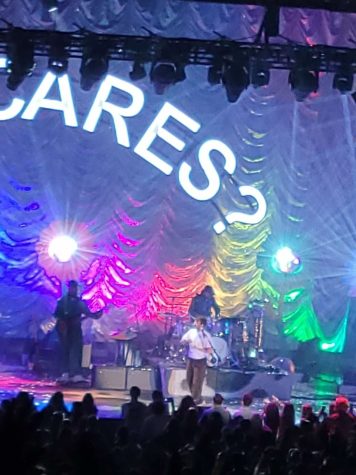 Now that the charges are cleared, they have no problem with supporting him. 
"He is back on my playlists. I will be streaming again," said Peyton Crenshaw ('23). 
Students who were not fans had an easier time not listening to his music and will continue to do so.
"I feel like there was a lot of evidence, and it was easy to drop his music because it was so overplayed. Yeah, so I feel like just because his charges were dropped, it does not mean he did not do it. It was not a big loss to not listen to his music anymore," said Nadia Peterson ('23)
A Chamblee student even took Alexander O'Connor's side in the matter, which was a very unpopular opinion. 
"Me personally, I think he did not [assault] her. He just followed her around for two days. How is that sexual assault?" said Huang. 
Artists are not the only controversial figures, as there are celebrities our Chamblee teachers grew up watching that have since been canceled. 
"I really admired Kevin Spacey as an actor. I thought he was an amazing person for a number of years. I thought he chose really good projects. I always thought he was very gracious when I saw interviews with him or awards shows. After the Me Too movement, I realized he was nothing as he appeared to be. It is really hard for me to go back and watch some of my favorite movies without thinking about some of the terrible things he did," said Holly Isserstedt. 
Ultimately, whether or not one separates an artist's actions from their music, students agree that answering the question can be contradictory.
"I feel like me saying that you should not listen to music by artists who have done bad things would make me a hypocrite because if my favorite artist had a scandal, I would probably still listen to them," said Tanaya Dave ('25). "But, would that make me a bad person?"