Bouncing Back Into It: A Look into Chamblee's 2023 Tennis Team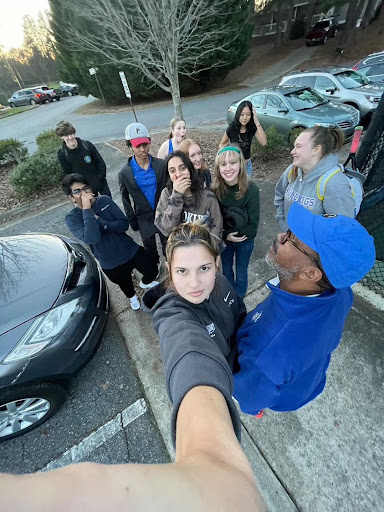 The spring semester at Chamblee High School always comes with a plethora of fresh sports. From lacrosse to soccer, there are plenty of games and tournaments for students to attend. One sport that is very successful at Chamblee is the tennis team. Coming in second at the state championship last year, they are looking forward to this upcoming season and are hoping to win the state title. Players of this year's team show both optimism and excitement for this season.
Kiera Murphy ('23) has played for the Chamblee Tennis team for four years. She is excited about her senior season and is very optimistic about the outcome. She believes that the team is already improving and will continue to improve to become even better than last year.
"What's so clear is the kind of connection we already have amongst all the players. Last year, there was such a competitive feeling and no sense of community. This year, it's so much more friendly and inviting. We've been talking about dressing up to watch the games if you're not playing or going out to dinner afterward. We have a much better community feel," said Murphy.
She told us how this sense of community directly correlates to their playing and why it is essential.
"We all play better because we're happier. Players are less nervous about their matches when they know that they're going to have fun. That's what it's really all about," said Murphy.
After their first game of the season, Murphy sees especially how she and the team can improve.
"We need to work on our line-ups and doubles strategies. For me, my serves need to be more consistent. I know that the new coach, [Coach Jackson], is really great with strategy work and doubles work. So I'm excited to see what he has to tell us about," said Murphy.
Varsity Boy's Tennis Captain, Nick Nitsche ('23), agrees with Murphy. He believes that the team has improvements to make in doubles and offered his input on how to do it.
"The lineups are definitely the most frustrating thing in tennis. The hardest part is always figuring out who goes on doubles teams. When people practice, they mostly only practice singles. Our doubles players need to actually have doubles practices. We want to invest well and early in these line-ups so that they can get do better in doubles matches earlier," said Nitsche.
He is excited for this year's season and team, though his main priority is building the school's team for years to come.
"I guess I do want to win the championship this year because I am a senior. I honestly just want to help set up the team for next year because a lot of the people on the lineup are actually underclassmen. The team is actually gonna going to be pretty good for the next few years. That's the thing I'm looking forward to the most," said Nitsche.
Like any other sport, the future of the team relies on underclassmen to fulfill the roles of the graduating seniors. One sophomore in particular, William Hackney ('25), is preparing to do just that by already working on what he needs to do to get better.
"Just consistency. I just make too many errors. I definitely want to play club in college but I need to work on my game now," said Hackney.
Alex Coursey ('26) is another player on the team that knows what he needs to do to improve and make the first line.
"I'm looking forward to improving my serve. In our first game, I was able to get the ball back in play quickly. I was able to do enough with my forehand and my backhand to keep him pushed back in the court though my serve definitely needs work," said Coursey.
He also gave some input on how the team can get better and how the coach is doing that.
"I think our new coach is trying to build a louder, better culture. We definitely need to have more practices outside of Chamblee, especially for our younger players," said Coursey.
One integral part of this year's team is the new coaching staff. Coach Jackson and Coach Lewis plan to help the team elevate to the next level. Players have added why they will help them reach their goals this season. One player, Ryan Foley ('23), likes Coach Lewis's character.
"He just really cares about the morale and well-being of the players. I'm excited to have him as a coach this year for sure," said Foley.
Mackenzie Hensarling ('25) talked about what she liked most about Coach Jackson.
"I like the system that Coach Jackson has. He just makes everything more organized. It feels official. He has a lot of resources because he's a PE teacher and he's able to tap into that knowledge to have efficient practices," said Hensarling.
With a little of a rough start in communication and teamwork, the team seems to have high hopes for the rest of the season. Many players know what they need to improve on and want to build a better community for years to come. They are excited to train with the new coaches and reach their goals of winning the state championships this year.