"Her Loss" or Your Loss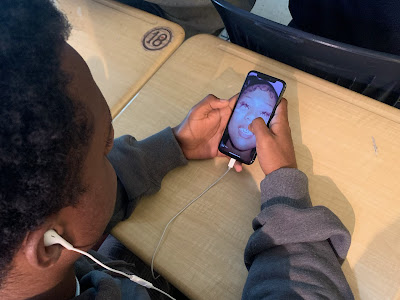 "Her Loss," a new collaborative studio album by Drake and 21 Savage, was finally released on November 4, 2022. Fans first received word of something new approaching by way of onscreen text during the official video for the track "Jimmy Cooks" from the "Honestly, Nevermind" album.  In the days after that, fans have been treated with a series of promo clips that have been described as more of a performance piece about promo rather than actual press appearances. Some students feel that the album might have been overhyped because of this. 
"Well, Drake really hyped it up with a bunch of fake promotions, like that fake Tiny Desk, the big book, and everything. I actually thought that those were real, and I was a little excited about some of them, which made me dislike the album a little bit. […] I feel like the only reason people think it is so good and better than anything he has ever put out before is that you could see glimpses of his prime," said Abel Negash ('25). 
The album only has one feature, with Travis Scott on "P**** & Millions," which was a favorite of countless fans. 
"I really liked P**** & Millions because I felt like the song changed towards something that Travis was [suited for] doing, but not changing so much that it took away the [meaning] of the song," said Negash. 
Another favorite was the album's opening track "Rich Flex."
"Rich Flex was my number one when I first listened to the album, and then I went back, and it is still in my top five. I love when Drake has different beats in his songs. I was kind of shocked at first, but I really like it," said Temple Lester ('25).
Some fans did not like that track as much because it was not unique to them. 
"I think [the opening track] is overrated. I don't really like it that much like the flows are kind of just the same throughout the entire thing, and it is the same thing that Drake and 21 Savage always do," said Dean Payne ('25). 
As for Drake's Her Loss album cover, it features a three-year-old image of model Qui Yasuka, which left fans wanting more. 
"I think the cover art is interesting. I think they definitely could have done better, but it is what it is," said Conrad Thompson ('23).
Many fans were hooked at first listen because the album was not what they expected it to be. 
"I found this album very intriguing due to the [large] amount of switching beats throughout the songs. I thought it was very experimental, and something new. Not only did the album meet my expectations, but it also exceeded them," said Suramya Srivastava ('25). 
Other Chamblee students did not like how much the album deviated from the normal for Drake and 21 Savage.
"The album did not meet my expectations because I thought of the album to be too different, in terms of like, what [Drake and 21 Savage previously produced]. I think that a lot of people had [higher] expectations for it, than what it actually came out to be," said Christian Yared ('24). 
Lester shares similar sentiments that this album was not one of Drake and 21 Savage's best, but it still is a good rap album to her.
"I do not think it is their best, but they definitely did something that when it ages, it will be something that we go back and look at, and say 'this is where they really show who they are.' […] I think Drake kind of returned to his roots, and I think 21 really helped out with that," said Lester.
Chamblee students have mixed feelings about different aspects of this album, but a lot seem to think that it is one of the best of the year. 
"I definitely feel like this album is in the top three in its respective category of rap albums," said Srivastava. "This album made my year."