Cougars' Got Talent!
Talent shows deserve their cringy reputation: while true talent does shine, it is often outnumbered by lackluster acts. Think scraping violin strings, off-key singing and juggling gone awry.
The 2023 edition of Kittredge Magnet School's Talent & Variety Show, however, proved that every once in a while true talent is displayed from start to finish. The near-capacity crowd in Chamblee High's auditorium were treated to over two hours of brief performances on March 3 sponsored by the Kittredge Magnet School Foundation.
To begin the night, Evan Stallings ('29) stepped in front of the curtain. As the music began, he owned the stage, moving with confidence when not battling the mic chord, and had the whole crowd clapping along as he sang "Best Day of My Life" by American Authors.
Then the curtain opened wide revealing Ehan Min ('31) seated with cello. He was diminutive on the cavernous Chamblee stage, but his cello playing filled the auditorium with the familiar melody of "Minuet" by Boccherini.
Too early to use the word accomplished when discussing a fourth grade? I think not when it comes to Ari Friedman ('31) and his command of the keys. "Sonata in G Major" by Beethoven rolled out of the baby grand effortlessly and beautifully.
Give Ian Gerstle ('29) credit for the clever use of empty stage and silence to build anticipation for his gymnastics. His routine highlighted his strength and agility and garnered positive "oohs" and "ahs" from the audience.
Webster's Dictionary should delete their definition for cute and replace it with a photo of Nishka Balasubramanian ('31) and Selini Karunanayake ('31). In matching outfits, synchronized choreography and an obvious love for what they were doing, the pair danced to Rihanna's "Dancing in the Dark."
Then in a dress the color of a sunset with a bracelet that sparkled in the lights as she played, Michelle Ubaka ('29) clearly impressed her audience with "Golden Hour" by JVKE, a piece she taught herself to play.
Kaira Modak ('31) took the stage then dressed as a student from Hogwarts. She displayed her knowledge and passion for Hermione Granger by delivering a funny original monologue peppered with Kittredge references in character. Dr. Neely got into the act by helping her cast a spell.
Areev Pathak ('29) rocked a dark green Ludwig drum kit to accompany Survivor's iconic hit "Eye of the Tiger". His fills were spot on. I half expected to see Rocky Balboa run across the stage. His fans went wild.
Krish Chudasama ('29) recited pi to 85 digits. Could he have made a mistake? I certainly don't know, but I was impressed nonetheless.
The first fifth grader to represent was William Chiu ('30). Alongside the music of Imagine Dragons "Radioactive" she showcased the fluidity and drama of martial arts.
The Potterverse made another appearance as Levi Rainisch ('30) played "Hedwig's Theme" by John Williams on the piano. It is a tune I confess I was unfamiliar with before, but Rainisch brought out the magic in it for me!
One could hear a pin drop in the room as folks listened to the bittersweet tune "Yesterday" sung by Zoey Bishop ('30). It may be one of the most-covered songs in history, but young Bishop aptly captured the melancholy and tenderness in Sir Paul McCartney's lyrics.
The talent show plugged in next as the curtains opened and Ethan Martin ('29) sat with his electric guitar and amplifier. He performed a medley of guitar riffs from AC/DC, White Stripes, Black Sabbath and one too recent for this old head to recognize.
After presenting a brief history of the song, Christian Vila ('29) presented a stirring rendition of "Le Chant du Depart" in French! Could he have messed up a line? It's possible, but as far as national anthems go – this one works.
Remember the name Yunho Kim ('30). The baby grand seemed truly grand under the precise control of Kim's fingers as the notes of "Ballage pour Adeline" by Richard Clayderman filled the auditorium. It was absolutely fantastic.
Ballet is not my bag, but Hannah Hutchinson's ('30) grace and control makes me want to change that. She performed Tchaikovsky's "Tea Chinese Dance" from The Nutcracker and it was fabulous.
Next up was Shaan Patel ('30) to sing "I'm Still Standing" by Elton John that was reintroduced to our world through the movie Sing. It was the craziest thing as he began the song motionless and slowly -slowly! – the music took over as he tapped his foot, swayed and shimmied. The more he moved the stronger his voice got. The fans adored him.
I'm calling it first: "Let's paint a Taco Bell" may be the new catch phrase for Generation Z after Matthew Harper ('29) and Logan Winters ('29) presented the comedy skit "Hair Painting." Everyone – and I mean everyone – was laughing as they literally painted a tree on an easel with their hair. Get it? Hair. Painting. Got it!
After a brief intermission, act two of the night began with Abigail Sneh ('30) walking through the curtain and into the spotlight wearing full mermaid regalia. Sneh performed "Part of Your World" by Jodi Benson from the movie The Little Mermaid and, to be perfectly honest with you, she absolutely crushed it. Chamblee audiences should get used to seeing her on their stage because she's at home on it.
The curtain opened to reveal a scene performed by Medha Koduri ('29), Yanna Krasteva ('29), Emmy Liang ('29), Elizabeth Van Der Holst ('29) and Ruhi Yadwad ('29). They presented a piece titled "Dhar Woman" that emulated a youtube video and taught us an important message that we should all help those in need, and you never really know what others are going through. Liked and subscribed!
Lucia Byrd ('31) brought it with her rendition of Miley Cyrus' new earworm "Flowers." The verses were delivered well, but the chorus shone brightly every time and as Byrd really went for it vocally. Miley would be so proud.
Dance returned to the stage as Corinne Jones ('30) performed beautifully to "Say Something" by A Great Big World.
Neal Rau ('29) sat at the piano bench next and played "Castle Town" by Toby Fox, a complex piece requiring dexterity, speed and also a light touch. His fans – fans! – were through the moon.
Then on the other side of the stage, Zion Logbo ('29) and Mia Perla ('29) raised their violins to their chins and played "Hip Hop House" by David Bruce. Sporting cool shades, the pair also showed how cool violin can be.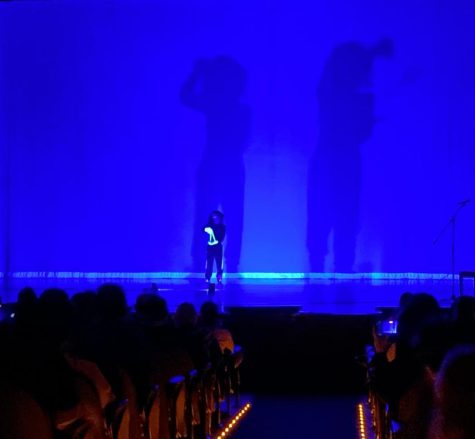 In what was probably the coolest looking act of the night, Elliot Vigil ('29) performed yo-yo tricks. Dark blue lights at the foot of the stage not only created a black light effect that made his neon yellow yo-yo shine, but also cast two huge shadows behind him that mimicked his yo-yo tricks as if two 20-foot-tall ghosts were the backup dancers.
Livi Schmidt ('30) brought a Beatle back to the stage with a poignant rendition of John Lennon's "Imagine."
Every generation needs a bird call person – someone who catches the spotlight with the sounds of the avian world – and Isabella Vila ('29) is carrying that torch for this generation. Wearing feathered wings and recounting a fictitious trip around the world, she vocalized probably a dozen different birds. Such range! So fun! She brought the birds!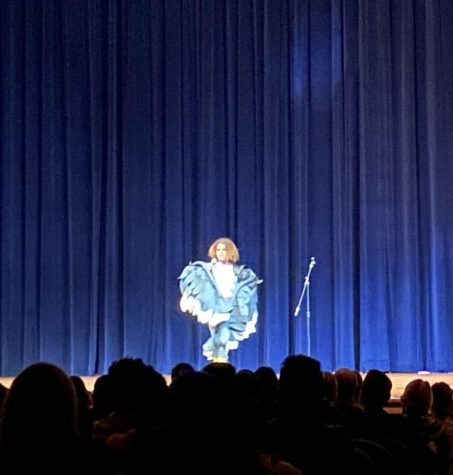 To the sounds of "Payaliya" by Alka Yagnik and Kumar Sanu, young Kareena Bath ('29) put her amazing dance talent on display with fluid moves and magical music blending traditional and modern beats.
The piano talent runs deep at Kittredge this year. Rowan Terry ('29) wowed the crowd with his runs up and down the keys playing "Solfeggietto" by C. P. E. Bach.
Thanks to Pomme Truitt ('30), the most underrated musical of the last decade was represented at the talent show. She delivered the message of "Come Alive" from The Greatest Showman in a top hat and tails, and had everyone clapping along.
Martial art's returned to the stage with Varnit Kumar ('30) carrying out high kicks and quick spins of taekwondo. And then he got a staff that got spun and thrust. And then he broke boards with his hands. Woe be to any would be attackers!
Beat boxing and raps about cats? Give me more, please. Austin Barocas ('30) did the former and Nora Zimmerman ('30) did the latter with an original rap about, well, a cat. Old school hip hop is ripe for revival and these two could lead the charge. Grandmaster Flash would truly be stoked.
Avery Gifford ('31) and Amelia Mottern ('31) danced together next to Meghan Trainor's "Made You Look." They were having fun up there and it showed. Their athleticism was on display with well choreographed moves and cartwheels. The crowd was in their hands.
There was no rabbit in his hat, but Ronak Phadke ('30) had everybody wondering how he was doing all the magic tricks he performed. His stage presence was outstanding, and I expect to see him on bigger stages in the years to come.
Pianist Arthur Wang ('29) mesmerized with his touch, bringing the audience – that had become raucous- to an awed silence. My teenage daughter said he's "really really good," and that's probably the highest praise one can get.
For the final act of the night, the curtains opened to reveal Lillian Mueller ('29) standing with an electric guitar slung over her shoulder and a microphone at her lips. Whoa! As she began "Riptide" by Vance Joy Mueller showcased a voice that's riveting, with a power beyond what an elementary student should have. Just great and destined for arenas and the cover of Rolling Stone.
A review of the KMS Talent & Variety Show would not be complete without a tip of the hat to the emcees of the evening: Carter Townsend, Melissa Reznik, Brock Schonberg, Sophia McCormack, Ellis Martin, Sophia Esposito, Luella Whiteis and Nysa Malik. They introduced every act and their dad joke game was strong throughout the night.
Those behind the scene also turned in strong performances as the performances flowed smoothly from one to another, technical difficulties were very few and very far between, and everyone had a delightful time.