Chamblee Water Polo Trains for Success in Spring Off-Season
Started as a small, co-ed team, Chamblee water polo has now expanded to three different teams, with players ranging from 7th graders all the way up to 12th. The team ended their regular season with a bang; the boys' team finished fourth in the state of Georgia, and the girls' team not falling short behind, finishing the season with a 10-2 record. Now, players are in the midst of their spring conditioning season, which consists of sharpening and improving their already quality water polo skills.
Captain Maddy Murphy ('23) shares how Chamblee water polo has evolved throughout the years.
"The team as a whole has done quite well. We have expanded to four teams, including a girls' team. Our boys' team won our [division] a year or so ago," said Murphy. "Our other teams continually get better with each season and the girls finished [with a] 10-2 [record] at the end of last season."
Murphy has been on the team for five years and recounts her first season playing.
"I started water polo in seventh grade. I realized in seventh grade that I wanted to continue water polo because the group of senior boys at the time really [instilled] their love for the sport in me. They were extremely patient, never treated me as the little girl of the group, and were so much fun to be around. I still talk to some of them often," said Murphy.
Despite this being Murphy's last season, she expects the girls' team to dominate in the coming fall season.
"This season is our off-season. It is mostly for practice and recruiting new players but next fall, I'm expecting amazing things," said Murphy. "The girls lost two seniors this season and most of the team is very young so we expect there to be some adjustment needed in our absence but I fully expect this amazing group of girls to step up and become competitive with some of the top girls' teams in the next year or two. I can not wait to see what they are able to do."
Awarded MVP in the regular season, Jack Rourk ('24) recounts his water polo journey.
"I started water polo the summer after 5th grade," said Rourk. "I always knew from the start that I wanted to continue throughout high school, but it was most definite after I was the captain of the JV team my 8th grade year."
Finishing second in their regular season, Rourk expects the team to do better in the coming fall season.
"Last season we finished second in the regular season and fourth in the state tournament and I'm hoping to do even better this season because we didn't lose any [players] and we have been working harder. We are in the spring season right now, which is just practices and some scrimmages, the actual season isn't until the fall," said Rourk.
Rourk hopes to play club water polo in college after his high school career ends.
"For this season our team goals are to win the regular season and the state tournament," said Rourk. "After high school, I [want to] play club water polo in college but not D1 or official [water polo] because I want to have fun with the sport without the commitment."
Junior Matthew Haag ('24) explains the importance of this conditioning season.
"It's sort of like a practice season right now. Fall is once more competitions [happen] and [we compete at] state. But right now, we've scheduled some scrimmages, and […] we've done practices," said Haag.
Starting in seventh grade, Haag has worked his way up all the way to the boy's A team.
"In seventh grade two of my friends said that they were gonna do [water polo] and I didn't know what it was at first [I thought it was] some random sport, but they said it sounded fun so I did it," said Haag. "The first year I was [on the team] I just hung out with my friends and played a little bit. Then I continued doing it every season and then eventually, my coach was like, "You're good," so I joined a club team at Dynamo. I joined later than the other kids but I realized I wanted to [continue playing] it once I joined a club team."
Haag recounts how the team did his first season playing.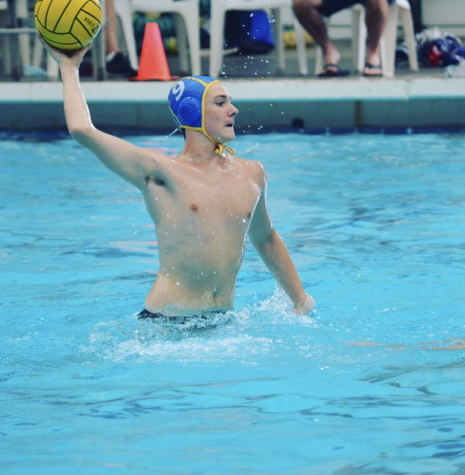 "We were really bad my eighth grade year but then we got good my freshman year. I know we've gotten even better since last year. We were second overall in the regular season and I hope that we get first and in our division [this year]. We're training right now to do that," said Haag.
Haag shares his goals for the off-season which include focusing on specific skills, including shooting.
"I want to focus on more skills like shooting and just like skill-based stuff and then next season I can work on working out and then getting stronger," said Haag.
Freshman Alex Aleksandrov ('26) shares what he's looking forward to for the fall season.
"[The team has] gotten a lot bigger and has more coaching staff. Everybody's gotten a lot better so it's becoming a more productive team," said Aleksandrov. "I'm looking forward to seeing how far our team has come from last year and getting ready for the fall season because we're going to try and win the league."
Aleksandrov has been on the team for three years and hopes to make the Olympic Development Program [ODP] next year, which is a handpicked team of high schoolers chosen by the USA Olympic & Paralympic Committee.
"I want to make ODP nationals again next year so I'm going to stay on [the team] and hopefully become a captain next season and stay a captain for my senior year," said Aleksandrov. "There's a lot of opportunities in water polo because not a lot of people play it and it's a fun team sport. It's not very well recognized so it's easy to get recognition from colleges."
Freshman Brianna Harper ('26) has been on the team since seventh grade and hopes to be captain in the coming years.
"My goal for this season is for everybody to improve and for our newer players to really learn the game and be comfortable with it. At one point, I would like to be captain, which would be really nice and I really just have to stick with it all four years. For the rest of our seasons that we have, my goals are to add a lot more younger girls so that when I leave the team will still be here," said Harper.
The goals that Chamblee water polo players have for the spring season are definitely going to pay off in the coming 2023 fall season.