Chamblee Musicians Stir Up Treble at All-State Orchestra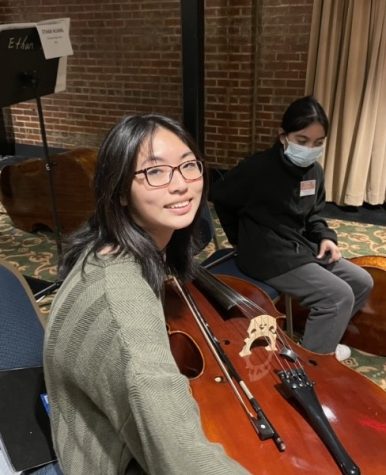 On March 2, some of Chamblee's best musicians traveled to Athens, Georgia for the prestigious annual All-State Orchestra hosted by the Georgia Music Educators Association (GMEA). All-State featured some of Georgia's best young musicians from schools all over the state gathered for three days to play music together under the guidance of renowned conductors. 
The road to All-State was a long one for the musicians, and far from easy. The audition process is highly difficult and selective, and tests the talent, preparedness, and composure of musicians by having them play excerpts of selected music.
"So you have to practice specific music and you audition in front of judges and they rate you on scales on different parts of your music, like your tone and how accurate the tempo was," said violinist Alex Coursey ('26). "Basically there are two rounds so you can get into All-State. The first audition was in September. Early December of last year was when we found out who made it."
Since preparation for the rigorous auditions is key, the long time between auditions, while providing ample time, also served to provide its own difficulties. 
"What was tricky was that the audition dates are so far apart that you really need to plan out when you want to practice or you're just going to end up cramming. I didn't plan enough, and then I had to cram," said Coursey.
Despite the stress of auditioning, some found it paid off in the end.
"[The audition process] was very long and complicated but I feel like it was worth it," said violinist Gia Choy ('26).
Cellist An-Ying Xu ('25) recommends ample practice leading up to auditions to ensure a satisfactory performance.
"To prepare, you should practice sight reading a lot, like practice at least once a day, and make sure you listen to the recordings of your excerpts, so you can get the vibe you have to play. Listen to the recordings to get the articulation and for the tempo too," said Xu.
Given the selectiveness of the program, some were surprised to find out they made it in.
"I was really confused because I didn't think I would get in. I was wondering if they had made a mistake," said Coursey, a sentiment which Xu shared.
Though the auditioning process proved grueling for years, this round brought more acceptances to Chamblee music's best. 
"I've been auditioning for All-State since middle school and I never got in before, so it was unexpected and I was kind of surprised that I got in," said Xu. 
Come Thursday, March 2, the selected All-State musicians began to make their way to Athens. With the rigorous schedule imposed by GMEA, the musicians had to hit the ground running from the second they arrived in Athens.
"Basically, we got there at six, and we practiced from 6:30 to 9," said Coursey.
Coming off a long drive starting right after school, the first rehearsal was understandably somewhat rough.
"We were locked in a room for two hours on our first practice and I was really tired. My stand partner was really nice, though, and my conductor was really funny, like he called our playing delicious and compared it to seasoning," said Xu.
The next morning, Friday's rehearsal schedule proved to be just as demanding.
"And on Friday, you wake up, you get there around 9, and you practice until lunch break at 11, and then you have two hours for lunch. Then we came back and had another three hour rehearsal, and then we had a dinner break for three hours, then we came back and practiced for another three hours and then we went home and got home around 11 and went to bed," said Coursey.
Though challenging, the schedule was necessary given the short amount of time musicians have at All-State, and allowed them to make the most of their time there.
"It was a good learning environment because we only had like a certain set time to learn pieces and have a performance immediately after because it kind of forced you to learn it," said Choy.
The rehearsals, while long, provided a great opportunity for musicians to practice with and get to know people from around the state.
"I was with ninth and tenth grades in full [orchestra] with the band instruments. Basically, there are just people from other schools plus some of the people who are also in my orchestra at Chamblee. My stand partner was from Woodward. I saw a lot of people from GSMST, a lot of people from Paideia, and a lot of people from Westminster," said Coursey. "You got to learn a lot about the other people based on how they play."
The level of talent among the different All-State musicians helped create a unique learning environment and a more efficient rehearsal process that allowed for a greater focus on the details.
"I had fun where we didn't really have to practice certain parts of the piece over and over again because everyone was already pretty good so there was less repetition and more worrying about like the style that we wanted it to be played in so it was more personal," said Coursey.
All-State not only allowed for new experiences in rehearsal, but also in exploring Athens, a new city for some.
"It was pretty fun because you get to explore downtown Athens and it was my first time there. The breaks they gave us were pretty long so we had plenty of time to walk around and explore Athens," said Xu. "I really liked the variety of the restaurants and there were a lot of options to choose from and there were a lot of cuisines. A lot of the businesses around there were small businesses and it was nice to see that."
On the last day, though, the schedule left little time for leisure, and the last few hours of All-State were packed with rehearsals and the final performance the preparations had built up to.
"On Saturday you had to get there at around 8:10 and you had a three-hour rehearsal and then a concert, and that was basically it," said Coursey.
The final performance at Athens's Classic Center featured performances from all of the orchestras at All-State: the middle school (string) orchestra, the ninth and tenth grade full and string orchestras, and the eleventh and twelfth grade full and string orchestras.
"We performed three songs, the music was pretty good. It was challenging but pretty good," said Xu.
Xu, Coursey, and Choy were all part of the ninth and tenth grade full orchestra, which unlike the string orchestra included band instruments, and their conductor, Mr. Bruce Walker, had selected a sophisticated selection of music for them to perform.
"I remember we played a Grieg piece, most of them are very loud, except for we played Firebird by Stravinsky as the last movement. That was our one very quiet piece, it's very famous too. It's from a ballet. It wasn't my favorite because I didn't get to play much, but it's a nice piece in general. The Grieg was definitely my favorite piece because it's a lot of noise but it also sounded good," said Coursey.
The difficulty of the pieces helped make the performance even more rewarding in the end.
"I really liked the music, and I feel like after rehearsing for twelve hours, the amount of hard work and effort that we all put in shone through," said Xu. "It felt good to perform well after practicing for so long."
In the end, All-State was an experience to remember for some of Chamblee's best.
"I would recommend [All-State]," said Coursey. "It's a lot of work, but in the end you always look back on it and you're like 'I wish I could go back.'"