Entrepreneurship App Zilla Takes Over Chamblee's Halls, Cafeteria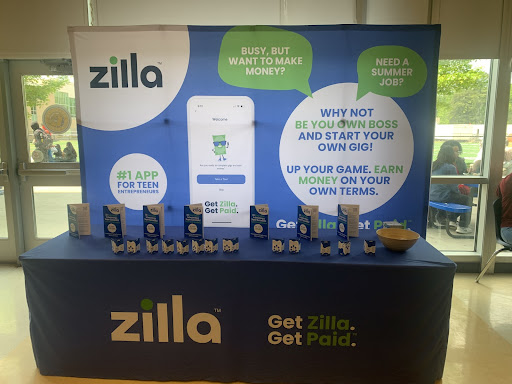 The number of teen entrepreneurs has grown lately due to the increased influence of social media. Younger people are now able to promote their ideas more easily and effectively to their audience online. Students at Chamblee High School have recently been introduced to the app, Zilla, a teen entrepreneurship app that aids younger people in creating a business. They take a percentage of the profits while providing aid in organization and planning for the new company.
Chamblee students have stated some of their opinions on this app and the school allowing them to advertise it. Dylan Banister ('24), a student that has thought of being an entrepreneur before, stated that the app might be a good thing.
"I think it could be a good idea, although it kind of depends more on whether or not other people who need these services actually use the app," said Banister.
He pointed out an obvious problem of advertising for non-teen downloaders. Some wonder if the company itself is a scam because they take money from the profits. Kiera Murphy ('23), a student who wants to start her own cookie business, agrees with Banister. She stated that the app would be beneficial to most inexperienced entrepreneurs. "I think it's a cool concept and good for people who don't know where to start," said Murphy. "I think it is also cool that the school is supporting entrepreneurship in teens, but the app itself isn't really necessary."
She adds that the app might even be counterintuitive.
"The whole point of entrepreneurship is that you work for yourself," said Murphy.
Zilla does allow for both parents and teens to have an account associated with the business allowing parents to manage and aid the children in the business.
Overall, It seems that there is a need for aid in entrepreneurship for teens, though some still see problems with what Zilla has to offer.