A Night to Remember: Chamblee Takes Flight for Prom 2023
On April 22nd, Chamblee's juniors and seniors all put on their best suits, ties, and dresses to share an evening at the Delta Flight Museum for prom 2023. Among all the amazing aspects of the night, the location of this evening brought about some controversial debate.
Junior Joseph Rodriguez ('24) feels that distance is one of the largest factors. 
"I'm indifferent about the location, but I totally get why people wouldn't like it— because it's really far away. It's like 45 minutes away from me at least. I haven't been [to the Delta Flight Museum] but, I mean, it looks cool and everything. The only issue is the distance," said Joseph Rodriguez ('24). 
Meagan Mcclosky ('24) has big expectations for this year's prom since Covid-19 hindered school dances in the past.  
"I'm expecting something elaborate. You know, it really has to step up its game since, you know I feel like school dances have been a little out of the picture since Covid-19. I really think we need to get back into the elaborate swing of things…" said Mcclosky.
Although Mccloskey doesn't mind the location, she does think the Fox would be a great option to hold prom.
"I personally don't love [the location] but we can make it work. If I had to choose anywhere to have it I'd probably say The Fox because I know a lot of people that did there and they said it was really great. I'm mostly excited about dancing and seeing my friends," said Mclowsky.
Aside from the location, the night of prom entails so much, including what to wear, who to go with, and overall plans for before and after. Whitman Veader ('23) gives his take on how to have a smooth night. 
"Get your plans ready before, don't try to plan last minute. I know a lot of people who waited until the last minute and they didn't have dinner plans or picture places and were stressed out the day before," said Veader.
Despite the long commute, Veader felt the Delta Flight Museum was a cool place to hold prom, partially because of his love for planes. 
"I thought that the location and the venue [were] cool. I thought it was gonna be a little bigger than it was. But then again, I also like planes so that is affecting my opinion a little bit. Although I do have to say it was an annoying drive," said Veader. 
Brian Parker felt indifferent about the music played at prom, however, he thought the location and scenery were unique. 
"I was looking forward to […] good music, but in my opinion, I didn't feel like the music was too good. So that expectation was not met," said Parker. "But I did like the scenery and location, just being next to the old planes was kind of cool, because that's not an everyday thing and we got to go in the old planes too. That was cool."
Senior Anna Claire Kegel ('23) went in with low expectations.
"I had very, very low expectations because I know Chamblee and I know their social events and I would never raise my expectations. So I mean, my expectations weren't very high, but I think they were met," said Kegel. 
Like others, Kegel felt the location of the evening was a little inconvenient and hard to navigate when first arriving. 
"It was just too far for my liking and it just irritated me. I mean, I guess it was cool, there was so much security, the parking trying to get there was confusing, and the drive was awful. It takes you down the worst part of downtown," said Kegel.  
 Compared to last year's prom, held at The High Museum, Kegel felt that this year's prom was a more positive experience due to the energy level. 
"This year was definitely much better. I just came late, but I could tell everyone had a more positive energy around it. It was a lot more fun than last year," said Kegel.  
While some students felt the venue wasn't the best place to hold prom, senior Ethan Snyder ('23) had other thoughts. 
"I've seen other proms and they've had really cool [venues] and ours didn't seem as cool at first, but seeing all the planes and stuff was really cool. I was just on the dance floor the whole time so it didn't really matter," said Snyder. 
If Snyder had to give one piece of advice to rising juniors going to prom next year it would be to find a group that will stay on top of plans.
"Find a group [of] proactive people […] that will get it done and go with someone […] that's not going to stress you out and just have fun," said Snyder.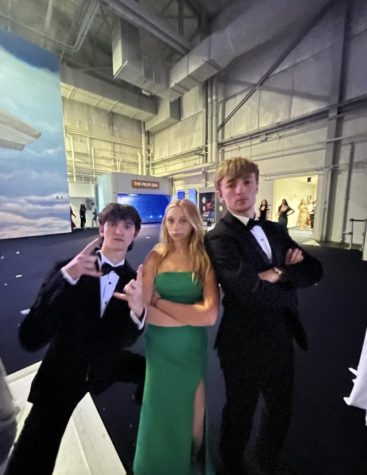 While the location of this year's prom did spark some controversial debate, everyone can agree that prom 2023 was a soaring success.