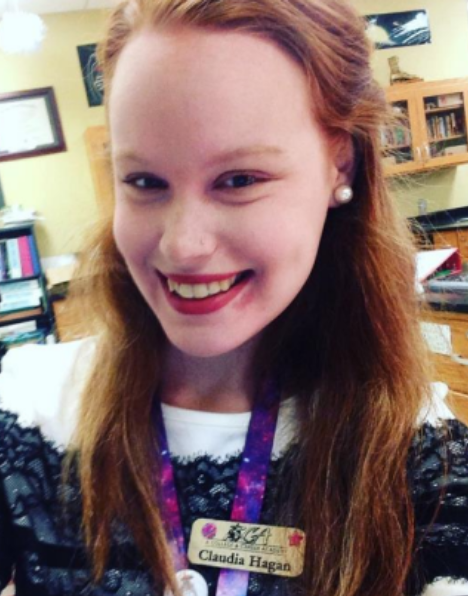 As the 2023-24 school year kicks off, students may notice a new face on the fourth floor: Ms. Claudia Hagan, Chamblee's newest science teacher.
Hagan may be new to Chamblee, but she's hardly new to teaching; this year marks her 11th year in education. She started her teaching career as a special education paraprofessional at an alternative school in Conyers, a city in Georgia's Rockdale County. 
"I fell in love with [teaching], so I went to school and got my master's in teaching science from Georgia State," said Hagan. 
After receiving her master's, Hagan taught at her alma mater — Rockdale Career Academy in Conyers — for five years. Even still, Hagan's goals as a teacher continue to grow. 
"I left the classroom and went back to Georgia State to become a full-time student to get my PhD. I did that for five years," said Hagan. "I'll be completing my dissertation in October, but I decided to come back to the classroom this year."
Despite the fact that Hagan has been out of the classroom (in a teaching capacity, that is) for several years, she feels right at home at Chamblee — apart from one aspect. 
"The stairs and I get into a fight every day," said Hagan. "Being in the penthouse, it is a trek." 
Aside from the ever-dreaded stairs, Hagan enjoys teaching in "the penthouse," her endearing nickname for the fourth floor, immensely. 
"I really am enjoying my time at Chamblee," said Hagan. "I love my students. They're pretty awesome. Everyone seems to want to be here and want to learn, and I appreciate that." 
As her experience would suggest, Hagan is teaching chemistry and physics this school year. She has a unique chip on her shoulder when it comes to the subject of science and her lifelong interest in it. 
"I like teaching — particularly science — because when I was in high school, I had really horrible science teachers," said Hagan. "I guess I just always wanted to be the teacher I never had. Science helps you understand the world around you [as] it makes you think critically about things and not just accept the things that people tell you. It also shows that things can change, and it's okay that they change."
Outside of school, Hagan spends her time watching TV and being with loved ones. 
"In my limited amount of free time, I thoroughly enjoy watching K-Dramas," said Hagan. "I love [listening to] K-Pop and hanging out with my fur babies as well."
Hagan has two cats and one dog, all with names almost as eccentric as their stories. One of her cats, Fluff Puff McGruff, has an especially touching past. 
"I found him in a sewer drain," said Hagan. "He's adorable. He's the best." 
Hagan's other cat is named Maybelline and is affectionately referred to as May-May, while her dog, Aurora Borealis, is called Borie. Hagan is keenly aware of her unorthodox taste in names. 
"My mom is really concerned [that] if I ever have children, what I'd name them," said Hagan.
Hagan has big goals — both personal and professional — for the upcoming school year.
"Personally, I'm most excited about graduating with my PhD and becoming Dr. Hagan," said Hagan.
Through working to accomplish this goal, Hagan is eager and ready to apply what she's learned at GSU to her own teaching.
"My PhD is in science education, so what I'm really enjoying so far is getting to apply the things I've learned as a teacher," said Hagan. "I'm super excited to get to try those things out in the classroom."