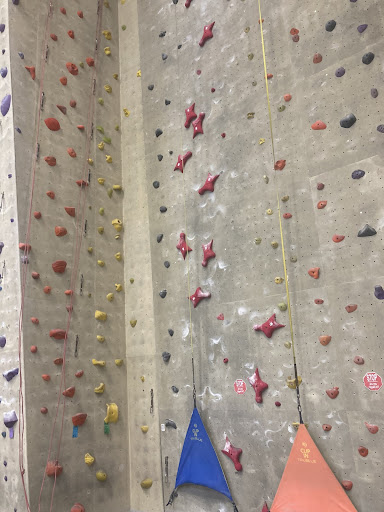 Recently, a very important international competition happened in the climbing world. The Climbing World Championships, hosted in Bern, Switzerland, is a biennial event (once every two years). It is the most exciting competition and was even more exciting this year for different reasons. Besides it simply being the world championships, it decided which athletes would be first to qualify for the 2024 Summer Olympics in Paris. Two of USA's climbers qualified: female speed climber Emma Hunt and male combined athlete Colin Duffy. Combining the four subdivisions in the competition – women's combined, men's combined, women's speed, and men's speed – there will be a total of 68 athletes going for a medal in 2024. 
The two disciplines of climbing featured in the 2024 Olympics are called combined and speed. In combined, the two disciplines lead and bouldering are combined, so competitors' ranks in each are multiplied together. Lead is an endurance-based discipline in which the athlete has to climb a tall wall, clipping a rope into pieces of protection as they go up to catch them if they fall. Bouldering is where athletes have no rope, but instead climb mostly power-endurance based routes on a short wall (normally around 15 to 20 feet). Speed climbing is when athletes attempt to go up a standardized 15-meter wall (at a 5 degree angle) as fast as possible. It's different than combined because it's a strength and rate of force discipline, and is generally more "refined" than combined, as well as instead of a couple minutes, a speed-climb is over faster than a 100-meter dash.
Now, qualifying for sport climbing in the 2024 Olympics is no easy feat. The first way to have done it was to have performed exceptionally in the IFSC World Championships. The second is to have qualified through your respective continental qualification tournaments (Africa, Americas, Europe, etc.), but these events haven't happened yet. The last way is to qualify through the Olympic Qualifier series in a few years. Or, if you're French, take up a spot reserved for France due to them being the host country, although France produces great climbers, so it's likely they'll hit their Olympic quota before they can use them.
Of the 10 athletes that qualified through the World Championships, two of them were American, one in female speed and the other in men's combined.
Emma Hunt, the female speed climber hailing from Georgia, is an American record holder for the 15-meter wall. When she made it to the second-to-last leg of the knockout rounds, her most difficult challenge was going against world record holder Alexandra Miroslav. This was also the face-off that decided whether she would go to the Olympics or not. From the start of the race, Hunt came off the starting pad at a significantly faster pace than the Polish athlete, and that's all she needed. After the start, Miroslav misplaced her foot on the ending portion of the Tamoa Skip (a part of the move sequence she uses when she speed-climbs), which resulted in her falling off the wall, allowing for Emma to take it slow and gain her ticket.
Although she did lose to Indonesian phenom Desak Dewi in the finals, the top two speed-climbers in each gender qualified, so she had already proven herself (though she did break the American female record again, at 6.672 seconds). After finals were completed, Hunt expressed her emotions in an interview. "It feels like I can take a breath, like [there's] so much pressure and can just finally breathe," Hunt said.
The next person that qualified for America is 19-year-old Colin Duffy, who was recently crowned Lead World Champion. For combined, there's boulders and lead climbs, and boulders were first. Colin nailed every part of the first boulder from the start, except for the ending move, which was a difficult left hand up to a dual-texture sloper undercling with high foot placement, although he got far enough to not set him behind the pack. On his second boulder, he fell on the start for his first attempt, but nailed the static climb, prioritizing his balance and movement up the entire time, which allowed him to complete the climb on his second attempt.
His third boulder was a spectacle to watch, as he pushed through the start of it quickly and then secured a toehook on an undercling. What this did was allow him to put his hands out to the finish hold and complete the entire climb on his first attempt, an extremely useful tool in placing well. His last boulder was a climb with many dynamic moves that he struggled with at the start, but got a hold of quickly, and he completed the entire climb. The boulders were incredibly difficult, but I thought that Duffy's approach to most of them was much more unique than others, and that he did better here than in lead, even though it proved to be less important.
Though he performed exceptionally well in boulders, he only placed fourth, not enough for him to qualify, as he needed to get at least second overall. What this meant was that he would have to perform even better in the lead portion of combined. 
The lead climb had four main sections to it. There was the start, which was surprisingly deceptive, as it looked a lot harder than it seems, likely due to the 40 degree angle it was on. The power and slippage section followed, which was where it was a lot harder to keep the feet on the wall, and that you were more likely to slip your feet. Next was the core section, which required many moves where climbers would clench your core and press/pull into the hold to stay on. The last section is called the Classic Fightclub (at this point, they had climbed well over 60 feet) and it's the move that pushes climbers to their limits when they've already met them.
When it came to Duffy's attempt at the route, he was one of the last athletes to go, so people were able to tell from scores of the other athletes that he was essentially the last athlete able to contend for his ticket to Paris. Duffy breezed through the start of the climb, and used heel hooks and compression to allow him to move his hands up higher. He soon came to the halfway point, and he seemed to know that the pressure was high due to reactions from the crowd, which made him less calm compared to his bouldering climbs. By the way, the climbers are put in isolation before climbs, so they never see other athletes climbing, or the scores of others. Duffy took a slight rest after a short downclimb on the core section, then sped through the rest of it, but he fell in the transition of sections shortly after.
Lucky for him, his score was just enough to put him in second place, allowing him to qualify for the 2024 Olympics. I personally thought that this was the highlight of his time at the World Championships, and although he didn't get the farthest, he had the most meaningful lead climb compared to the other climbers there.
After Hunt and Duffy competed, it gave many climbers insight as to what USA's Olympic team would start to look like, and although I have my hopes, I doubt that any more Americans will qualify for the Olympics, even though there's a chance more do at the Pan-American competition. From Hunt being the first speed climber to ever qualify for the Olympics, to Duffy's push to just let him qualify, it was one of the most exciting world championships for America in history, and I know I'm at least happy that a climbing legend like Emma Hunt was able to do it. Now, we just have to wait to see them do it in Paris next year, this time for gold!