When you walk into Chamblee High School, you may have noticed the new safety measure. These hard to miss additions are the metal detectors; often being referred to as weapon scanners. 
"My mom works at the middle school and she told me that the machines were gonna be installed, but I didn't expect it to be that crazy," said Elena Smith ('25), "I saw the line and I was appalled, and then it actually moved fairly quickly after the first day. But it was annoying having to get all my stuff out of my bag." 
One of the main complaints is the procedure needed to make it through the machine. 
"I don't like how you have to take out a bunch of things in your book bag, and it takes the time out of me just walking into school," said Alex Booher ('25).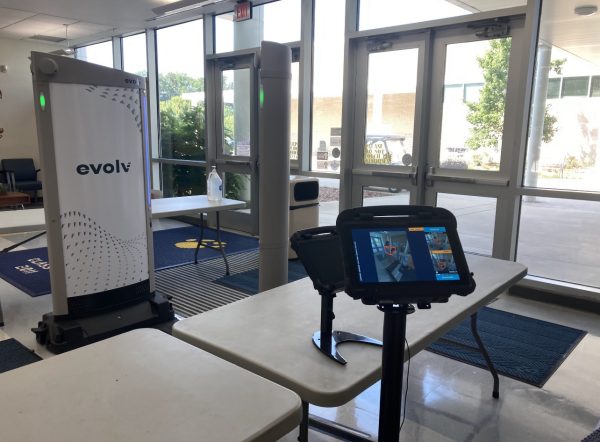 The scanners look for specific types of metal, causing items other than weapons to trigger the machines. 
"We can see like a binder or umbrella. We can see what it is, but if students came through and we can't figure out what the scanner is picking up, we move them over to do a quick secondary screening," said Evan Chapman, the safety administrator.
These secondary screenings happen often, and many students have had smooth experiences with them.
"I did get stopped. They just told me to go to the table with the security guards checking out all the bags, and then he just went through my bags and sent me to my class," said Smith.
Other students have been testing out the machines and seeing if some of the procedures are unnecessary.
"On the third day I thought it would be funny if I tried to walk through with my computer just to see if anything would happen. It did go off and then they had to search my whole backpack," said Sutton Feaster ('24).
These scanners are encouraging safety and helping students have more mindfulness.
"It makes students think about what they're bringing to school," said Chapman, "Not just what they shouldn't have."