Although it didn't grab the headlines that a presidential election garners, Tuesday was an election day. And for some Chamblee students it was a first opportunity to cast their votes.
"I think it's really important for young people to vote because we have all these opinions and we love to talk about them but we don't like actually going out and making sure our voices are heard, so I think it's just doing my part as a citizen and as a young person to make sure what we want is taken into consideration by the government," said Ladan Abdulahi, ('24) on where her motivation to vote comes from.
Some students' motivation to vote comes from their view on the importance of exercising the fundamental right given to all citizens.
"My motivation comes from my want to fulfill an expected US citizen duty," said Brooke Robinson ('24). "I [voted] this year and I've had a lot of support from friends and family on this idea."
First-time voter Gabriella Mayes ('24) echoed this sentiment.
"I feel like it's an important part of being a citizen," she said.
Although it is well known how important voting is in our society, with thousands of people in our community, how can you ensure your voice is always going to be heard? Even though your voice is not always going to be heard, having confidence in your own opinion and voting for who you believe in is important, never change your opinion for someone else.
While voting can be exciting because you get to voice your opinion of who you think would best represent you in your community, many students feel that voting puts too much pressure on them to decide on the best person to represent their community.
"I [was] not really looking forward to voting, it feels like a big decision with a lot of pressure from others to make a certain decision," said Mayes.
Other students felt unenthusiastic about voting on November 7 since they did not feel strongly about the candidates. 
"I [was] not looking forward nor not looking forward, because I don't really have strong opinions," said Robinson.
Despite how essential voting is to our society, many young people don't know the actual process of voting and what is required for voter registration. There is often a lack of aid and assistance when it comes to the voting process.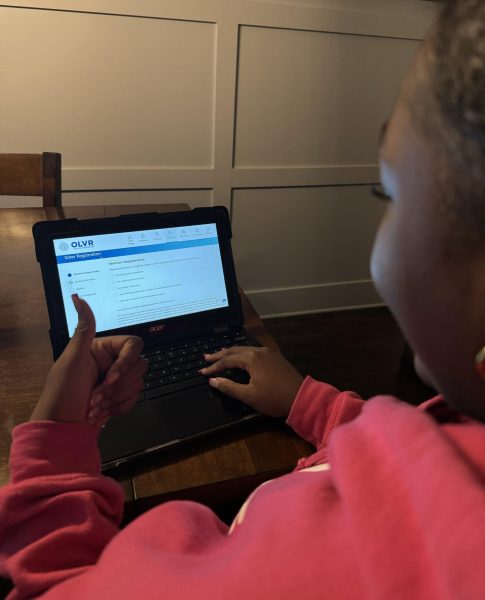 For others unsure of how it works, the voting process is fairly simple since it's designed to be accessible to all eligible citizens. The steps to register and vote are straightforward, and there are many resources available to guide you. There are three main ways to register: online, by mail, or in person at your local election office. To register online in Georgia you can visit the Georgia Secretary of State website here:  https://mvp.sos.ga.gov/s/voter-registration. To register by mail, you have to fill out a ballot application form and mail it to the Georgia secretary of State. For in person voter registration you go to your specific county's registration office.
Students at Chamblee believe that voting and electing the right person to represent them has the power to bring positive change, which is key to making a difference in our communities.
"Voting can change issues for good, and electing people to represent what the community stands for and what it needs can make a difference," said Robinson.
Some say that Chamblee's encouragement of voter registration can help people vote, becoming more active in their communities by advocating for change they want to see.
"I think it [voter registration] will encourage more people to participate in their communities and advocate for change they want to see," said Mayes.
Encouraging young people to vote, especially in schools is crucial. It's also important to make the registration process easily accessible and convenient for underrepresented communities to ensure their representation. 
"I know a lot of young people don't really register to vote or vote in general, so I think it's really important to go to schools and get young people to vote, especially this year since the seniors can vote in the next presidential election and I think that's really important. I also think there are a lot of underrepresented communities that don't think they have access to voting, so making sure that voter registration is easily accessible to them and convenient to them is really important in terms of making sure marginalized communities are represented," said Abdulahi.
Voting and voter registration play a vital role in our democracy. While people have different perspectives on the matter, it's important to recognize the significance of this process. Registering to vote and casting your ballots gives you the power to make a difference in our communities. By following the necessary steps and submitting your registration on time, you can ensure your voice is heard in the upcoming elections.