Chamblee seniors may notice an unusual letter in the mail this month: an acceptance letter for up to 45 state colleges and universities.
Governor Brian Kemp, 22 Technical College System of Georgia schools, and 23 University System of Georgia schools recently announced the new Georgia Match admissions initiative, a program that automatically accepts Georgia high school seniors into certain public colleges and universities based on their 11th-grade HOPE grade point average. Popular participating schools include Kennesaw State University, Georgia Southern University, and Georgia State University. Letters notifying students of their schools were sent out in early October, and personal lists can be accessed on students' GAFutures accounts.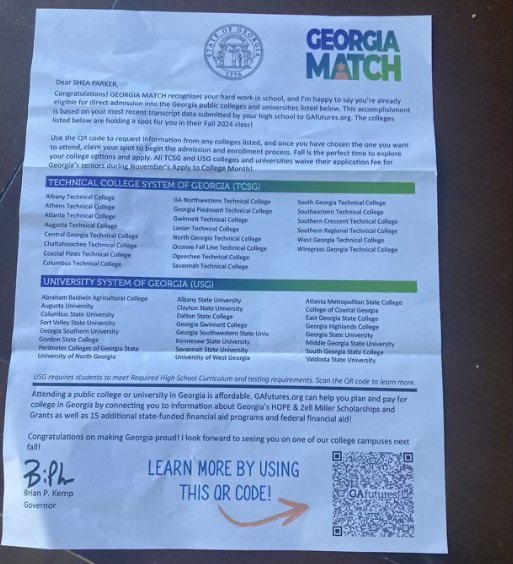 Georgia isn't the first state to implement a program like Georgia Match. Minnesota, Texas, and Wisconsin are among several other states that also have direct admission programs, allowing colleges to automatically accept students without an application process.
"Georgia Match is a great example of the historic success we can achieve when stakeholders across the education spectrum work together," said Governor Kemp in an October fifth press release, "This program will ensure that every high school student in our state knows they have options to learn and succeed here in the number one state for business."
The aim of the Georgia Match program, according to Kemp, is to give opportunities to students who didn't necessarily plan to attend college at first. Additionally, all admission and application fees for schools on a student's Georgia Match list are waived during October and November, taking down a financial barrier that many students face in the application process.
Many students agree that the program could potentially create life-changing opportunities.
"I think it's a very good way to make applying to colleges easier for students and help find the right school for them," said Aidan Harron ('24).
Despite the numerous opportunities and benefits that Georgia Match provides to students, many seniors are unaware of it — or were until recently.
"I didn't know about [Georgia Match] until I got a letter about it in the mail," said Ashrith Narayan ('24), "I honestly thought it was a scam until I did some research. It's such a great idea, I don't understand why they aren't promoting it more."
This new program is not the only use of GAfutures, many students also use GAfutures to help with dual enrollment and scholarship information.
"I've used GAfutures with my Hope GPA and I've been looking at my scholarship opportunities," said Kara Leonard ('24).
This is Georgia Match's inaugural year, so it's likely that the program will gain prominence with time. Kemp says that Georgia Match plans to recur every fall, allowing all Georgia seniors to have the same opportunity year after year.