Drama Program Charters Thespian Troupe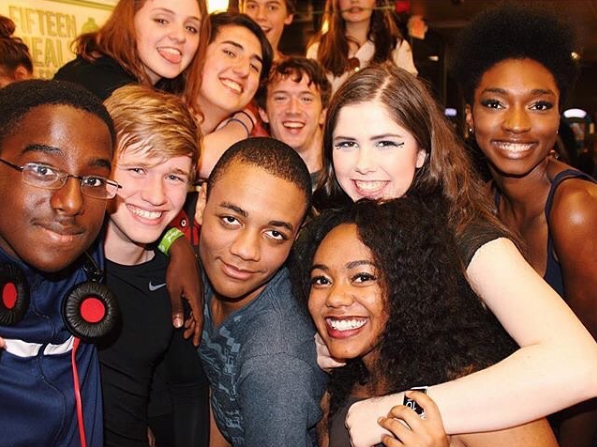 Hang on for a minute...we're trying to find some more stories you might like.
Science. Spanish. Art.
This year, there is a new honor society joining these familiar names: Linda Lirette, along with her drama and musical theater students, has chartered a thespian troupe through the International Thespian Society (ITS).
"It's an international honor society for theater students," said senior Adrian Waller, who was instrumental in bringing the program to Chamblee Charter High School.
Through ITS, students will have access to increased scholarship opportunities, and teachers will also have more resources such as grants and free subscriptions to theater magazines.
Beyond these benefits, one of the biggest draws is ThesCon, also known as the Georgia Thespian Conference. ThesCon, a three-day event in February, will feature workshops, college auditions, and performances by individuals and troupes from across the state.
"It's three days of going there and just participating and learning more and more about theatre," said junior Brianna Harding. "You can go in and you can perform in front of these three judges. They'll give you critiques about your performance. That's one of the main things there. Also, there are these things called masterclasses; it's like a whole hour or two hours on a certain type of dance or improv or singing technique."
Sophomore Blair Varney is also especially looking forward to ThesCon.
"It gives people the opportunity to learn from professionals at masterclasses," said Varney. "It gives people the opportunity to perform for an audience that knows about theater and isn't just parents and friends."
Although Chamblee's troupe is not planning on sending a whole-group performance to this year's ThesCon, inducted members of the club are still eligible to perform individually or in small groups.
The currently inducted members are Waller, Varney, juniors Jake Gies and Arsema Woku, and seniors Keturah Howard, Allyson Painter, and Catherine Willingham.
"To be part of the official troupe, you have to have a certain number of points," said Waller. "You get a certain number of points if you direct a show, if you're in a show, if you have a leading role, if you're a choreographer."
The point system is based on national guidelines, but Chamblee's specific implementation is up to Lirette.
"For instance, we have showcases up at school, so we figure out where within [ITS's] guidelines that should fall," said Lirette. "We will be publishing our points after the first round of members vote on them, discuss them, and approve them."
In addition, the point system played a role in the creation of the troupe.
"You have to have a certain number of points in order to be initiated into the first level," said Varney. "As you gain more points, you graduate through the levels. You had to have six to eight members who were willing to join and go to the first level in order to start a group."
The thespian troupe is hoping to induct more members before ThesCon.
"Any student who is interested is eligible to earn points towards thespian membership," said Lirette. "Anyone who would like to can come to meetings and learn about what we're doing and how to get involved. For those things we are involved in, they'll be able to earn points towards membership."
In the meantime, Lirette and the others have also founded a drama club with no restrictions on membership. To prospective members, Waller has this advice.
"Go for it," said Waller. "It can't hurt. The club's open to anyone who wants to join."