Pediatric Cancer Unites Rivals Against a Common Enemy
Hang on for a minute...we're trying to find some more stories you might like.
This year, the highly anticipated Chamblee versus Dunwoody football game was not like normal.
Yes, the screaming throngs of people and the fierce rivalry between the schools were all there, but this particular game was a bit different. Dunwoody and Chamblee teamed up to raise money for Chip's Nation, an organization that raises money for and gives money to children suffering from cancer.
"Chip is a Dunwoody community member [whose] brother goes to Dunwoody High School, and Chip was diagnosed with brain cancer when he was younger and has been fighting with it his whole life," said senior Kerstin Thulé, the Chamblee Student Body President. "He's actually in remission, now, but he started a foundation that raises money for certain charities. All the money that he raises is donated again."
When the Dunwoody Student Government Association contacted the Chamblee chapter in an effort to raise money for the organization, Chamblee's leaders naturally jumped at the chance.
"One of their committee members knows Chip, and they wanted to have a gold-out because September is childhood cancer awareness month, and it doesn't get a lot of attention," said Thulé. "They wanted to have some sort of fundraiser, and they thought they were going to do it at their football game. They decided that it would be even bigger and even better if we could both take part, and so they contacted me."
Student Government Association is not the only one who thought this idea was fantastic. Dr. Norman C. Sauce lll, the school's principal, was thrilled that the Chamblee community stepped up to help out.
"I'm proud every day to be Chamblee's principal, but situations like this make me extra, extra, extra proud. [They] remind me that, with our school community and with our student body, in particular, if you throw the gauntlet out there, our students will rise to and surpass the challenge every time. And I'm seeing that with this issue," said Sauce.
For him, it was not just a great program to support – it was also a personal issue.
"A friend of mine, who is also a professional mentor of sorts, who works in a neighboring school district, his ten-month old daughter was recently diagnosed with cancer. And you think about a ten-month old child, a ten-month old baby. You just don't think about cancer with someone that young," said Sauce. "Just having a family friend – mentor of sorts – whose family is working through this, at the same time that we're doing this, you know, for me, helps it resonate even more, reminds me of the importance even more, and certainly provides a personal touch on this issue."
The game itself provided a very rare opportunity to see the two rivaling schools at peace and unified, no matter what the outcome of the game was.
"I think when you can identify a cause that's important to multiple communities to stand behind, I think that's always a good idea to show unity between the communities, collaboration and partnership between the communities, togetherness, and a united front against a common foe," said Sauce. "I think that's always a good way to bring 'rivals' together. We don't lose that spirit of friendly competition with our rival, but what a great way to show the larger community that we're united in this issue."
Jenna Hogan, a Dunwoody senior, was the main initiator in beginning the fundraiser over at Dunwoody. A close family friend of Chip's family, it was of utmost importance to her to bring this issue to the spotlight.
"Chip is an absolutely amazing kid who has had quite the journey while beating brain cancer. I'm so happy we were able to raise the money we did, but I'm even happier we got to give it to a foundation like Chip's Nation," said Hogan.
She believes the game went great and hit every expectation.
"Both schools sold together a total of 1,000 shirts in three days, giving us a final amount of $4,775 just from the shirts," said Hogan. "I am getting the chills now just thinking about how amazing the stands looked, and how many people were there dressed in gold."
She also believes that the cease-fire between the schools for this event was a welcome addition.
"Dunwoody and Chamblee will always be rivals, of course, I mean, that's the fun part about it, but there really is something special about bringing together two rivals to make a difference and raise awareness for a cure for childhood cancer," said Hogan.
The experience for her, and for many others, was something quite remarkable.
"I'm so glad Chamblee participated with us. Standing behind Chip while the Chamblee student section chanted 'Chip's Nation' was really something else," said Hogan. "I don't think I've ever experienced anything like that."
About the Writer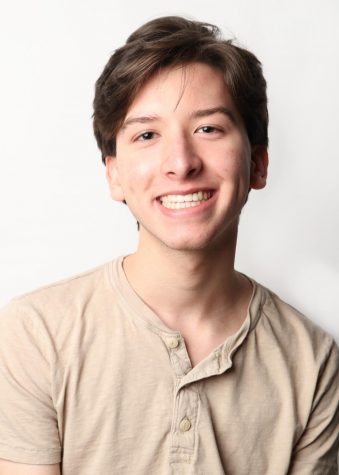 Ethan Rotnem, Editor-in-chief
Senior Ethan Rotnem is an editor-in-chief. He enjoys walking his dog, recommending music to his friends, and looking at cities on Google Maps. This is his third year on the staff.